TAKEAWAY:  Count me in as another of those persons that Newsweek refers to as "Neverretirees", the ones who love their work, still have the passion and are not yet ready to move to Boca Raton and play tennis the rest of their lives.

The word retirement is often mentioned in conversations around me these days,  but I don't really feel it is in my vocabulary.  So I was quite happy to read a recent Newsweek column by Rebecca Dana, headlined, "I Just Can't Quit."
That could be the title of my song, I guess.
It seems that once we reach that landmark age——65——the world thinks that just because we are officially and certifiable a member of the American Association of Retired Persons, and a Medicare card carrying somebody, that everything needs to come to a sudden halt.
Not for me.
And also not for Warren Buffet, who has been in our blog this week as he seems to be quite interested in buying newspapers these days.
According to Dana's column, the 81-year-old Buffet "joined the club of billionaire octogenarians spurning retirement."
Well, I am not an octonogenarian—-not yet, anyway, and, definitely not a billionaire (that train left the station with empty cargo cars), but I see myself pulling a Buffet and still going until I no longer have the passion to be in this crazy but exciting business of ours.  However, Miss Passion is still waking up with me each morning!
If a survey cited in the Dana column is any indication, I have plenty of company in the "still here, and still passionate" club:  2000 high net worth individuals were interviewed, and 60% declared they were not planning on a traditional retirement.
Just figure that 106-year-old investor Irving Kahn still comes to his office everyday, which makes Buffet appear like a mere youngster and me barely coming out of my shell.
Don't forget that Christopher Plummer just got his first Oscar at 82, and Hugh Hefner was engaged (and then quickly disengaged) not long ago, at 85.  Paul McCartney, at 69, still sings and has no plan to retire.
And, for the record, in the Canary Islands, Batusi Perez Prado, at 80 claims to be the world's oldest working drag queen. The Cuban-born showstopper performs every weekend at a club in Maspalomas.
She is part of what has been referred to as "the Buffet effect"—individuals "who come to view retirement as not simply being linked to economic productivity but also about contribution. And they want to continue making that contribution."
I guess I am beginning to feel the Buffet effect already.  As in the famous song in Sondheim's Follies, it is good to wake up each morning and sing: I'm Still Here
Watch Elaine Paige sing I Am Still Here
The new
SND

annual book cover is here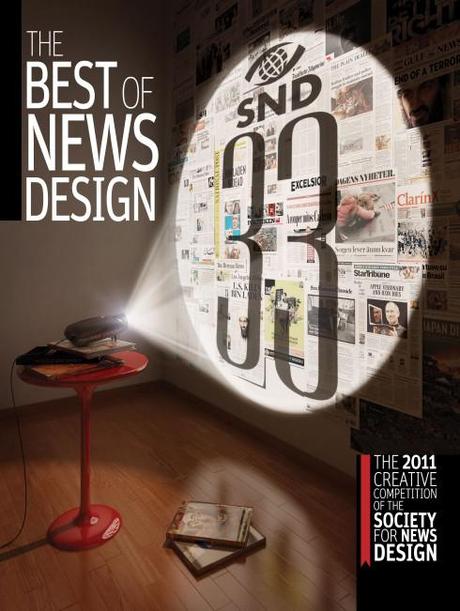 Continuing on its winning streat, the Gulf News of the UAE can now boast that one of its infographic artists, Hugo A. Sanchez, has created and designed the cover of the next SND book.
"This is quite an honor for Hugo and our team," says Miguel Gomez, design director of the Gulf News. "We are all proud that his work will be showcased in one of design's most prominent award annuals."
Hugo's design, which competed with dozens of others sent from around the globe, used the concept of a projector throwing an image of the book cover onto the screen.  Clever and easy to follow.
Here is how Hugo describes his inspiration to create that cover:
I started reviewing the art from several book covers looking for something elements that hadn't been used, or, If it had been used, look for a different angle. I also needed to consider that I only had 4 days to resolve.

Finally I decided to use the voting process, but the obvious solution were the cups and chips, so I started to imagine how could I represent a voting session without include too much elements that could distract. So I made some sketches until I get to something I liked.
I decided to use the 3D modeling technique to resolve, because I had spent the last 3 years doing architectural visualizations in my last job, so it would be the fastest and accurate way to resolve it just as I had been imagined. Thispowerfull tool has endless possibilities.

I asked Hugo how he managed to avoid the cliché approach.
I didn't want to use a techy style to reflect modernity, I don't think it was necessary, put a hologram, a room filled withIpads, little color lights, metal sliding doors or any technology cliché.  I used simple elements that right now you could find in the house of a SND member or in a meeting room.
Also I avoided complex typographic arrangements, the message was shown in simple way. The protagonists were the NEWSPAPERS, in a warm ambient, where was discussed, which of them deserved the honor to be the winner.
This is the second year in a row that the design of the book comes from the Middle East. Last year's book was created by Adonis Durado, design director of the award winning Times of Oman.
Congratulations!
TheMarioBlog post #996