I probably deserve it. Actually, I know I do. I am always teasing my friends about the snow that is coming. I love the snow more than they do! We all hurt like crazy when it gets cold but I do it in love! 
Wendy got me though! she posts pictures of food a lot. And I am allergic to... everything just about. Most days I just look and think "That looks tasty" and keep scrolling. This week she really got me! She posted this: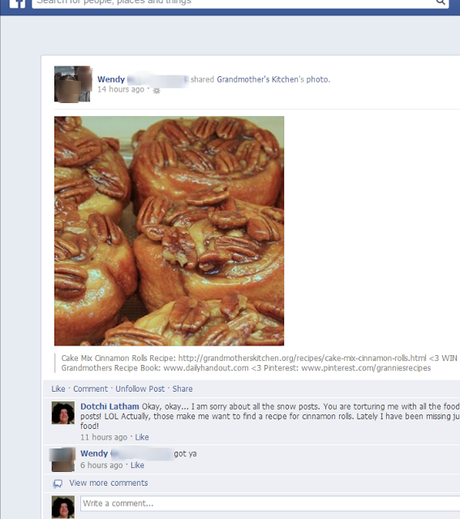 Oh, how I miss cinnamon rolls. I haven't stopped thinking about them since I saw this ooey gooey goodness. And Now I am on a mission! To find a recipe for cinnamon rolls that I can eat! Something that tastes good to me!
I have been searching and so far I am not finding anything I won't have to tweak (not surprised there). But I did find one I MIGHT be able to play with. It's here. I was looking at the ingredients and there are too many to substitute, and a few I wouldn't know how to substitute... but this week, I will trying to make this recipe my own. And I'll post it when I figure it out!
Anyone want to be my taste testers? Wendy? Bill? Nikky? Kids? Anyone?
From The Baker's Acres! Read more at http://www.dotchilatham.com