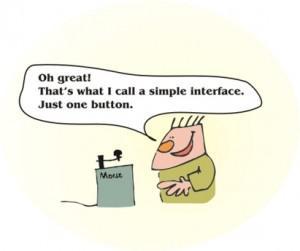 One of the most important factors in a sustainable system (specifically ecosystems) is resilience. Overly specialized and complex structures tend to struggle when the rules of the game change. Consider a plant adapted for a dry climate. If precipitation patterns change and this plant, let say a cactus, is now in an area of moderate rainfall, as opposed to a desert then it will struggle to survive. While this is an extreme example, the point is adaptation for a single situation reduces resilience and the ability to survive (i.e. be sustainable). In the same light, overly complex structures suffer similar fates. Take, for instance, a photocopier. Xerox used to design copiers that had more than 2,000 moving parts as part of their "Zero to Landfill" project. They have since reduced this by more than 90% in some models (most notably the Document Center DC 260). The cost to build, maintain, and source these parts drops, as does the environmental impact. In addition, the parts are more than 90% re-manufactured and recyclable. Estimates from the company put savings at "more than $400 million per year in manufacturing and component costs".*
A recent example can be seen in the continuing fallout from Japan's devastating earthquake and the subsequent tsunami. Toyota announced that 233 parts would be limited as a result of manufacturing having been impacted by the natural disasters. These are but a small portion of the more than 300,000 components that make up Toyota's line of cars and trucks. The vulnerability of complex systems can be seen here. If these systems can be designed from the start to use fewer resources, a smaller number of parts that are interchangeable, and components that are reusable, situations like these can be more easily avoided and resilience increases.
Few people benefit from unnecessarily complex systems, manufacturers being chief among them as a result of the need for moving parts in current designs. Consumers lose out when one piece among thousands breaks or stops functioning normally. Instead of making consumer goods more complex, it is imperative to design them for the easy swapping of components. The extended producer responsibility concept is a key way to think about this.*
*For those who are interested, Peter Senge discusses both of these examples in The Necessary Revolution. The quotation comes from p. 289 of the book.
[Image source]