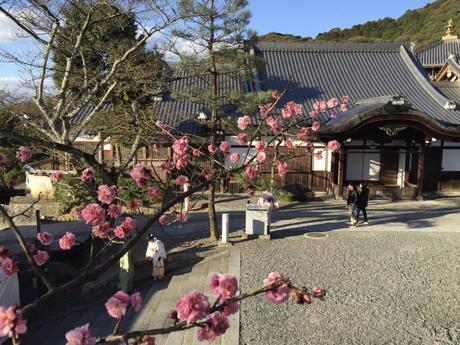 It's been over a year since I last shared anything on my personal blog, and it's also been a year since I was last in Japan. I thought I'd kickstart my blog by sharing a few pictures from our travels to Kyoto and Tokyo this spring.
I also have several pictures from last year's trip to Japan in spring 2015 that I've wanted to share for more than a year now, but somehow time just kept slipping away. Maybe I'll get around to sharing those too. Stay tuned.
* * * * *
We like to fly into Kansai International Airport (or KIX) in Osaka, as it is easier to travel to our family from there.
I love Osaka. It's the second largest metropolitan city in Japan after Tokyo, but its smaller and slightly less crowded, which I appreciate.
I enjoy navigating the subway, or "chikatetsu", and the local trains which run above ground, known as "densha". Signs in the stations are in both English and Japanese and it's fairly easy to navigate the big city trains. The railway staff are helpful and polite too, and I feel like it's OK to get lost occasionally.
Below: Our first morning in Japan with Bebe and Bachan (my mom). Bebe wasn't happy that we didn't use the (HER) selfie stick to take this photo of us in Umeda, a popular tourist and shopping neighborhood in Osaka.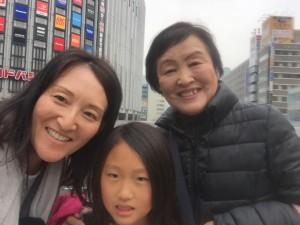 Lots of interesting themed shops are available in Osaka, and they're based upon popular Japanese characters. I can't remember what these supergirls were called, but the shop had plenty of window shoppers (dudes and gals alike) walking around.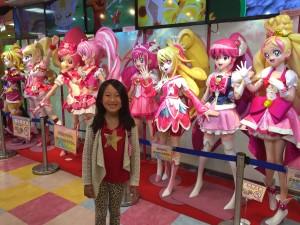 We love Kiddy Land. It's home to some of our favorite Sanrio characters and my favorite Snoopy. I'll admit Bebe wasn't the only one excited about this shop! This store in Osaka was fun, but their store in Tokyo was EVEN BIGGER!!! More on that in a later post. :)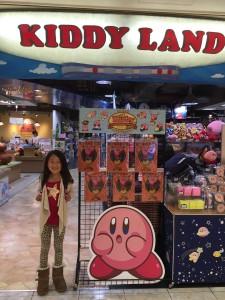 Then there's my rock star traveler posing in the very nice Shin Osaka Station. She's always photo-opp ready.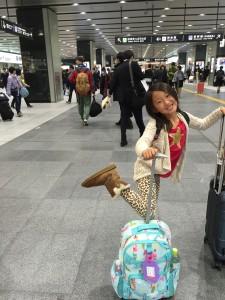 After spending most of the day shopping in Osaka city (we went sight-seeing in Osaka during last year's trip), we headed to Hiroshima via shinkansen to see our family.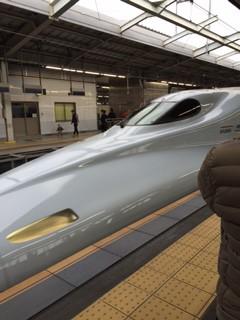 Japan's bullet train, a.k.a. super express train, called "shinkansen" is roomy, clean, and comfortable with many amenities such as handy cup holders, outlets for charging your iPhone etc., reclining seats, table, and plenty of areas for luggage storage.
I love traveling by bullet train and watching the scenery go by at 180 mph. We purchase rail passes in the U.S. before arriving in Japan, and the passes work great on the "hikari" line of shinkansen. You can walk into any unreserved car and grab a seat, but everywhere we travelled, we reserved our seats in advance at no extra charge so that we could sit with each other and not deal with the crowds.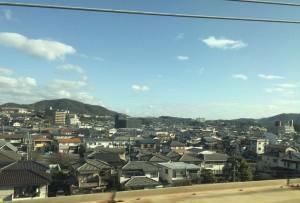 Below: Unique to each Japanese family is the "mon" or family crest. Below is what my family's mon looks like.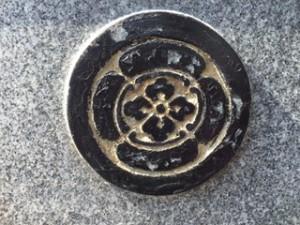 Aside from seeing our family and friends in Japan, the highlight of each trip is always the food. I loved the char siu (BBQ pork) shoyu (soy sauce) ramen and fried rice "cha-han" at the little ramen shop across the street from my uncle's house.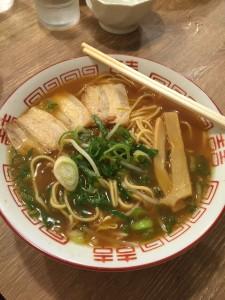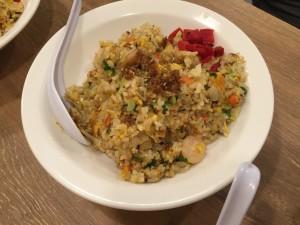 The shop also makes a giant gyoza that is cut into pieces, rather than the traditional bite-sized Japanese gyoza that we usually tend to enjoy at home. The idea behind this large gyoza is actually quite brilliant as it takes less time to make one large gyoza which is equivalent to about eight (8) regular size gyoza. This is first on my "to make" list, as soon as I recover from my two week illness of flu and walking pneumonia (yea, it hasn't been fun).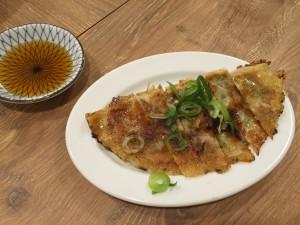 After resting for a day and a half in Hiroshima, we left for Kyoto!
To Be Continued…..