Multi pots are becoming more popular in the Philippines these days. And I think it's because they are so convenient to use especially when you're on-the-go or stuck in the Metro Manila traffic. Just this week, BLK Cosmetics launched its own version which I got first dibs through BeautyMNL exclusive launch. Below is my BLK Face Stack Multi Pot review.
WHAT IS IT?
BLK Face Stack Multi Pot is a stackable multi-pot, hence the name. It is a do-it-all color for your eyes, lips, and cheeks packaged in collectible solo pots made for travel.
APPLICATION: It is made to be used by gently dabbing your finger on the product and blend on your eyelids, cheeks, and lips with light tapping motions. You can layer it as desired.
SCENT: Unscented.
PACKAGING: There are actually 2 kinds of Face Stack Multi Pot packaging. The first one has a lid that comes with a mirror. It should be used on top of the stacks. The other one is just a single pan designed to be stacked on top of each other and does NOT come with a lid. But it is Php100 cheaper. All of the pans are magnetic to make them stack.
FORMULA: The BLK Cosmetics Face Stack Multi Pot has a balmy formula but upon blending it becomes a velvety matte texture. Some shades are highly pigmented, some are just mediocre. But all shades have an easy to blend that leaves a soft-matte finish that lasts up to 4 hours in our humid weather.
MY THOUGHTS
The 3CE Take A Layer Multi Pot is actually my go-to makeup, and I notice that I end up using more than one. Often times, I force myself to choose just 2 products so it'll be less bulky in my bag. So I really like the concept of BLK's magnetic stackable pans. However, just as I was expecting which was confirmed by glowcounsel, if you stack all 6 pans or just 3 of it, they can collapse or slip inside your bag and end up with a mess. Another turn-off are the sticker labels. Some weren't placed right so they formed some bubbles, making the product feels like a cheap indie brand made at home.
When it comes to the shades, Tan Lines is the least fave by many influencers. Heypoleane mentioned in her stories that it doesn't look flattering on both pale and morena skins, which was echoed by glowcounsel. Though the latter did say it makes a good nose line. Personally, if I am going to use it for daily contouring, I find the pan too small. I recommend the BLK Shade + Sculpt Countour Amber instead, which is one of the best affordable contour products.
Some shades like the Wanderlust, Jetsetter, and Tan Lines have some sparkles in it, but they're not "blinding" enough to be used as highlighters in my opinion. They just give a very very subtle glow. Then the rest are plain matte shades that are good, pigmented, and I have nothing critical to say. They all look flattering as eyeshadow, blush, and lipstick.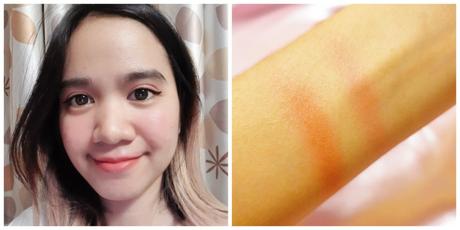 On the right photo is the Wanderlust (top) and Pool Party (bottom) swatch. I bought only 2 shades.
VERDICT
PROS: Affordable, easy to blend formula, highly pigmented (except for Tan Lines shade), easy to carry, and lasts up to 4 hours.
CONS: The sticker label looks cheap and has bubbles. Also, stack only up to 3, because it may collapse or slip inside your bag.
WHERE TO BUY?
The BLK Cosmetics Face Stack Multi Pot is available in Lazada for Php399 for the lid with mirror pan and Php299 for a single pan.
You can also buy the whole BLK Face Stack Multi Pot Set for Php1799.
COMPARING BLK FACE STACK TO OTHER MULTI POTS
vs. SUNNIES FACE AIR BLUSH
Both of them have the same balmy formula, but Sunnies Face Airblush is a little balmier, doesn't really go matte when blended, it does not also last long, and not that pigmented as claimed by the brand so you cannot use it on the lips. Sunnies Face only has better packaging, it looks chicer and feels expensive than BLK. But both have a similar size.
vs. 3CE TAKE A LAYER MULTI POT
3CE Take A Layer Multi Pot is bigger, more pigmented, and lasts much longer than BLK Face Stacks. But it is also more expensive (like 3x expensive) and some shades are really hard to find especially the cult-fave Cabbage Rose. They're also hard to find in the Philippines because they're only available online. Though, BLK Face Stack has a balmy formula while 3CE is matte. Both can be used on eyes, cheeks, and lips. But I still prefer the 3CE because of the shade Diotima and Cabbage Rose, and they're bigger.
vs. ELLANA LIP DRUNK BLUSH
BLK Face Stack's formula is much closer to Ellana Lip Drunk Blush but the latter is more pigmented so you cannot use it on the eyes (only on your lips and cheeks) because it's hard to remove. Eyes have thinner skin than the rest of our face. Ellana's also last significantly longer than BLK's but it's 2x pricier.
What do you think of this BLK Face Stack Multi Pot review? Do you use a multi-pot makeup? Share your thoughts below!