Well Irene has come and gone! There have been significant damages to the NC coastal areas and some inland. Several deaths have occurred as well. The

Bogue Inlet pier and Atlantic Beach pier have suffered a lot of damage. Downed trees and floods everywhere. Power outages are many. It could have been worse and who knows what will happen as Irene moves North. NYC is pretty much shutting down tonight in preparation of Irene. All of that said, there were still some funny stuff. One VA news report (you can search it on YouTube) had a streaker run through as the reporter was trying to be serious about the dangers of Irene. I watched it a dozen times and laughed. Twitter was crazy with lots of funny tweets like this one: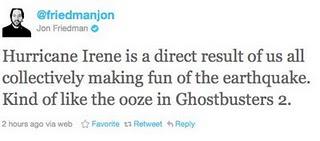 Let's hope hurricane season is over for this year.