Halloween in the Netherlands isn't quite the phenomenon it is in North America. There is definitely no trick or treating for kids, and only occasionally do grown ups dress up in costumes. Fortunately, there is also no pre-Halloween black and orange decorating frenzy everywhere from grocery stores to clothing stores. In fact, Dutch supermarkets are already selling Christmas candy, something that doesnt happen in North America until Halloween is well and truly gone. Nevertheless, if given a chance, the Netherlands would make a great Halloween nation. Like most small European countries, it has an abundance of decrepit buildings, creepy old cemeteries, and castles that are just begging to be explored in the dead of night with a flashlight. There are also a lot of documented sightings (or, rather, "documented" depending on how much you believe in this stuff) of paranormal activity around the country. I reserve the right to have doubts about the accuracy of such sightings, but if you're looking for a good old fashioned Halloween adventure, the country has plenty to offer. That is, if you can find a guide with nerves of steel to take you on such an adventure!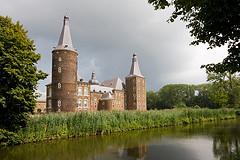 If you wish to experience a haunted castle, there is no better place than Hoensbroek Castle in the south of the country in the province of Limburg. Not only is it a spectacularly kept castle during the day, but it is also said to be haunted by the ghost of the Blue Lady once night falls. According to local legend, the Blue Lady had two children who both died very young. Supposedly, they were buried within the castle walls without the Blue Lady knowing, and now she searches for them at night. Security guards swear chairs move in locked rooms on their own accord. In addition, apparently all of the castle walls are solid except for one which sounds hollow, even though know one has officially investigated why. Spooooky!
If you're in or near Breda, pay a visit to Klooster op de Nieuwstraat. Now a student residence, it used to be a monastery. It is apparently haunted by a nun who, at the stroke of midnight in the chapel, walks by jingling her keys as the church bells ring. Anther supposedly haunted place is the portion of highway between Schijndel and St. Oedenrode, which is apparently haunted by a 15 year old boy who went missing on the road.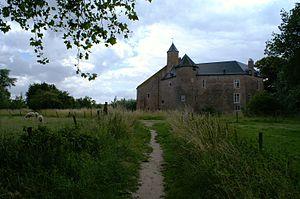 Of course, the most haunted place in the Netherlands is Waardenburg Castle. Waardenburg is somewhat of a double threat: not only is it abandoned and in ruins as it waits to be restored, it is also completely and utterly haunted. At night footsteps are heard climbing the stairs, whispers can be heard coming from empty rooms, toilets are flushed even where there physically is not toilet, and in the east wing there is even a room where furniture moves by itself. According to local folklore, human bodies were found in cellars and were said to be the work of medieval wizard Dr. Faust who lived in the castle and was taken from there to hell itself. Only two bloody stains that cannot be cleaned remain of the murderous history of Waardenburg Castle.

© 2013, Amsterdam City Tours Blog. All rights reserved. On republishing any part of this post, you must provide a link back to this original post