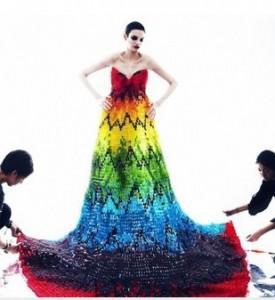 Boy am I glad that I don't have a sweet tooth.  Inspired by Alexander McQueen's gown, this  is made out of 50,000 Gummy Bears.  Why?  Well does fashion ever really feel the need to justify itself?
Actually, this 220 lb. dress, designed by Hissa Igarashi and Sayuri Marakumi, was handmade for Twelv Magazine's debut issue to pay tribute to the late designer.  It takes three people to move the thing…or one American Gypsy bride-to-be whose culture makes her quite used to  slogging around in a dress of this weight (and absurdity.)  "Paging Sondra Celli, come in Sondra Celli."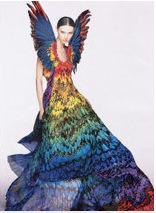 The Alexander McQueen Inspiration
Constructing a gown like this starts with a steel wire frame covered in vinyl, followed by each Gummy bear painstakingly glued to the dress in the chevron pattern.
So, what are they saying, the dress isn't wearable?  Well, that's okay, it was only designed for one wear.   But, what a shame…just think about those 50,000 Gummy Bears who sacrificed their lives for art.
Playing on the candy theme, I decided to style the dress, you know, in case you were thinking of wearing it.  This is what I came up with: A clutch made of candy wrappers, a candy necklace, a Pop Ring and a pair of shoes made with Candy from Dylan's Candy Bar.
Wait, shhh!!!!  Does anyone else hear the sound of Lady Gaga ripping open a bag of Gummy Bears with her teeth while waiting for the glue gun to heat up?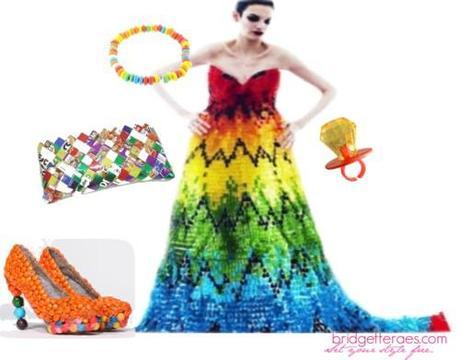 Candy Styling for the Alexander McQueen inspired Gummy Bear Dress by
bridgetteraes
on
polyvore.com