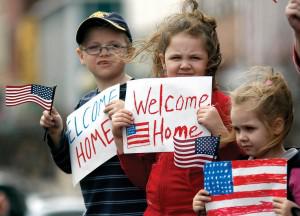 Photo by The National Guard
Our troops are coming home from Iraq. It is a time to celebrate and welcome them with thanks and appreciation. After the reunions and homecoming celebrations, these warriors will begin their integration back into their respective communities – reassuming their roles as our fathers, sisters, colleagues, and neighbors. Thus begins a period of intense psychological adjustment – an arduous but necessary process our soldiers undergo in order to transition from weapons checks in the desert to family dinners at Applebee's.
We, the public, need accurate information to better understand the challenges military families face during this adjustment period. With awareness, empathy, and appropriate guidance we can responsibly do our part to support our returning warriors – as they have done for us.
Currently, there is a strong focus on those soldiers who suffer from symptoms of PTSD, and rightly so. It's been a long time coming and the issue deserves every bit of coverage it can garnish. However, there are many soldiers that don't have diagnosable PTSD but still may struggle. I want to call attention to some of the common challenges soldiers face as they integrate back into their post-tour lives, as well as offer some suggestions so we can better support them during their transition.  
To do so, I am beginning a new blog series focusing on the plights of our returning soldiers as they adjust to life after their tour(s). In it, I will:
Detail the adjustments required to psychologically survive an extended presence in a war zone.
Highlight the culture shock soldiers endure when returning from a foreign war.
Describe the shifting of family roles during a soldier's absence while in-theatre. 
Discuss the significance of managing appropriate expectations of the returning soldier.
Emphasize the importance of maintaining proper boundaries when interacting with servicepeople.
Offer suggestions about how best to support returning warriors, including "do's" and "don't's".
Provide some warning signs indicating a soldier may need professional assistance with his/her adjustment to civilian life, and list some resources that can help.
Stay tuned for the first installment. Thanks!
-GTK