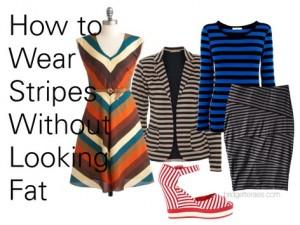 With stripes expected to be as popular as they are predicting this spring, is it possible to wear stripes without looking fat.
Stripes often get a bad rap, mainly because of the ones that come in the horizontal variety and that we're warned will even make the slimmest of toothpick body shapes look big.
While, it's true, the power of optical illusion proves that horizontal stripes do have the power to make areas look wider, does that mean we cast out wearing stripes altogether?  And, is there even a way to wear horizontal stripes without looking like a big square block?  Before you decide that you can't wear stripes, read my advice first.  
Wear Stripes on the Diagonal
While horizontal stripes can create width, stripes that run in other directions, like vertically and diagonally, can be extremely slimming.
The two boxes are exactly the same size. The box on the right looks smaller because of the horizontal pattern.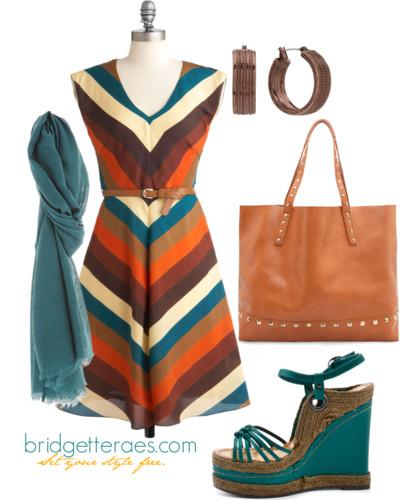 Striped Dress by
bridgetteraes
featuring a shopping tote
If you want to wear stripes this season, try them on the diagonal, instead of horizontally.   It's best to do this on the parts of your body that you want to appear slimmer than they really are.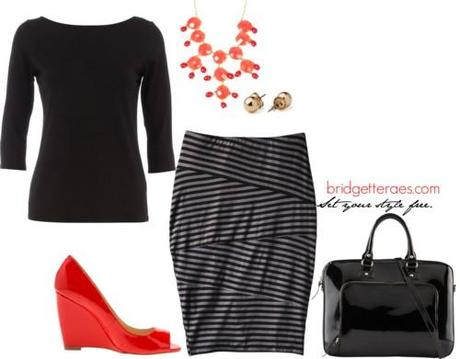 Striped Skirt by
bridgetteraes
featuring patent wedges
I'd be hard pressed to find a woman who would choose to wear horizontal stripes on the bottom half of her body.   Therefore, I chose this skirt because off all the diagonal stripes.  Not, the pencil silhouette is also very slimming, which leads me to my next bit of advice on how to wear stripes.
Wear Stripes in Flattering Silhouettes
While stripes have the power to slim or widen a body, it is important to also touch on silhouette.  Often, we choose stripes based on whether or not the direction they move in are flattering, yet forget to consider whether or not the style of the garment works for our body shape.
The truth is, you can wear horizontal stripes if you are mindful of the shape and silhouette of the outfit.  Let's look at some examples.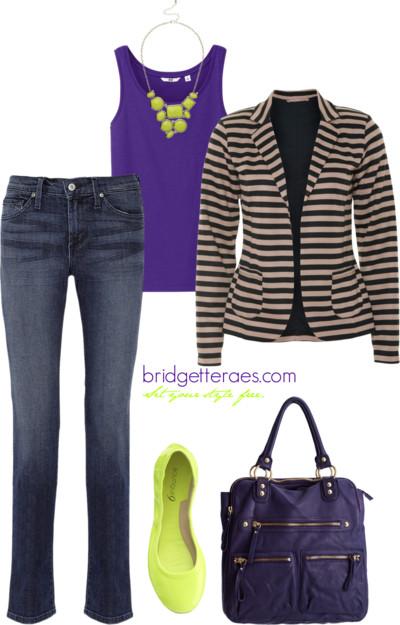 Striped Jacket by bridgetteraes featuring a bib statement necklace
While many would run from this blazer simply because it has horizontal stripes, there are a lot of things going on with this jacket, and the entire outfit as a whole, that make the horizontal stripes work.
First, the jacket shape is very flattering for most people.  It has a shaped waist, plus, the horizontal stripes actually build a broader shoulder line by widening that area, which can counterbalance a larger bottom half of the body.  In addition, the jeans being a boot-cut style can also be very flattering in creating a slim and balance figure.  Yes, this jacket has horizontal stripes, but, everything else found in this outfit mitigates that.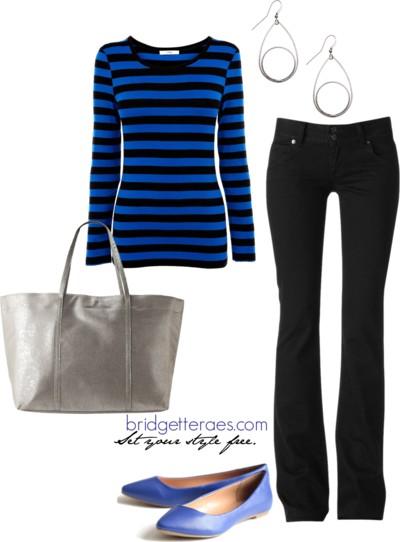 Striped top by bridgetteraes featuring metallic silver handbags
Here is another way you can make horizontal stripes work.  Again, I paired this top with a pair of boot-cut jeans, which can be a very flattering shape on most body types.  While the top has bold horizontal stripes, the length of the top being a few inches longer than the pelvic bone, elongates the look of the torso.  When you elongate a body part,  it looks longer and slimmer.  While horizontal lines do have the power to not only widen, but shorten the look of a body part (and make it look even wider), the figuring shape of the top, while worn with figure flattering pants, helps make this horizontal stripe be wearable.
Wear Stripes Somewhere Else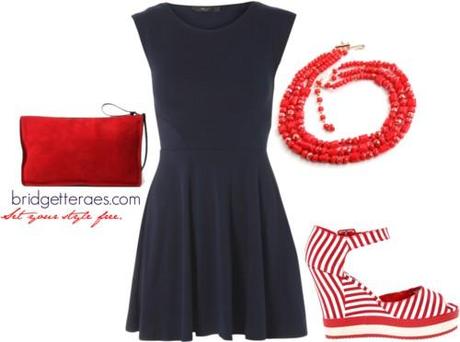 Striped Wedges by bridgetteraes featuring vintage jewelry
Lastly, who says that you have to wear stripes on your body?  You can embrace this hot trend by adding stripes through your accessory choices, like your shoes, jewelry and handbags.   The nice thing about this approach is that you can update your existing wardrobe, by just adding a few key trendy pops.