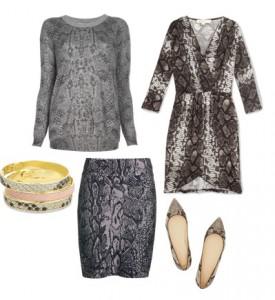 Having grown up in New Jersey, I know that wearing python can look tacky.  Okay, in all seriousness, I really do love my home state (and being from there gives me permission to joke about it) but, let's be honest, a mistake with python can make even the most fashionable look like a hooker who works the skank shift.  However, when done right, python can really be fabulous and quite stylish.  To avoid looking like you work in the "oldest profession", here are my tips on how to incorporate this trend into your wardrobe.
Tip #1- Have it be about the Python
When wearing Python, it's important to make the outfit about the python.  Keep the rest of your look subtle or as a supportive player to the python you're choosing to wear.  Python demands a lot of attention.  Let it shine by keeping making everything else a support player.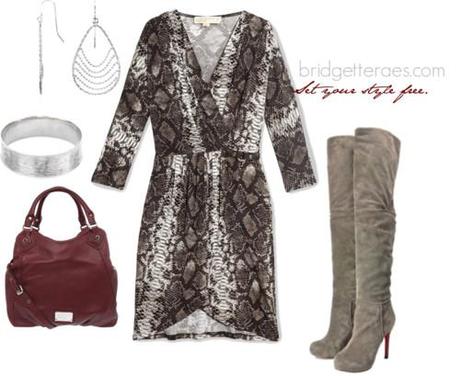 Python Dress by
bridgetteraes
featuring marc jacobs handbags
While the red bag adds some pop, it still is all about the dress.  Making the python the key player does not mean that the rest of the outfit needs to be boring, but it does need to support the python; the pieces can't be too dull.  Therefore, I chose a pair of over-the-knee trendy boots in a mushroom shade that works with the gray found in the dress, eye catching, yet subtle earrings and that red bag which complements the shades of the python without stealing too much attention.  Tacky would have been if I chose a blinged out bag, garish earrings and a pair of boots with too many bells and whistles.
Tip #2- Use Python to Cut Through the Sweet
Sometimes when an outfit is too conservative or too girly, a great way to balance it out is to choose an item that is in the complete opposition to the look as an addition to the outfit.  I call it "cutting the look."  Python is a great accent piece (when used in small doses) to cut through overly conservative or frilly looks that need some edging out.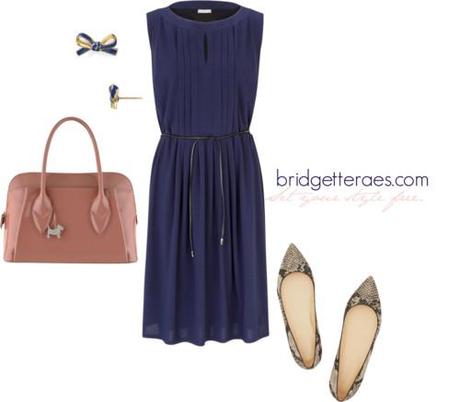 Sweet Python by
bridgetteraes
featuring a navy blue dress
Without the python, this outfit is a bit saccharine.  It's a sweet dress with a pink bag and bow earrings.  Yet, by adding just a touch of edge through the python flats, balance is created.  Take note that the python is in a more feminine and classic ballerina.  The shoe style classically works with the overall feminine look, yet the python gives it some edge.
Tip #3- Use Python to add some interest to a basic 
Nothing is more important than some good classic basics in your wardrobe.  However, nothing can get more boring than too many good classic basics in your wardrobe.  One way to spruce up your basics is to purchase what I call novelty basics.  A novelty basic is a piece that has some novelty added to it yet can still function as a basic in your closet.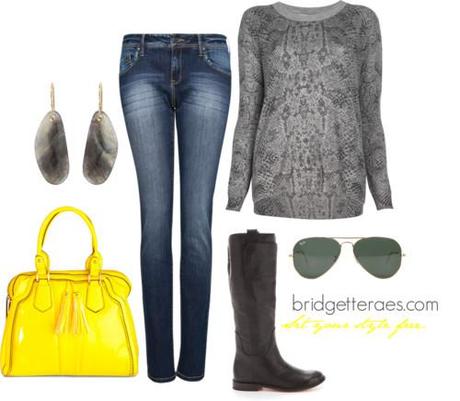 Python Sweater by bridgetteraes featuring sapphire jewelry
In this outfit, the python sweater is a novelty basic, meaning that it has the versatility of a basic gray sweater, but has the interest of a novelty.  A sweater like this can be treated like a solid and any color can be partnered with it.  In this case, I went for a pop of yellow.   The result, a clean, classic weekend look with a bit of a twist.
Tip #4- Do Python Subtly
Just because python is trendy does not mean that you have to embrace it whole hog.  Look for small places that you can add it to update what you already own.
Python Bracelet by bridgetteraes featuring stacking bangles
In this outfit I went for just a touch of python.  While it adds something to the overall look of the outfit, it also falls in line with the total look.  In this case, the python is a supportive player in the whole look, not a stand out piece.  It doesn't always have to be about the python, the python can easily fall in with the rest of the outfit while still bringing some interest to the look.
Tip #5- Python Craves the Spotlight, but don't give it too much of a solo
One of the biggest mistakes we make with novelty fabrics like python is that we give them too much attention.   This is how we can get bored easily because we wind up wearing the same thing, the same way, over and over again.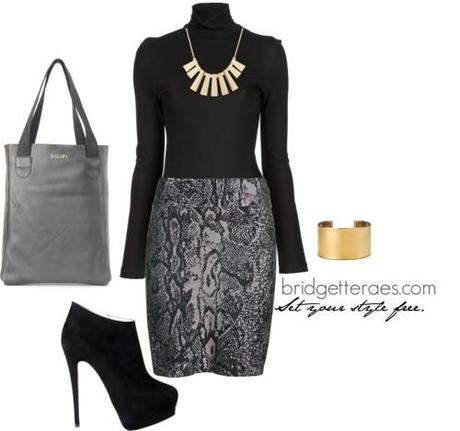 Python Skirt by bridgetteraes featuring a cuff bracelet
While this python skirt calls for a basic top to be worn with it, it doesn't mean that you can add some interest to the overall look to change it up and keep it fresh.  One one day you may want to wear it with a pair of booties, opaque tights and some bold jewelry.  To change it up, you may choose a black jacket and some knee high boots.  To change it up further, you can even consider treating this python skirt like a solid black skirt and bring in some color.  Consider going bold with a red  top or jacket instead, for example.