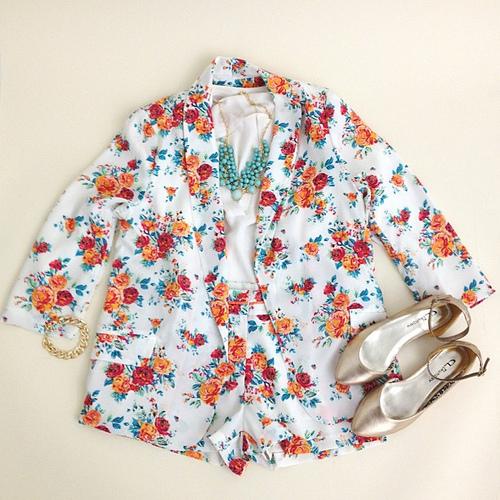 People are usually timid when it comes to floral prints. I'm here to ensure you that they are completely harmless.
My Motto for Floral Prints
It doesn't matter if it's spring, summer, winter or fall, my motto is always the same when it comes to statement prints.
…Go. And, go all the way.
Florals and spring go together like tea and biscuits – they're the perfect pair!
There's something so lively and invigorating about floral prints. I guess it's the same affect as freshly cut flowers delicately placed in a vase.
Florals Mean Life
Florals (like fresh flowers) can bring life to any surrounding.
So if you're thinking of taking the leap into hard-core floral print this spring. Then this outfit should serve as inspiration.
Pairing floral print shorts with a floral print blazer. Hearing that combination may not be appealing, but seeing it is a different story.
It works!
Keep it Simple and Flor-Giving
When going with something so colorful and eye-catching the key is to always keep everything else minimal. The floral shorts and blazer are simply paired with a bubble necklace, gold link bracelet and a pair of flats.
The result is flor-giving.
This outfit is perfect for a spring time date, picnic in the park or a cruise to the Virgin Islands.
How would you wear this outfit? Would you change the accessories? Would you change the shoes? Do you prefer not to wear a floral printed top and bottom?
Feel free to leave comments below.