Are you suffering from workplace fashion boredom?  Do you want a fresh look but don't want to stray too far from acceptable work attire?  Instead of trashing your entire wardrobe and starting again, why not add some color and play with it in interesting ways.  When you step out with color, basic, professional pieces no longer look basic.  For today's post in this series, here are my tips on how to wear color to work.
Look at color combining as a three part strategy
My first tip is to look at color combining as a three part approach, which I call the color Tripleplay.  If you watched my video talking about the three part approach to dressing you understand the three components of an outfit are- the base the accent and the pop.  If you aren't familiar with this, watch the video here.
When adding color to an outfit, to make the outfit more interesting, you can try using three colors which are:
The Base Color(s): The base color is typically a neutral and in your more tailored pieces, like bottoms, skirts and suits.  These pieces usually have longevity and are usually in colors that won't go out of style anytime soon.
The Accent Color(s): The accent color is the colors in your tops, like knits, blouses and sweaters but can also be things like blazers, cardigans, etc.  These colors, which can be neutral shades or colorful ones, work back to the base shades.  And, here is a tip: any color you can wear with black you can also wear with other base neutrals.
The Pop Color(s): The pop color is the color that adds that final touch to an outfit, and usually the part that most women neglect.  Typically, the pop is in the smallest percentage of the outfit like jewelry, shoes, handbags, belts, etc.  The pop color always complements the accent color, either tonally or as a great contrast shade to the accent.
Here are some color combining examples to give you an idea.

In these three combos both the base and accent are neutral colors.  When you are working with an entirely neutral outfit your pop shade can be anything.  You can wear several neutral colors or one neutral color entirely.
In the first color combo the chocolate is the base, the sand shade the accent and the pop a punch of green.  So, imagine, if you will, the chocolate being a skirt, the sand being a top and the green being a fun pair of shoes or a handbag or piece of jewelry.  Can you see how the green adds some excitement while still working with the base and accent shades?
Another example is the black base, gray accent and red pop.  Let's say you are wearing black pants with a gray top.  Wouldn't it look more exciting with a red handbag or pair of shoes?  This is what that third color can do for you.
Lastly, a brown suit with a taupe top or jacket.  With just a punch of turquoise as an accessory the outfit has a little more interest.

Now, let's take it a step further as I show examples of a base neutral with a colored accent and a colored pop.  This can get a little trickier because you now need to figure out accent and pop colors that work together.
The first color combination has a neutral tobacco base with a pink top.  Green, being one of those colors that is an easy pop, complements the pink and finishes the look.
In the case of a putty colored base, the sour apple yellow accent shade is complemented with teal.  Teal is another color that is a great pop because it works well with any color you may be wearing as an accent.
Lastly, the olive color combination.  Olive and soft blue work beautifully together and gets finished with a purple pop.
You can certainly add more colors in one outfit than just three.  Here are some examples from a recent outfit session with a client that can show how color can be added to a professional look without losing its professionalism.  In each look at least three colors are in one outfit.
Pop Colors are great ways to wear color if you don't like color
I love, LOVE, color!  However, if you look at my wardrobe for the most part if is neutral.  I like to wear color but don't wear a ton of it in my clothes, yet, I'm still seen as a colorful person.  The best way to bring color into your wardrobe is through your pop shades.  Doing this you can still keep your wardrobe on the neutral side while adding some interesting colors to an outfit.  I think most women like the idea of embracing color through pops than through clothing.
Real Life Color Combining Examples
Here are some outfits I've put together showing how a great color combination can make a boring outfit a lot more exciting.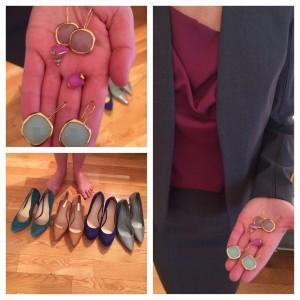 In this outfit, my client is wearing a gray suit that is her base.  Underneath it I added a wine colored top as her accent and for the pop she has a few options, all which are photographed here.  She could go tonal with her two pink earrings options or, for some contrast, go with a pair of minty earrings.  For shoes, she also have multiple options, as well.  She can either wear teal shoes, deep cobalt shoes, gray shoes or a simple pair of nude pumps.  In all cases, the base, accent and pop harmonizes.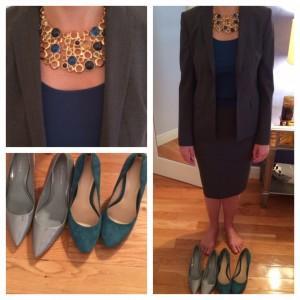 Using the same exact suit as the last look, I put a dark blue tank under the suit as the accent.  The pop is the necklace and shoe choices that add some interest to a very classic look.  The gray shoes are a little more understated and the teal shoes add that pop color found in the necklace.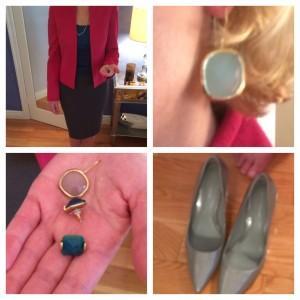 In this outfit the base is the same gray skirt and blue top from the last outfit.  Here, we changed out the jacket for an accent and popped the look with a few different options.  My client can either go with the same minty earrings from the first look, a teal pair that complements the blue top or a pair of light pink earrings that tonally pops the jacket.  With all the pops going on we chose simple gray shoes.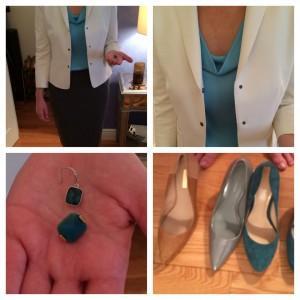 With a navy skirt as the base, the accents are the blue shirt and winter white blazer.  For a pop I chose teal earrings and shoes to work tonally with the blue top.  Other alternatives for shoes include gray or a simple nude pair if she wants to tone the outfit down.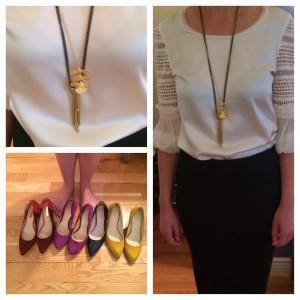 I love these outfit options as simple examples of how a basic black skirt and ivory top can be a lot more interesting by just adding a pop.  Here this simple outfit is made interesting with pop shoes in a variety of colors.  To add just a little more excitement, though not colorful, I gave her two statement necklace options.  For tips on how to wear a statement necklace click here.
How to Wear Color to Work
Outfit #1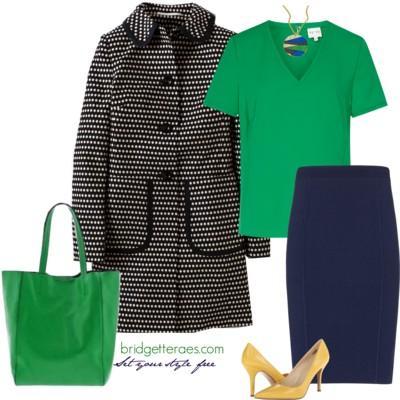 This outfit, which includes a skirt and top by Reiss, a Boden coat, shoes by Nine West, handbag by Banana Republic and necklace by Holy Harlot, shows a Color Tripleplay of navy, green and yellow.  Navy and green is such an easy color combination and, without the yellow shoes the outfit would still be just fine.  However, that last unexpected pop of yellow adds just a touch more excitement.  Yellow is a great pop color, especially if you want to embrace the color but don't like it near your face or to wear it too heavily in an entire outfit.
Outfit #2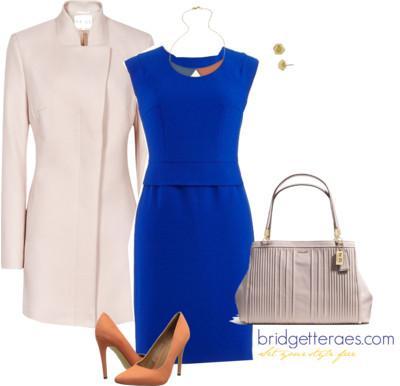 One area where women tend to step out with color is in dresses.  Even if you have a dress that is colorful it doesn't mean that you can't add an additional pop of color.  Here a royal blue dress by Jones New York is popped with a pair of coral shoes.  The colors are brought together with a necklace by Shlomit Ofir.  The accent of this outfit is found in the warm blush coat by Reiss and a cream handbag by Coach.
Outfit #3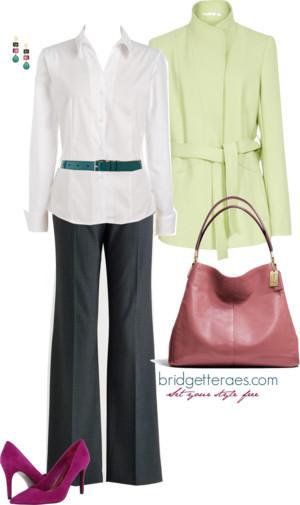 This outfit is a perfect example of how easily you can make a pair of charcoal pants, like these by Calvin Klein, and a basic white button down more exciting.  All it takes is some simple color additions in basic pieces.  Here there are quite a few pops going on and, even though there are several colors, they all work together.  Magenta shoes by Lauren Ralph Lauren adds the first pop.  Now, you could stop there and the outfit would definitely be interesting enough, but, to make it even more exciting, I added a pink Coach bag that complements the magenta shoes.  Next, I added a teal belt.  Teal and pink are an easy combination, which is why this combo works so well.  To bring all colors together I styled this outfit with a pair of earrings by Belsi. Lastly, the outfit is finished with a Reiss coat in Lime Sorbet.  Green, like this lime coat, being like a colored neutral, it adds some color interest to this outfit while being very complementary.
The beauty of buying classic pieces in interesting colors is that your outfits remain timeless while not being boring.  This approach is the quickest and easiest way to make the common uncommon.

Repost This Article