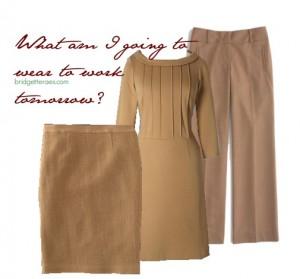 I love the color camel; love, love, love it.  It's rich looking, a perfect shade for autumn and a very versatile neutral for any working wardrobe.  Yet, despite its versatility and rich beauty, along with a desire, many women struggle with how to wear camel.  If you're among those with questions, here are my tips and some ways to wear it for today's post in this series.
Who looks good in camel?
Everyone can wear camel.  The secret to wearing it well is how it is worn.  While camel worn near the face doesn't flatter everyone, there are ways to work around it if the color washes someone out.  It's easy to know whether or not camel is a flattering color near the face.  When it works it brings a richness to one's coloring and when it doesn't, it can make someone look pallid, washed out and sickly.
If you want to wear camel near the face yet find it doesn't flatter your personal coloring, consider wearing a camel cardigan or jacket and layering it over a top in a color that is flattering on you, or try jewelery or scarves in flattering colors when wearing camel tops or dresses.
Of course, the best solution for wearing camel when it isn't a flattering color is to wear it away from your face, like in a pair of pants or skirt.
What colors can you wear with camel?
Here's the beauty about camel, any color can be worn with it.  Camel is a neutral and, like black, can be worn with any shade.  Plus, unlike brown, camel works beautifully with black.  If you are looking to warm up all that black in your wardrobe, camel is a great shade to add.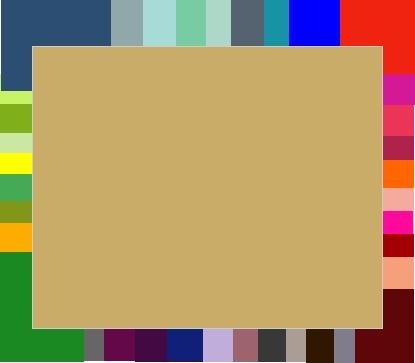 This is a rough illustration of how versatile camel is.  Basically, if you can wear a color with black you can wear it with camel.
What are the best fabrics and to wear in camel?
Here is where camel and black are greatly different.  Black pants aren't only versatile, they're incredibly figure flattering because they are so dark.  Camel bottoms aren't always as forgiving.  Have you ever tried on the same pair of pants in both camel and black and noticed that looked bigger in the camel pants or that certain lumps and bumps, that were camouflaged in black, were suddenly visible?  It is true that darker colors will look slimmer and camel being a lighter shade will not always make your body look slim, especially in thin fabrics.  However, camel pants can be beautiful, so to wear them well choose fabrics that are beefier and/or have Lycra in them.  Camel pants in flannel, for example, are a great option because of the thicker fabric.  Additionally, be mindful of silhouette when choosing camel bottoms as silhouette will also strongly influence how well you look in the color.  Pencil skirts, boot-cut pants and styles that best flatter your figure are the best choices.  It is true, you can't really hide in camel bottoms like you can black ones.
Now, let's take a look at some styled looks using camel to give you some ideas on how to wear camel along with some of the tips above illustrated.
How to wear camel
Look #1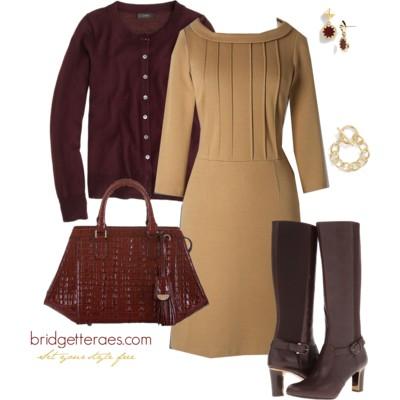 I think this dress from Boden is the perfect work dress.  It has sleeves, is in a beefy, yet easy, fabric, a stylish silhouette and has sleeves.  A dress like this is a great staple because you can style it a variety of different ways and get a lot of use from it.  With the basic neutral base of camel, remember, any color works with it.
In this outfit I decided to style it with burgundy to show how to add some rich color if camel washes you out.  I chose a burgundy J. Crew cardigan, a pair of gold and burgundy earrings, Brahmin burgundy handbag, brown boots and a simple gold bracelet.  If this dress was in my closet I'd easily be able to come up with five additional looks using this one dress just by changing up the color.
Look #2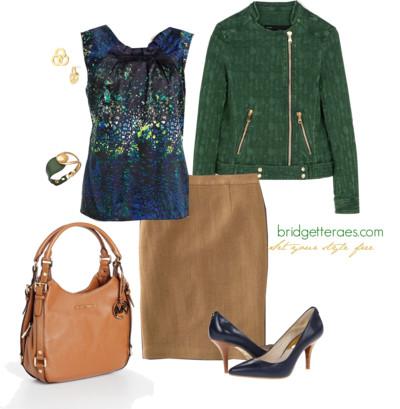 A flattering silhouette for many is a pencil skirt, like this one in camel, also from Boden.  In this outfit, I liked playing with the colors found in the T Tahari printed top.  With the flecks of forest green, a great shade with camel, I added a casual zipper jacket from Zara and styled the outfit with navy pumps.  The look is finished with a green bracelet, gold earrings and cognac handbag.
Look #3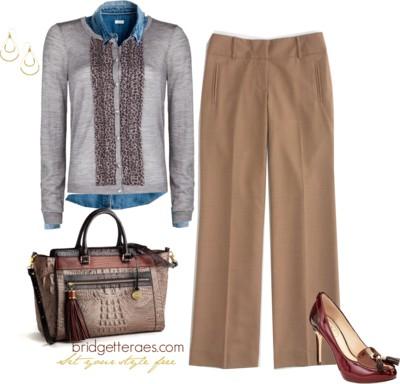 For pants, this flannel pair from J. Crew will not only keep you warm in the winter but, as I said earlier, are beefy enough to camouflage any lumps and bumps.  For a modern, preppy look, I added a denim button down, layered with an animal printed cardigan.  The look is finished with a pair of Vince Camuto heeled loafers, gorgeous Brahmin handbag and gold earrings.

Repost This Article