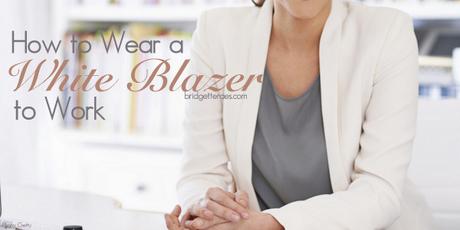 This is my busy season with clients. I work with all different types of women and they are all unique. From lifestyle to profession to personal style, the most exciting part of my job is helping each one of them find and style and build a wardrobe based on their specific needs. However, despite these differences, every single client over these past few weeks has purchased a white blazer.
Of course with different lifestyles, income levels and professions, different white blazers have been purchased. At least three clients bought this cotton pique style from Ann Taylor, two purchased this white cotton one from Vince Camuto and one bought this absolutely gorgeous investment white blazer from Akris Punto.
There are many things that makes a white blazer such a must-have in any woman's wardrobe, and in today's post I'm going to share what my clients already know about the versatility of white blazers along with my tips on how to wear one.
How to Wear a White Blazer to Work
White blazers go with everything. No matter what you are wearing a white blazer will work as a layering piece. Have a sleeveless dress that needs some coverage? Looking for something to wear with a printed top, dress or skirt? Don't want to wear a suit but need something more professional to wear? A white blazer will solve all of these problems.
White blazers are more professional than cardigans. Cardigans are excellent to have on hand for coverage, warmth and finish. But they're not professional enough in all situations. For a grab-and-go piece that looks more tailored, a white blazer will come in handy.
Stop buying black blazers. I wrote a post about black blazers a few months ago. They seem so easy and necessary but they can often be tough to wear. They don't usually go with black pants or skirts unless they are part of suits, you can't wear them with brown or navy bottoms, and they can look heavy during the warmer months. Instead of buying a ton of black blazers, try picking up a white for more versatility.
Don't like white blazers? Here's the one problem with white blazers, they don't flatter everyone's coloring. On some people white is just too stark. The good news is that there are tons of styles that are in soft ecru shades or light ivory. Go for those to get the same benefit that a white blazer will give you while flattering your skin tone.
Work outfits using white blazers
Below are three work outfits using white blazers to show just how versatile they can be.
Outfit #1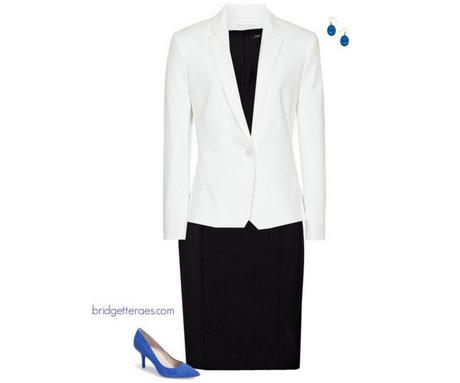 This outfit, using a white blazer from Reiss, is a great example of how it can be layered over any basic work dresses you own. How many gorgeous dresses do you stumble on that don't have sleeves? Not only are most women averse to showing their arms, but it can get cold in most offices.
It really doesn't matter what your tailored work dresses look like. Neutral or colorful, a white blazer will work. Here I added it over this pinstripe sheath dress from French Connection and finished the outfit with a pair of blue suede pumps from Kenneth Cole and blue Abalone earrings from Max & Chloe.
Outfit #2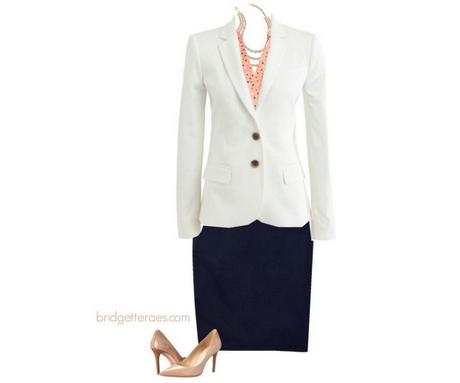 All your printed dresses, tops and skirts will work beautifully under your white blazer. Women want to look good and want to do with minimal effort. Have a white blazer, like this one from J. Crew, as a go-to jacket to wear with all your prints when you don't know what else to do.
In this outfit, I styled the blazer over a printed top from Modcloth and a navy pencil skirt from Boden. I finished the look with a pair of Coach pumps and multi-strand necklace from Ann Taylor.
Outfit #3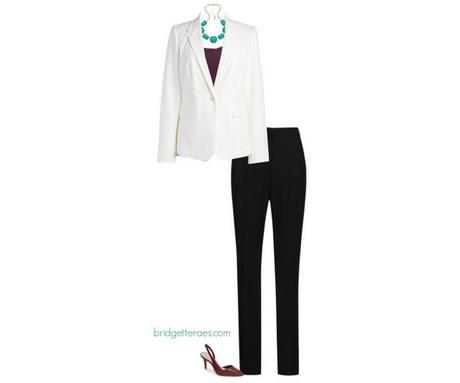 White blazers do a great job of bringing your darker work looks into the warmer months. They're also excellent to have as a tailored piece to wear with all your separate bottoms, from pants to skirts.
In this look I styled this Vince Camuto white blazer with a pair of basic black pants from Reiss. Under the blazer I added a purple cap sleeve layering piece and finished the outfit with a pair of burgundy pumps from Cole Haan and turquoise necklace from Sunset Cove.
Don't forget your white blazer on the weekends!
Don't just wear your white blazer to work, it's a great staple for the weekend too. Pair it with a jeans for a great, polished and smart casual look.
Shop for white blazers
Check out these additional white blazers so you can add the perfect one to your wardrobe.