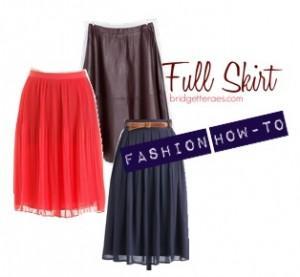 I received an email from a reader asking for tips on how to wear some full skirts she just purchased.
Her question: "I have purchased a couple of skirts that are more 'flowing' and soft – they hit a couple of inches below the knee. I want to wear them with feminine blouses, but I'm not sure how to get the best look. My waist is tiny and I'm heavier in the hips and thighs. The skirts never fit snugly on my waist so when I tuck in a blouse that is not fitted I get the 'I have no waist' look. Do I need to leave the blouse tucked out and cinch it with a skinny belt? Look for a wide obi belt and try to cover the area where the pieces come together?"
With full skirts being so trendy for fall, I knew getting an email like this would be just a matter of time.  While they look easy to wear, especially if you have a defined waist, they can be very tricky.  I remember a few years after I left my career as a fashion designer, an old designer friend and I were having a conversation about his plans for his newest collection.  He showed me a photo of a dirndl skirt, which is a full skirt with an elastic waistband, and told me that he was going to include this style for the new season.  After years of dressing women, I was concerned about his choice and said to him, "The problem I see with this skirt is that it is a full skirt with an elastic waist.  Considering your customer is over 35 years old, I fear that nobody is going to wear it.  For one, most women hate tucking in and often wear their tops untucked because they don't want to show their bellies.  Additionally, if a woman wears her shirt untucked with this style of skirt, all the gathers from the elastic are going to create a lot of lumps and bumps that she doesn't want."  After I said that to him, I felt like I rained on his parade with my words of caution.  However, I also felt like I was giving him valuable insider information.  I don't know if he heeded my advice.
Anyway, my point is that a full skirt can be tricky to wear because, while the skirt looks figure flattering because of its fullness, the fullness of the skirt is the exact reason why it is a problem.  And it's not just the potential lumps and bumps caused by an elastic waistband but, even if a full skirt doesn't have an elastic waistline, other problems can happen as well.  Here are a few things to keep in mind when buying and wearing a full skirt.
How to Wear a Full Skirt: Tip #1: Don't Waste the Waist
The waistline is the most crucial focal point to consider when wearing a full skirt.  Given this reader's body proportions, I'd suggest that she emphasize the waist.  If she doesn't, she runs the risk of her entire body looking as wide as her thighs.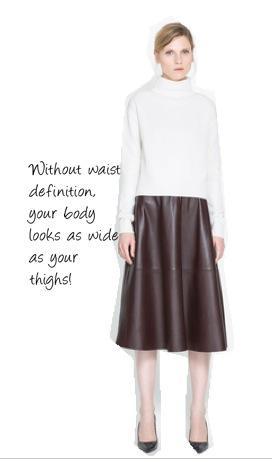 If you have a waist, this style of skirt can be your best friend, however, you still need to be mindful of how you wear it.
The first thing to keep in mind is your body shape on a whole, in particular if you have a large chest.    Any time you shorten a body area with clothing you optically make that body part look bigger than it already is.  If you have a large chest, even if you don't have a short torso, your torso can look shorter than it is because of the size of your bust.  By shortening the waist further with a belt, your torso is shortened even more, making your chest look disproportionately bigger than it is, like you have boobs and a waist without any sign of a torso in-between.  Having this body shape myself, I am always wary of high waistlines, wide belts and empire seams for this very reason.  Sure, making your boobs look bigger than they are may sound appealing, however, oftentimes it can just look ridiculous.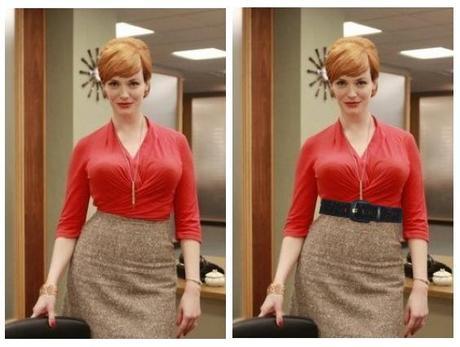 In both cases, Christina Hendricks looks amazing in her Joan Halloway costume.  However, being one of the most visible buxom beauties out there, she is a great example of what happens when the torso is shortened and you have a large chest.  With the belt, Christina Hendrick's torso is shortened, her bust looks even larger and she has no torso.  Without a belt, you can see more of her torso.    Yes, belting is a great solution for a full skirt to show off the waist.  However, if your chest is large, you may want to avoid very wide belts or contrast colored belts.  Instead, opt for thinner belts that don't have a lot of contrast, or wear wider belts with the knowledge of how it may be affecting your body proportions.
Next, a waist can be created simply by tucking in a top, yet, like the reader who asked this question, when the blouse isn't fitted enough you can get that that "no waist" look.  This is a problem.  I suggest that the reader who asked me for help either gets her skirts taken in a bit through the waist, wears tops that don't blouse too much or adds a belt.  If she belts she doesn't necessarily need to tuck her top in either.  She can wear the top untucked and simply cinch the belt over it.  The beauty of doing this is the waist is cinched and the longer top flattens down the fullness of the skirt over the hips and thighs.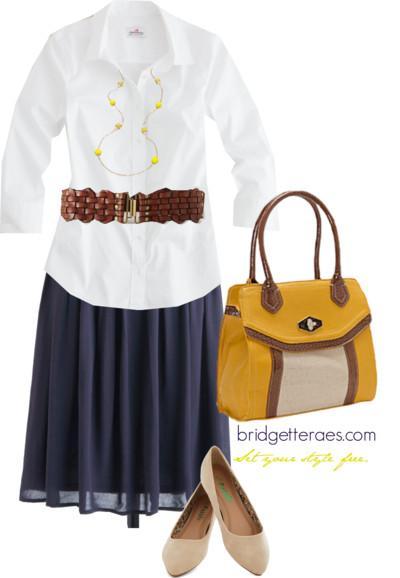 The last suggestion I want to make about creating a waist with a full skirt is that she doesn't just have to belt or tuck in her top.  Another solution is to look for shaped jackets or cardigans that have shape in the waist.  My advice if she goes this route is that the jackets are shorter (don't extend much longer than her pelvic bones), and if she wears cardigans, to avoid lumps and bumps, that the skirt doesn't gather too much at the waist.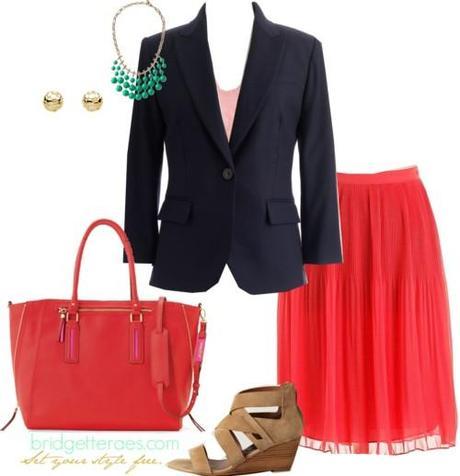 How to Wear a Full Skirt: Tip #2: Contain Those Thighs
If you're familiar with my advice, you may have heard my "Fat in a Ziploc Bag" analogy.  Basically, if you wear loose and flowing clothing on areas of your body that tend to jiggle these body parts are left to roam free.  I call it the Fat in a Ziploc Bag analogy because it is exactly what happens when you put fat in a Ziploc bag– the fat takes whatever shape the bag takes.  Conversely, if you were to put fat in a sturdier container, like a Tupperware container, the fat has no choice but to conform to the shape of the container.  As vulgar as this visual is, the same is true for your clothing.  This reader mentioned that she has larger hips and thighs.  Having them as well, I know that, if not contained, they can jiggle all over the place.  Unfortunately, loose, fluid skirts can be like Ziploc bags.  There isn't enough structure in them and usually the fabric is very flimsy.  I know for myself, when I wear flowy skirts I don't leave the house without some sort of support.  My personal shapewear favorite for warmer months are the Skinny Britches Shapewear from Spanx because they are thin and comfortable, and I particularly like the Skinny Britches Skort because not only do they offer support but they also keep the skirt from getting stuck between your legs when you walk.
One would think that a loose, fluid skirt would hide a multitude of sins but the opposite is actually true.  As I like to say, big, baggy clothes only make you look big and baggy.
How to Wear a Full Skirt: Tip #3: Add Length
Have you ever put a pair of pants on in the dressing room only to notice that you immediately stand on your tip-toes while looking in the mirror?  There is a reason why women instinctively do this, even if they don't know why.  Optically, any time you lengthen a part of your body you also slim the area too.  This is why women with large thighs particularly do this, it's also why vertical stripes are slimming- the longer something looks, the slimmer it looks.
Full skirts can make even the tallest of people look squat and short if they aren't worn properly.  First, this particular reader mentioned that the skirts she purchased are hemmed right below the knee.  To avoid her legs looking larger, and her body longer and leaner, the first recommendation I'd make is that they are hemmed to the narrowest part of her calves because if the skirt ends at the widest her legs will optically appear larger than they really are, she will look heavier and appear shorter.  Secondly, if you have large legs, stay away from ankle straps and full skirts.  A nude pair of shoes, shoes that match closely to the color of your legs, or tights and shoes of the same color will create a longer leg line, the body will look more balanced and you won't feel so squat in a full skirt.  Here is a picture that illustrates the point of what the wrong hemmed skirt and ankle straps can do perfectly, taken from my book Style Rx: Dressing the Body You Have to Create the Body You Want.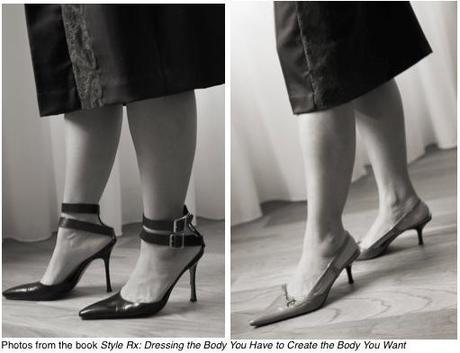 The beauty of a full skirt is that it can be a very soft and feminine look.  However, this is a relatively newer skirt shape that women are only starting to embrace again.  Given that we haven't seen this skirt proportion in some time, it makes sense that many women feel confused on how to wear them.  This is why I wanted to address this reader's question as a blog.  I am sure she isn't the only one perplexed by this.  Generally speaking, I have found that the only women who look good in baggy shapeless tops and full skirts are very thin, very tall women who have the body shape to spare.  However, for the majority of the female population, to wear this skirt style successfully, the waist, creating a balanced hourglass shape and long lines with clothing, I think, is important.

Repost This Article