Spring is a great time for blazers.  Like cardigans, they can act as outerwear pieces while giving you a warm, finished and polished look.  For today's in this series, I am going to give you my tips on how to wear a blazer, and get the most out of it, this spring by featuring this basic camel blazer from Zara.
What to look for in a blazer
If you want to get the most out of your spring blazer, look for one that is versatile and can go with everything, from casual to work.   For example, if Zara's fit wasn't so anti-curves, I'd be all over this camel blazer because the color would go with everything I own. I can imagine it going with my super casual outfits to my dressed up ones.  But, alas, Zara doesn't like their clothes on women with boobs, it seems.  Anyway, the point is to look for a shade that will work with most of what you own.  It doesn't have to be camel, but a neutral may be easier versatility-wise than a bright color.  You can certainly have bright colored blazers in your wardrobe, but if you are looking to get the most mileage, a neutral shade that will blend with most colors in your spring wardrobe will probably work best.
Next, the blazer should be classic enough to be accessorized and changed up.  Keeping your basic blazer, well, basic vs. one that has too many bells and whistles, closes oddly or is fussy will give you the most options.  Again, have blazers like novelty blazers in your closet if you want, but having that one basic blazer that can be changed up will likely be your go-to piece more regularly.
Last, look for blazers that don't look like the top half of suit.  You want versatility but you also want the blazer to stand alone so it can be paired with a variety of different looks from jeans to professional attire.
How to wear a blazer: Outfits
Here are some outfits to consider when styling a basic blazer.  As you will see, with just a few changes you can wear this type of blazer in a variety of situations.
Outfit #1- With jeans and a basic t-shirt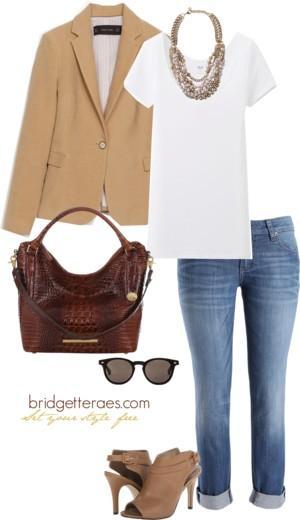 I love the idea of pairing a blazer with a basic t-shirt and jeans.  It always looks so smart and crisp for casual, as well as dress down Friday's.  This type of outfit is also a great blank canvas for accessorizing.  Basically, you can do anything you want to finish this look.  In this case, I styled this blazer with a white
Uniqlo t-shirt
, a pair of Kut From the Kloth jeans, a Stella & Dot necklace (similar) and Brahmin handbag.  Lastly, I added a pair of
open toed booties
but you can certainly go with something a little less swanky.  A pair of ballerina flats would work just fine.
Outfit #2- With a Casual Dress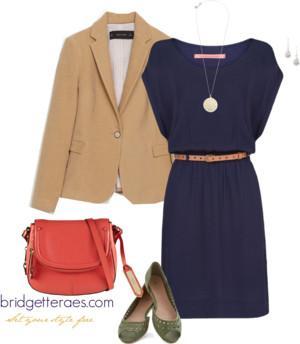 To add a sharp finish to a casual dress, a blazer can be a great option to take it to the workplace.  Here I styled this blazer with a navy Mango dress, a pair of green Modcloth flats, coral crossbody handbag from Aldo and pendant necklace and silver earrings for jewelry.   Again, because of such a clean, neutral base you are free to add any accessory colors to change up the look.
Outfit #3- To create a suited look with a dress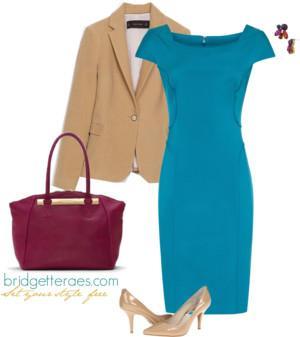 If your workplace is more corporate, a blazer can create a suited look with a dress.  I have been finding a lot of my clients have been preferring suited dress looks over straight skirt suits because they are so much easier.  Here, I styled this blazer with a turquoise Reiss dress, a magenta Vince Camuto handbag and multicolored earrings that pull all the colors together.  Lastly, a pair of nude pumps by MICHAEL Michael Kors finishes this professional outfit.   The beauty of keeping a basic blazer neutral is it will go with any dress color you are wearing.
Look #4- With colored jeans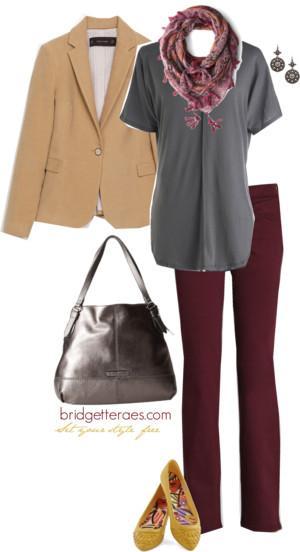 Here I styled this blazer with burgundy Miraclebody jeans, a lovely color combination, made even lovelier with a grey top and mustard colored flats.  During the spring it's all about layers, so I added a colorful scarf that can be easily wound around the neck that can be removed when you get warm.  Oh, and on that note, here are some tips on how to wear a scarf.  The outfit is finished with grey earrings and a metallic handbag by Franco Sarto.
Outfit #5- To add pop to a monochromatic outfit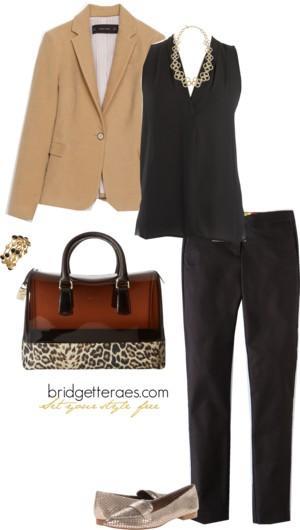 Column dressing means dressing entirely in one color, also known as monochromatic.  Dressing this way can be very lengthening and slimming.  It can also get really boring.  The beauty of wearing a blazer over a look like this is it can add a pop while still reaping the benefits of a column dressing approach.  Here I warmed up black Boden pants and a black Vince Camuto top with this camel blazer.  To further warm up the look, I added a pair of metallic loafers, a leopard printed handbag by Furla, a gold necklace and black and gold bracelet by Blu Bijoux.
The goal with this series is to show you multiple ways to wear one item.  I hope with these tips on how to wear a blazer this spring will give you multiple options to consider.

Repost This Article