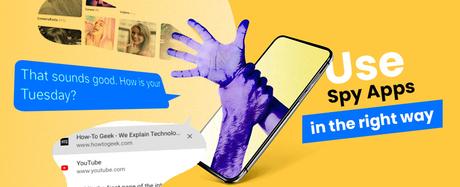 Over the last couple of months, we have received queries. How do I use spy apps or surveillance services in an ethical way? You know that all the companies project spy apps for noble uses, but the truth is some apps are scary. You need to think very hard, and you need to think twice before you use it. Today, we guide people on the ethical ways of spying on phones. Several apps sound ethical but work in a malicious way. Few offer ethical services to spy on cellphones and tablets.
What Are Spy Apps?
Spying apps are tools that let users access and control someone's cell phone. It empowers you to watch secret facts that you are unaware of, but want to be aware of. Spy app technologies enable you to spy on messages, calls, and locations. Further, captures keystrokes, and browsing history. You can also control your cell phone. These apps market themselves as parental controls, and employee monitoring software. People also use them to catch loved ones' locations. Apps enable you to read someone's messages without letting them know.
What Is Meant By The Spy Software?
Spy apps are also known as software. You can use them to do a remote scan of another cellphone connected to the internet. They can gather valuable information and insights from the device. You can access the target device without a password. But, it needs one-time physical access to install the spy app. So, you have to download the app and install it on the target device to spy on another phone.
Why Use Spying Apps For Legitimate Purposes?
You may have a son or a daughter who thinks fully too young to own a mobile phone. However, they do have access to tablets or they manage to use their mother's cellphone too often. So, where they can text with select people, play games, watch shows, and YouTube. We totally understand the fear associated with the unknown. So, you may think of sudden! What my son is doing on their smartphone?
Similarly, you may wonder what your employee is doing during work hours. Moreover, suspicions about your employee working from home. Why employees are so late in the field working outside the company? So, cell phone spy apps offer perfect solutions to deal with your fears. We know that there are so many cases where mobile tracking apps are the correct solution.
What Are The Ethical & Legitimate Usages Of Spy Apps?
Spy app technology itself is not scary, but its unethical uses have made them a dangerous sign. The spy world seems malicious because it has sneaky connotations. So, here are some ethical and legal ways to use the apps that empower you to spy on another cellphone:
To Keep an Eye on Your Child
Monitor Disgruntled Employees
Track Your Loved Ones
To Find Lost/Theft Phones
Backup Your Cellphone Data
Spy Services Happens To Life Savings
How Do Parents & Employers Use Spy Apps In An Unethical Way?
Parents and employers sometime represent terrible compromises. They do not care about privacy and security of their kids, and employees. Usage of spy apps in such a way is not legal. Our ecosystem depends upon the foundation of your personal data. This is true of Facebook, WhatsApp, Snapchat, Google, and every app or account children and employees owns.
"Adoption of the unethical way of spying on kids, and employees is heartbreaking. It Signals that you don't trust them at all. Legal ways enable you to explain that you care about your kids, and business safety, said TheOneSpy CEO. "
Parents sometimes use surveillance software on their kid's cellphone. They access everything that has nothing to do with digital parenting. Employers do the same things to access the personal devices belonging to the employee.
So, parents, and employers restrict to the info for kids' safety, and business security. You should not access your kids every chat, call, text message, and other activity. Your child could feel embarrassment if you get caught. Employees would feel insecure, and under pressure that decreases productivity.
Ethical Spy Apps List That You Should Know
Ethical spy solutions for cellphones always market themselves for a noble cause. They represent their solutions as parental monitoring software, and employee monitoring services. Further, for many other legitimate purposes. They don't keep users' data for so long and enable users to remove the monitored data at will. Here are the following top 3 ethical monitoring apps that enable users to spy on non-rooted & jailbreak iPhones:
TheOneSpy is the world's cell phone monitoring software. The application comes with a variety of qualities. It has unique traits that no other competitor has yet introduced. It works as spy software for legitimate monitoring purposes. You can protect your children, check your employees, and keep tabs on your loved ones' cell phones. The app can itself, be undetectable, non-rooted, and temper-proof. You can track lost/ theft phones, watch kids' whereabouts, and see cell phone activity.
Top TheOneSpy Features For Parental Control & For Employee Monitoring
Here are the features to use for parental spying, and to monitor your employees during work hours:
OgyMogy is android-centric spy software. You can use it on android phones for parental controls, and to spy on employees. The app is legitimate and encourages ethical monitoring activity on a cellphone without root. It ensures kids' online safety. Push it, users, to have permission before spying on another phone. You can use it for kids' safety without them knowing. Many counties in the world are in favor of spying on underage kids without their knowledge.
Top OgyMogy Features To Spy On Non-Rooted Android Phones
Here are some features to monitor android cellphones and tablets without rooting:
Free parental spying apps are available on the web. Do you know? Free apps that claim to be parental monitoring apps are data-stealing parasites. They use the target cell phone as a product. Sweep the data into their dashboard without permission. SecureKin is one of the legal parental spy apps with Play Protect recognition. It is handy for setting parental controls on android, and iPhones.
Top SecureKin Parental Monitoring App Features
Here are secureKin features that you can use to do surveillance on another phone for free:
Unethical Spy Apps List That You Know About In 2022
Sometimes spy product is rarely what you think it is because in most cases product is you. Whenever, you use unethical spy apps on your target phone. It uses kids' and employees' cell phones as a product. Further, it cleaned all your cellphone data without your permission. The unethical spy apps do tricks to make you interested in all the data on their phones. Interestingly, it has nothing to do with legitimate spying. So, here is the list of unethical spying solutions for cell phones.
SpyBubble
Spybubble ranked no.1 in unethical spying apps. The application is working particularly for breaching and invading privacy. Encourage people to spy on spouses and loved ones. It encourages people to install their significant another cellphone. You can track location, read messages, and spy on social media activities.
Spybubble features for illegal spying
Spy on IM social media
Geo-location tracking
Spy on spouse calls
Monitor text messages
Photo monitoring
SMS commands
Copy9
Copy9 ranked second in unethical and fake spy solutions for cellphones. It is a data-collecting parasite. App has the aim to rob people by selling their licenses and stealing their cellphone data. . Application offer features that you see in other ethical and legitimate monitoring services. But, the service just collects target phone data and provides fake features.
Top data collecting features of Copy9
Spylix
Spylix is a scam, unethical and non-legitimate phone spy software. It is a so-called application that has no services. But more likely to sell borrowed spying services. Borrowed services always come lethal to the users. Users don't know from whom they have got the surveillance services. So, more chances are there that it can damage your cellphone and steal your cell phone data.
Top Spylix borrowed features you need to know
Experts Opinion About Spying On Kids & Workforce
Well! This is debatable whether parents and employers should spy on their kids, and employees. However, experts have their opinion, and suggestions how spying your employees have negative outcomes. Further, parents are protecting their children or invading their privacy on the name of so-called parental monitoring. Here are some tweets of the experts that clarify many ambiguities.
World's Renowned English Television And Radio Personality And Broadcast Journalist Has Tweeted:
Is it okay to spy on your kids on social media? Do you check their emails, or read their Facebook messages? Is it responsible parenting to make sure they're safe, or is it an invasion of their privacy? #JeremyVine pic.twitter.com/2hR1yHMMuk

- Jeremy Vine On 5 (@JeremyVineOn5) September 26, 2019
Lesley Carhart Is Well-Known Personality And Director Of Incident Response For North America At The Industrial Cybersecurity Company Dragos, Inc Tweeted
No, this is not the same technical thing as MDM, or even more invasive WIDS. This is a privacy violation and depressingly unethical, without even introducing the vast security concerns it adds. https://t.co/z6N3BUsxpN

- Lesley Carhart (@hacks4pancakes) April 4, 2019
We have discussed how you can use the spy apps on the right. Now the choice is yours. You are the ultimate decision maker. What spy app do you choose to do ethical surveillance on cellphones and tablets?
For all the latest spying/monitoring news from the USA and Other countries, follow us on Twitter , like us on Facebook and subscribe to our YouTube page, which is updated daily.