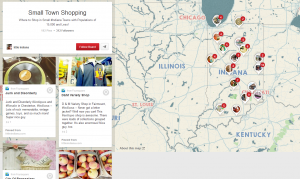 Things to Do in Indiana on Pinterest
Did you know that you can easily
use Pinterest to help plan your next Indiana trip
?
Remembering where to go and what you wanted to do is so easy–and it all starts with little Indiana.
How To Use Pinterest for Planning Your Indiana Trip
First, you may follow "little Indiana" on Pinterest. You can count on me to follow you back, too! I love seeing what Hoosiers are doing (and especially what they are cooking up!).
If you haven't visited little Indiana on Pinterest before, you are in for a surprise! I've added boards for every town on little Indiana that I've visited so far. You can bet that was a humongous undertaking! Thanks to a new mapping feature, you can visually see the locations although you should know that not every location is mapped correctly.
Some are mapped according to their town and not the actual business location. It's a quirk of the mapping software. little Indiana does contain the address for the businesses so you can hop on the site when you need to track down a specific address.
So, you can simply follow the board for the towns you want to visit! Attica, Danville, Madison, Nappanee, Nashville, Peru, Salem, Wabash–they are all there! In fact, not only can you follow the town boards, but there are also boards that contain nothing but Indiana antique shops and other shopping opportunities, restaurants, and even attractions.
Find Things to Do in Indiana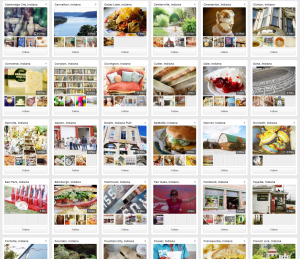 Find Things to Do in Indiana Towns
It's hard to remember what you wanted to do when the time comes around that you can finally DO! Especially with the way the weather has been so up and down, plans seem to get pushed aside quite a bit! But that doesn't matter anymore! Never again will you forget what you wanted to do. The little Indiana Pinterest boards are a great start to
 create your own little Indiana adventures
.
Now that I've got you started, you can easily mix and match to your own custom board!
Create a new board of your own labeled "Southern Indiana Trip" or "Towns Near Indianapolis" or "Indiana Town Museums." Choose a name that will be easy for you to remember what it's for!
Then, you can browse little Indiana and any other travel websites or blogs and "pin" the restaurants, attractions, and events that you find–and don't want to lose.
Fun Attractions in Indiana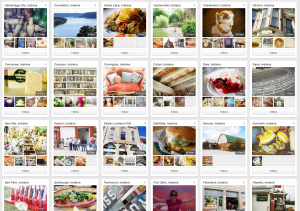 Indiana Town Boards on Pinterest
While planning a trip or on the road, you can easily pull up your Pinterest board to
catch anything that you may have missed
. Of course, you can always use the search function on little Indiana.com to find what you need in a pinch!
The little Indiana Pinterest boards are one great way to stay on top of things to do and places to eat right in your own backyard. Hop on to Pinterest and give it a try today! Don't forget to sign up for free email updates when little Indiana.com updates. Never miss a moment!
Small Towns: Destinations, not Drive-Thrus! I'm Jessica Nunemaker and THIS is little Indiana!
Find pictures in Indiana on my Flickr photostream or on the new little Indiana Tumblr blog.
Just don't forget to tell 'em that  little Indiana sent you!
Don't miss a moment. Subscribe to little Indiana and receive instant updates to stay on top of everything "little."
little Indiana: Where to Stay, Play, and Eat in Small Towns in Indiana. Discovering Indiana's best small towns! Now get little Indiana on your Kindle.
Targeted. Relevant. Affordable! little Indiana advertising.