Get More Social Shares
Written down an amazing blog post?
Now sitting down on your couch waiting for the visitors to rush?
But wait how will they know that you have posted an update on your blog?
If you are thinking about Social media then you are half way there. Yes social media can really help you to make your blog reach more people instantly. But you alone cannot help yourself to reach everyone out there. Millions of people use Social media but is your content really reaching them? You must be saying no! Its not only you that faces this problem and every blogger once in his blogging journey came around this.
There is a famous saying that "Necessity is the mother of Invention" and thus the need to get more social shares increased the demand of a tool or platform which can help out the bloggers. And thus how CoPromote came into existence. In this post I will be taking you the complete process of increasing your social shares and reach with CoPromote.
Lets move down there Step by Step:
What is CoPromote?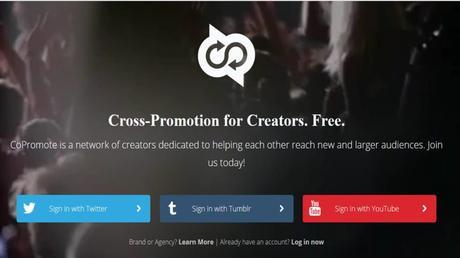 CoPromote is a marketing platform which help content creators to increase there reach. Not only bloggers but any person with his/her own content can use the platform to reach out more people easily. It is based on co-marketing which means you help someone and get helped in return.
How To Use CoPromote to get more Social Shares?
Using CoPromote is not an hard task and if you know writing for a blog then you can use it easily. Just follow the below give steps to use CoPromote and get more social shares:
Create an account with CoPromote.
Sign in with one of your account either Twitter, Tumblr, Vine or YouTube.
Add the content you want to get shared by others.
Share other people's content and get coins for it.
Use these coins to get shares on your own content.
Also Read : Tips to Make a Money Making Blog
So you help someone to reach more people and in return you get help. You don't have anything to loose with it. And you have the full choice to share only the content which you want. If you don't want to share then you can buy the reach for some money. But i will recommend to try the service for free as buying it for money is not an good deal.
Bonus Tips for Effective marketing
1. Use the content which is the best you have written till date and still not ranking. The more social shares you get the more your rankings will improve. I had used it for sharing my blog post from twitter which was ranking on second page of Google.
2. Take out some time daily and share others content otherwise your content will not get shares.
3. Follow people on CoPromote to make social connections. Marketing is all based on making connections with others.
Some other platforms like CoPromote
According to me CoPromote is the best and most active platform for co-marketing. But if you still want to use other platforms then don't worry i am now telling you some alternatives to CoPromote:
Triberr.com
JustRetweet
RetweetBird
ViralContentBuzz
Use these services to get more social shares which means more targeted traffic to your blog. This was all about getting more social shares through CoPromote. Now its your turn to use the platforms and see the magic of marketing.
Hope you liked the article, Share with your friends as Sharing is Caring đŸ™'