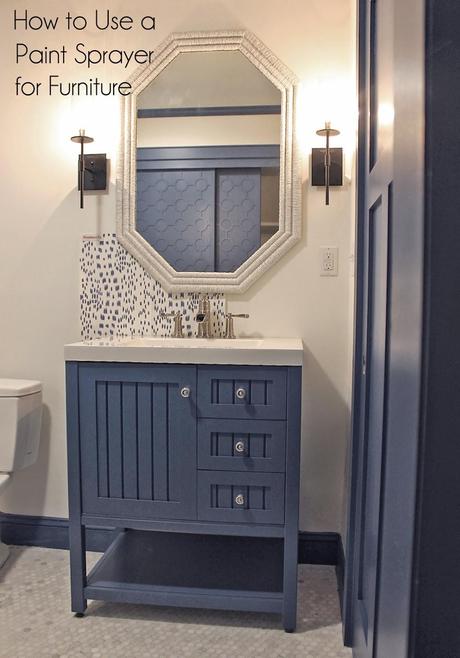 It's no secret that I can't resist painting something.  Whether it's reinventing a piece of furniture I already have or breathing new life into a found object, I just have to paint it!  We are currently in the midst of the boy's bathroom renovation and I found a vanity that fit perfectly in the small space and had the look I wanted.  It came pre-painted in a soft grey, which was actually very nice, but I wanted to go bolder and had already envisioned a soft navy blue for the vanity and woodwork.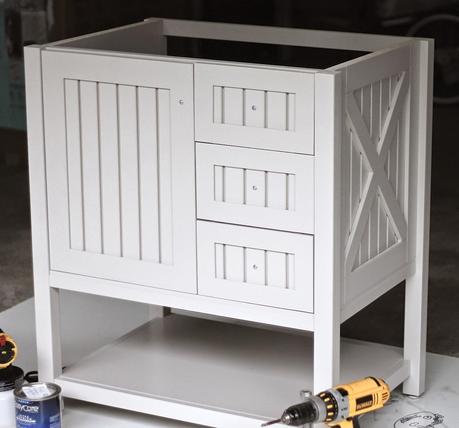 For small jobs a can of spray paint or a brush usually works just fine, but for this one I am breaking out the big guns... the paint sprayer.  The vanity had a lot of bead-board and recessed nooks that are hard to get into with a brush and are magnets for paint drips.  The reason I love this tool is that you can paint very evenly and it gives you a smooth professional finish.   Unlike regular spray paint, which has a strong odor and limited color selection, you can use a water based latex paint in any color available and even paint indoors.  
Let me give you a little background on the paint sprayer I'm using.  I recently upgraded my paint sprayer to the

Wagner Flexio 590

from my old 

Wagner Flexio 570

.  Both work great and are very similar and easy to clean.  You can paint everything from furniture to wall and ceilings (no compressor needed), but the 590 has an additional

Detail Finish Nozzle

 for small areas and an improved X-Boost Power Dial that gives you 8 power settings as opposed to the 570's low or high setting.   If you already own a 570 and it's in good working order you can also buy the Detail Finish Nozzle separately and use it with it.  This was a big deal for me because I have had problems in the past with the 570 when I was painting a smaller piece with a lot of raised detail.  I tended to get too much paint in those areas and things got drippy looking fast no matter how much I fidgeted with its settings.  I had much more control with the Detail Finish Nozzle.
Before you get started you will need to prep your piece just like you would for any other paint job.  
-Lay out a drop cloth and protect any nearby surfaces from overspray.  The spray gun does give off a fine mist so be sure to cover floors and wear a mask.  
-Lightly sand and clean the surface to be painted.  Wipe off any dust with a tack cloth.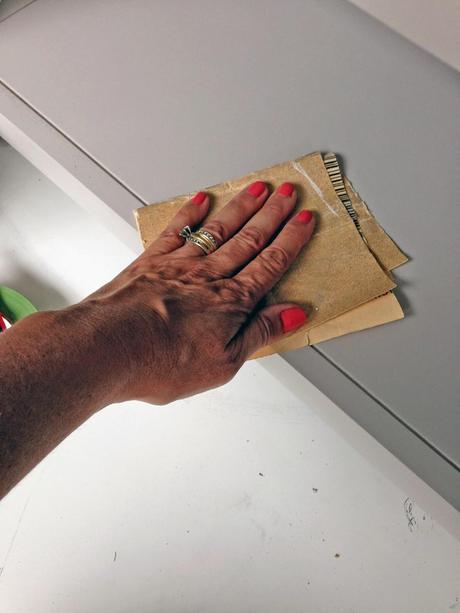 -Remove any hardware or cover with tape.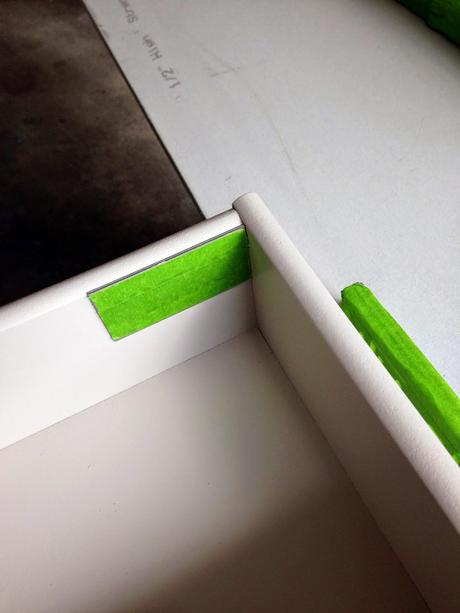 This is a little trick I use to stay organized when I have to remove screws and hardware… an old ice cube tray.  The compartments let me sort by cabinet or drawer.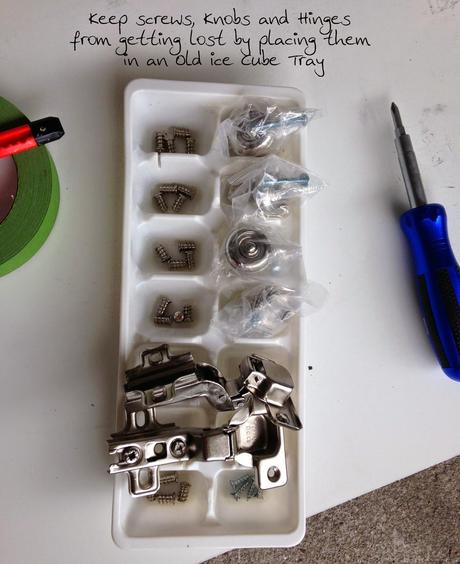 Once your piece is taken apart, clean and lightly sanded you are ready to go!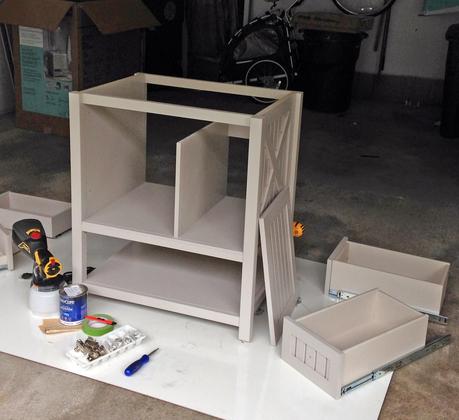 It is now time to fill your paint gun.  I used Easy Care Ultra Premium in the color "Gage-B306".  This paint has a primer built in so it saved me a step and covered like a dream.  I filled my reservoir about halfway.  Just a little note here... if you are using the Detailed Finish Nozzle be sure to thin your paint with a little water.  They don't recommend latex paints or primer because they are heavier, but I found  by thinning it with just an ounce of water it worked just fine.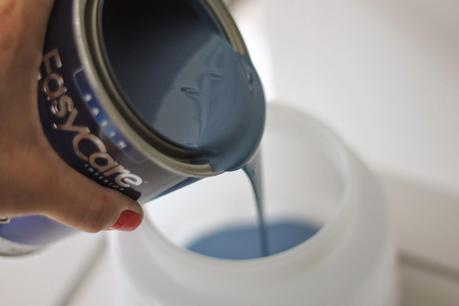 Be sure to familiarize your self with your spray gun.  With the Wagner Flexio 570 or 590 there are three main controls you need to know.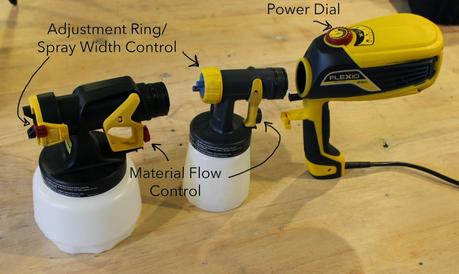 -The Power Dial controls how much force is used to expel the paint.  The heavier the paint, the more power/ higher setting you'll need.  For thinner coatings like stains or lacers you will want it on a lower setting.
-The Material Flow Control allows you to adjust how much material is coming out.  You will need to practice first to get familiar with how thick you want your coating to be.  Too little and it barely coats, too much and it's thick and drippy.
-Finally, the Adjustment Ring located around the nozzle will control the direction and width of your paint. It offers a width horizontal swath for painting up and down motions and a vertical swath for painting in a side to side motion.  The Detail Finish Nozzle offers a narrower focused swath for doing circular motions or diagonals. 
Now it's time to test out the gun.  I used an old piece of plywood I had laying around to practice on.  I played around with the power and material flow controls until I had just the right amount I needed coming out.
If you find you are getting too much overspray or "spitting" make sure the black ring near your adjustment ring is tight.  Practice moving your arm back and forth keeping the gun the same distance from the surface to ensure an even coat.  Once you feel comfortable you can start on your piece.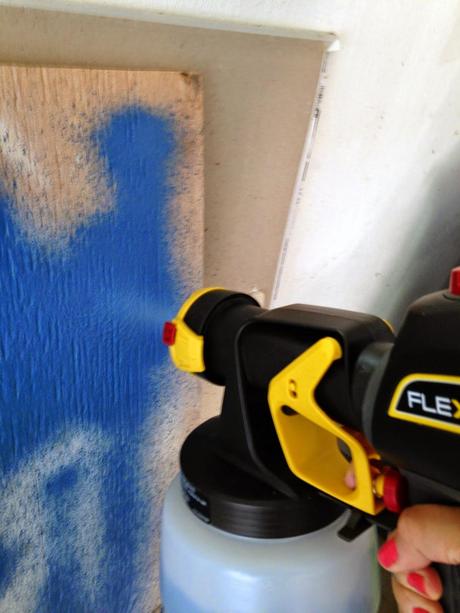 Since I had a lot of raised areas and detail I gave the entire piece one coat going in an up and down motion.  Once that dried I gave it a second coat in a side to side motion to fill any recessed areas I missed.  This of course was AFTER my impatient side won out and I attempted to do TWO coats at once.  The right side of my vanity ended up with a mess like this, TOO MUCH PAINT!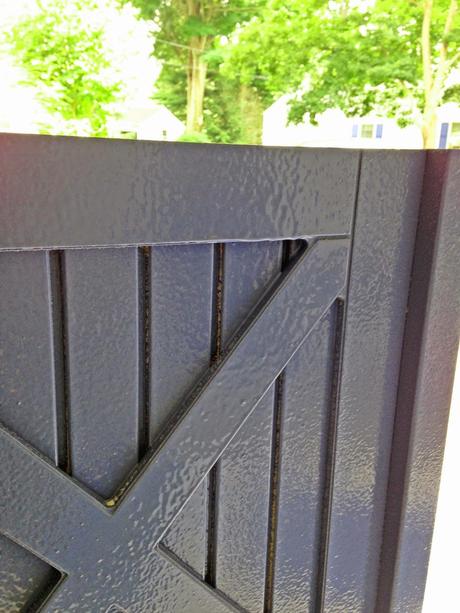 I would love to say I did this on purpose to show you how to fix a common mistake, but the truth is I'm just a little spastic and I thought I could actually pull two coats off.  To fix this get a clean brush and wipe off your excess.  Feather and brush the area out.  LET DRY!  If the brush strokes bother you, lightly sand.  Now get back to spraying and don't attempt that again!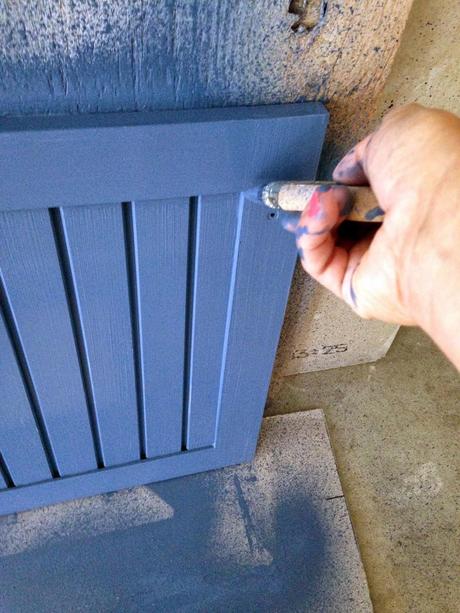 Once your piece has the coverage you desire you are finished!  
Clean up was a breeze.  I simply poured the remaining paint back into the can and rinsed out the reservoir.  I then filled the reservoir with water and ran it through the sprayer until it came out clean.  I rinsed the nozzle and uptake tube clean and I was done.  
Once all was dry I reassembled the door and drawers.  Here is the vanity after two coats…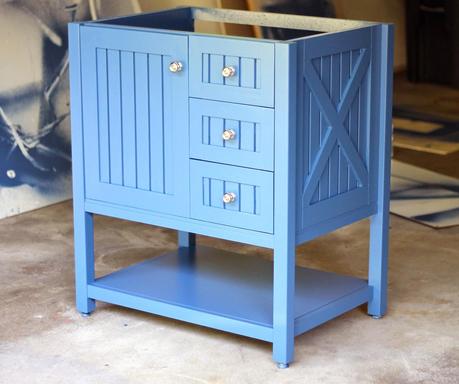 and now placed in its new home.  I absolutely love the new color and how much it changed the look of this piece.  Now I just need to commit to a wallpaper and this bathroom is almost done!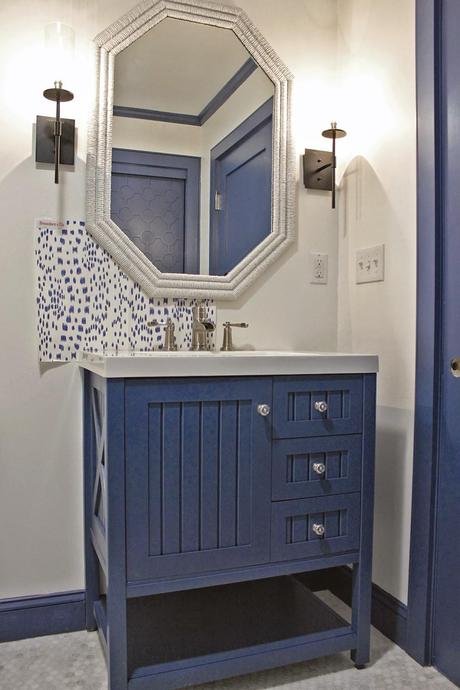 I was one of the bloggers selected by True Value to work on the DIY Squad. I have been compensated for my time commitment to the program as well as writing about my experience. I have also been compensated for the materials needed for my DIY project. However, my opinions are entirely my own and I have not been paid to publish positive comments.