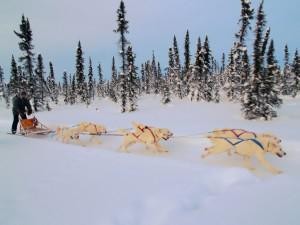 White Huskies-Dog Sledding
3/31/11
I am often asked "why does my dog pull on the leash". I can easily say fifty percent of the time that person is using a harness. Harness's have been designed for big dogs, little dogs, power breeds, you name it. You can get working harness's and bedazzled harness's. What they don't realize is the history behind a harness.

The dog harness was developed for one reason and one reason only…to pull. Think about it. Have you ever seen sled dogs on tv? Have you ever seen a group of hounds hunting on tv? The next time you see it, pay attention to what they are wearing. Nine times out of ten, it's a harness.
Harness's were developed for dogs to pull in sports and tracking.
If you've ever seen blood hounds on tv, they look like they are about to explode once they've got the scent. You'll notice the owner doesn't let them go until they are going nuts. The harness increases the motivation to hunt that fox down! By having a device hold you back when you want to take off, it increases that stamina and need to track down. That is why the harness was developed for tracking.
Some of those sports include sledding, skijoring, bikejoring, carting, rollerblading and weight pulling. Pulling is great for the right breed of dog because it develops muscle that normally wouldn't be strong resulting in excellent condition. It is very effective in reducing the risks of hip dysplasia, which is very common among many breeds.
These sports are great bonding opportunities for you and your dog. It provides essential exercise that will keep your agile dog healthy and tired, in a good way.
Just remember, if your dog is pulling you on the walk, get something to go around Fido's neck like a slip lead. That way you can better control your dog on the walk.

Below are some amazing informational links to history, how to get started, and more.
Bikjoring
Off season Skijor Training with your Bicycle
http://www.skijor.com/bjarticle.html

Getting started in Bikejoring or Scootering
Canicross-where your dog takes you for a run

Canicross
http://www.skijor.com/canicross.html
Sledding and Mushing
Questions Most Frequently Asked Of A Dog Musher
http://www.dogmushing.com/faqs.html
Sled Dog History and Overview
http://www.njsdc.com/history.html
Skijoring

Skijoring: XC Skiing with a Privileged Dog
http://www.faughnan.com/skijor/index.html

Skijor Now
http://www.skijornow.com/skijornowhome.html
Dog Scootering
Paw Trekker
http://www.pawtrekker.com/default.asp
Weight Pull
International Weight Pull Association
Carting
Intro to CARTING
http://users.erols.com/gr8rswis/IntroCarting.htm
Carting With Your Dog
http://www.cartingwithyourdog.com/
DogWorks