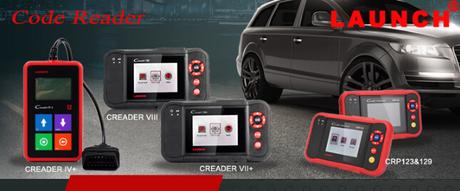 Code readers are automotive diagnostic tools that can be used for extracting information about any technical problem occurring in vehicles. These highly utilitarian tools are compatible only with on-board diagnostic two (OBD II) systems integrated in vehicles manufactured in and after 1996. Initially, these scanners were quite expensive and difficult to use as they needed different data chips for different automobile models. Nowadays, however, pocket readers have made the whole process simpler and less complicated because they do not require any data chips and are cheaper.
If you are working with a code reader for the first time, but do not know how to use it properly, you can follow the tips and guidelines given below:
Open the side door of the driver's seat and look for the diagnostic link connector (DLC) beneath the dash. Most vehicles have their DLC situated in this place. However, there are some models which have a different location for their DLC. Check the user manual of your vehicle if you cannot find the connector.
Remove the cover of the DLC, if there is any. Some automobiles do not have a cover or it simply pulls off.
Insert the plug of the code reader in the DLC. The battery within the vehicle will provide power to it.
Toggle the ignition switch to 'on' position without activating the engine. Doing this will supply power to the electrical components and also illuminate the panel lights.
Go through the menu displayed on the screen of the code reader carefully and use the arrow or key for moving to the 'DTCs' (diagnostic trouble codes) or 'read codes' option. Because code readers are produced by various manufacturers and include slightly different internal features, it is recommended that you read the manufacturer's manual for understanding the functions of your scanner properly.
After the 'DTCs' or 'read codes' option has been selected, press the 'enter' button. Check the scanner's manual for determining the DTC that triggered the MI (malfunction indicator lamp, which is also known as the service engine light or check engine light).
Clear the DTC, if desired and applicable, by selecting the 'erase code' option and hitting the enter key. Some readers have a dedicated 'erase' button, which can be used for deleting the DTC as well.
Wait till a message showing 'command set' appears on the menu of the scanner.
While buying a code reader of some popular brand like, for instance, Launch diagnostics in Ireland, be careful to verify that you are purchasing the product from an authorised dealer.