Profitable businesses tell strategies that deliver results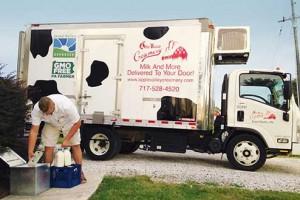 To make money, your vehicles must be where you need them to be, when they need to be there – without exception. Anything else is a risk to business that most company owners feel they can't take.
But the importance of your fleet doesn't end there. How your company manages its fleet impacts its success going forward.  Your fleet must be dependable – and predictably so. You need to use capital efficiently – for your fleet and the rest of your business. These substantial considerations hold true whether you lease or own your fleet.  They impact whether your company is profitable, or not.
The challenges of ownership
Today's business environment is full of challenges for fleet owners, and it's getting more complicated. New emissions technology makes trucks more expensive and complex to maintain. Truck prices, along with associated maintenance and repair expenses, have increased by more than 40 percent. The driver and technician shortage also hampers fleet owners who need to get products to customers.
With the effect your fleet can have on your business, you should ask yourself whether it's better to have a full service lease or own your fleet. Both leasing and owning have benefits. Deciding which is best for your company depends on many factors: type of operation, truck configuration, managing preferences, routes, capacity, and financing.
When considering whether to lease or own your fleet, ask:
Do I spend too much time and money managing my fleet?
Am I up-to-date on the complexities of engine technology, regulations and emissions standards?
Can I drive more value from my fleet while gaining time to focus on my business and customers?
Busting the leasing myths
Many business owners feel owning their vehicles is the only way they can brand their fleet, benefit from tax deductions, and have total control. But these can all be attained through a lease as well.
The truth is, owning, running, and maintaining a fleet is costly. Unpredictable costs, breakdowns, and unforeseen risk can take your focus away from your business and customers. With a full service lease, you get a reliable fleet, predictable monthly costs, vehicle replacement, and time to focus on your business.
Through a full service lease, your monthly payment can be less than what you're paying to own your fleet. You also limit risk should your vehicle breakdown, as maintenance is covered.
By collaborating with a third-party provider for a full service lease, you can put the complexities of managing your fleet behind you: You won't have to worry about acquiring, managing, and disposing of vehicles. Flexible financing options, vehicle specification, repair and preventive maintenance are also included.
What you get is a reliable fleet, tailored to your business with a predictable monthly payment. These results can be seen particularly well in the case of Apple Valley Creamery.
Apple Valley Creamery grows greater
At Apple Valley Creamery in East Berlin, Pennsylvania, providing quality products to customers is their commitment. It's the only creamery in Pennsylvania that offers pasteurized and raw milk from 80 pastured grass-fed cows with an Animal Welfare Approved certification.  For its fewer than 25 employees, providing the freshest products and exemplary customer service are crucial to earning big returns.
In December, 2007, the farm expanded operations by offering home delivery service. However, expanding brought new challenges – truck ownership.
Truck ownership means the hassle of keeping vehicles properly maintained and scrambling to find replacements if trucks break down. Challenges are magnified in the food and beverage industry, as products must be kept at specific temperatures so they don't spoil, and the shipper complies with federal safety regulations.
In Apple Valley Creamery's case, if a truck they own breaks down, customers won't receive products on time, there's a high risk of product loss due to spoilage, and they have to deal with truck downtime and high maintenance costs.
Seeking a solution to their transportation problems, Apple Valley Creamery explored outsourcing by leasing one truck from Ryder. The agreement includes Ryder's maintenance service, assuring reliable vehicles, and predictable costs. Since leasing its first refrigerated straight truck from Ryder, Apple Valley leased two more customized trucks. The cab and chassis of trucks two and three are from Ryder, with special cold plate bodies procured from an original equipment manufacturer because of Ryder's ability to leverage relationships in the industry. The body can also change to a new chassis to maximize its life, and the cold plate bodies keep the milk always delivered at or below 33 degrees.
Since leasing from Ryder, Apple Valley's transportation costs are more predictable. Maintenance costs were reduced by more than 75 percent. The fleet's downtime has also decreased by more than 66 percent, and it improved its on-time deliveries to 99.9 percent since it began leasing from Ryder.
Apple Valley Creamery has experienced 25 percent growth year-over-year for the past five years.
For Apple Valley Creamery, leasing rather than owning allowed them to get needed customized vehicles, built in maintenance, and rapid access to specialized emergency vehicles when necessary to keep their business running more efficiently and at a lower, predictable cost.
Want to see more examples of how fleet leasing works for companies? Would you like to discover how outsourcing with Ryder can improve your fleet management? Visit ryder.com.