This blog is the last in our series detailing challenges in the maintenance landscape facing today's fleet operators. Previous posts covered how best to deal with the technician shortage and new emissions regulations and fuel standards.
Did you know that maintenance and repair of a commercial fleet now costs about 15 cents per mile? That's according to the American Transportation Research Institute's latest analysis of the operational cost of trucking. These are the third-costliest vehicle-related expenses behind fuel cost and the capital cost of equipment, according to the institute's study.
But the total cost of ownership (TCO) of a fleet doesn't end there. There are hidden costs that can completely upend the equation if they aren't considered. Those costs can be significant, ranging from 0.1 percent to 5.3 percent of revenue.
Reduce your cost by addressing Total Cost of Ownership
With profit margins under more pressure than ever before, many commercial fleet owners have learned the value of doing a TCO calculation, which not only encompasses fuel and equipment costs, maintenance and service, but considers other costs as well. These include regulatory fines, opportunity costs associated with having idle equipment, and driver and maintenance technician training.
Completing a TCO calculation is the only way to determine your true transportation cost. Once done, it's possible to make better decisions, operate more efficiently and make cost-saving improvements – like contracting out maintenance for preferred rates instead of paying more each time you need service.
Consider this example of how it's possible to save up to 15 percent on all of your maintenance costs: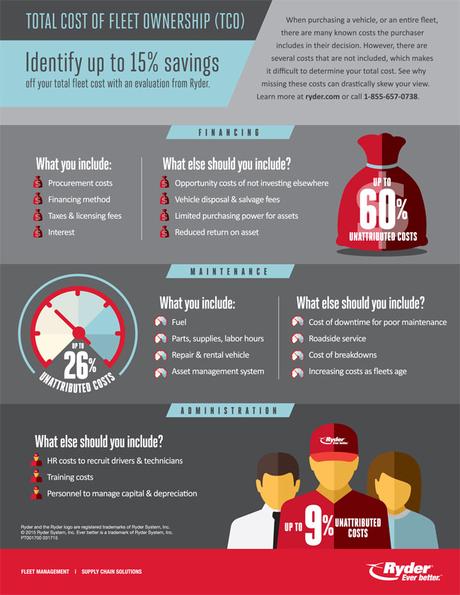 Address driver shortages, safety issues with shift to power
In 2014, more than eight out of 10 Class 8 trucks in Europe were sold with electronic automated transmissions (AMTs); in the U.S., that figure was three out of 10 and growing, according to ACT Research. There are several reasons for the trend.
The EPA's Phase II regulations include AMT-related mandates, which the regulator says will "significantly reduce carbon emissions and improve the fuel efficiency of heavy-duty vehicles, helping to address the challenges of global climate change and energy security."
The North American Council for Freight Efficiency (NACFE) notes that one important benefit of AMTs is a fuel savings of from 1 to 3 percent, while other transportation industry experts maintain that further fuel savings will be realized due to AMTs' electronic platform integrating with trucks' engines, axles, and other systems.
Also feeding the trend is the fact that many young drivers view learning to use manual transmissions as a novelty, not a necessity. Research from Driving Magazine shows that this trend began long ago, when General Motors released the first automatic transmission in 1940.
This prevailing attitude has factored in limiting the driver pool for heavy-duty vehicles nationally because they have traditionally been manual systems. The ATA now says that 90 percent of transportation carriers cannot find enough drivers to meet their needs and the trucking industry is short 48,000 professional drivers. That number is expected to rise to 330,000 by the year 2020. Offering drivers AMT vehicles is one important way to boost retention and recruiting, as well as lessen distractions for them and so improve safety.
The downside to AMTs is that they represent an upfront cost of between $3,000 and $5,000 more manual transmission vehicles.
The good news is that they deliver on many fronts and you can defray their initial costs while receiving their benefits if you lease your AMT vehicles.
Put Big Data to work for you
New vehicle intelligence gathering technology is changing servicing by more frequently conducting predictive maintenance based on wear and tear data. This new level of sophistication flags when parts need to be replaced, and when they display characteristics suggesting they are set to age out.
One innovative technology used in preventive maintenance is the Cummins diagnostic tool. It gathers repair information from around the world, accumulates it into a database, and creates "smarter" troubleshooting trees based on thousands of similar repair patterns. The goal is to reduce the number of diagnostic steps required by as much as 50 percent. Most impressive is that the tool can frequently locate the root cause of an engine issue in as few as three diagnostic steps.
Starting with the most likely solution that the tool proposes, technicians can execute a much faster and more efficient repair.
Another vital tool is the information-sharing platform Decisiv™, which provides managers of large fleets instant access to maintenance and activity data from multiple vendors in a single location. This real-time visibility allows them to more accurately measure and manage "days out-of-service," and improve asset utilization and capital efficiency.
These time-saving technologies that are generally accessible from any computer or mobile device are more often becoming fleet managers' tools to save time, reduce administrative tasks, increase productivity, eliminate waste, and reduce downtime.
While these systems are necessary and costly, they deliver return on investment of up to 3.6 cents on the dollar, according to Cummins Insite research.
To access our report on 5 Top Trends Affecting Maintenance of Commercial Fleets, you can fill out the form & download it here .
About the Author
Scott Perry is Vice President of Supply Management and Global Fuel Products for Fleet Management Solutions at Ryder.