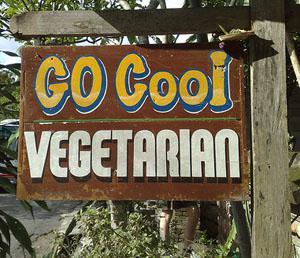 As a follow up to last week's post about gluten-free globetrotting, let's take a look at tools you can use to maintain a vegan or vegetarian diet while you travel the world.
Whether you're traveling for business, pleasure or school, one of the great aspects of travel is obviously the opportunity to experience different cultures, and that typically includes sampling the food. So, you might say – why should I bother traveling to China? I'm vegan, and it'll just be impossible to stay vegan while I'm there.
But that's simply not the case. Yes, it requires some planning ahead and doing a little homework, but it's not so much that should deprive yourself of the opportunity to travel the world.
There are more than a dozen websites and blogs devoted to helping vegans traverse the globe while eating healthily and still being able to engage in local food culture. Perhaps the most popular is the Happy Cow website, which has an extensive list of vegetarian and vegan restaurants all around the globe.
For instance, there are 47 vegetarian restaurant options in Munich, Germany. There are 16 more places with veggie menus in Johannesburg, South Africa. Who knew?
Other important sites to help you plan include the International Vegetarian Union's guide to vegetarian words and phrases in a wide variety of languages. And if you want to drop in on a vegan group in, say, Singapore, check out this list of vegan meetups all around the world.
But before you get too excited, know this – what you think of as vegetarian or vegan might not be exactly what they mean in Sierra Leone. The meaning of these terms can vary by country and by culture. Some cultures define "vegetarian" as dishes that include fish and fish stock. Others think that vegetarian dishes are dishes that include vegetables, but may also contain meat.
That said, there's no reason to be intimidated into staying home. As long as you plan ahead and communicate clearly to restaurant staff, you should be able to maintain your diet. In that way, it isn't so different from going to the restaurant down the street.
Author: John Miller
John Miller is president of Miller Media Group.  He is an avid traveler and web-surfing junkie.
Photo by olaxvx.