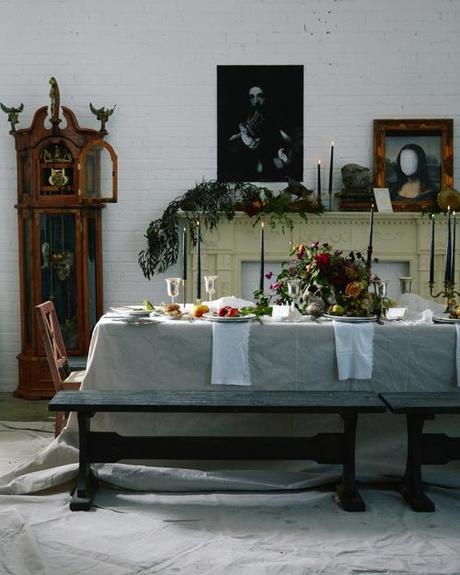 It's all come down to this! After 9 Tortured Artist costume ideas (10 if you include the double Fridas), one full menu with 3 delicious recipes and a skull cake for dessert, 2 free illustrated printables from Danielle Kroll here and here (and one more on the way), 1 playlist, and 5 decor ideas here and here, it's time to reveal the full dinner Tortured Artist party. 
I mentioned that I've always wanted to throw a party where everyone comes dressed as an artist. For this party, we added in a creepy adjective "tortured" because so many of the greats were just that and it's perfect for
Halloween
. We applied the term loosely and had some of our favorite artists and paintings in attendance. Can you recognize them all?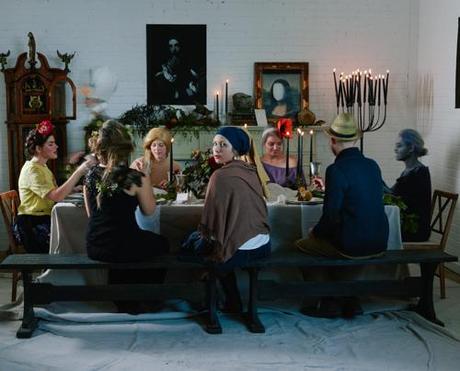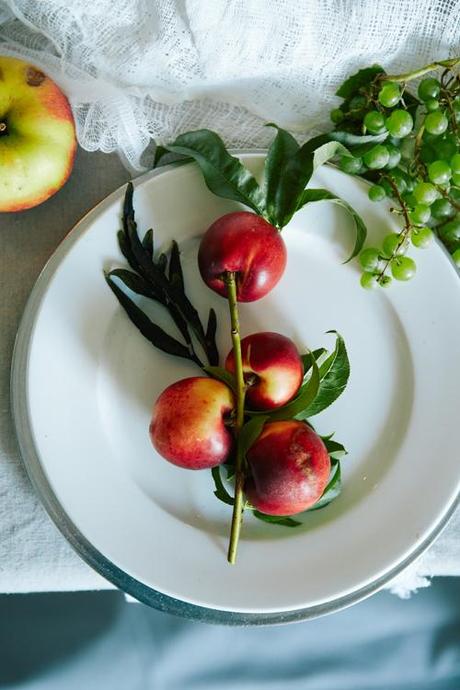 If you're planning your own Halloween party, here's how I would do it:
Costumes. It's the only time of the year when it's truly permissible, so why would you avoid it? Embrace it. In the invitation mention the dress code. Here it was "Arrive dressed as your favorite Tortured Artist."
Decide on a decor theme. I mentioned here that our decor was inspired by vanitas, the term used to describe the brevity of life and nearness of death that was reflected in rotting fruits, skulls, taxidermy, and candles (see our decor ideas here) and a costume based on it.  We chose not to do rotting fruits but just living fruits as we didn't want to gross out our guests. A piece of fruit at each place setting is the perfect adornment (see above image).
Add in the Spooky. I'm not generally a fan of the spooky element, but to make the beautiful vanitas work we needed that extra creepy feel. To the table runner, we added in some ghost faces. I wanted something subtle that you wouldn't detect right away. Surprise! I'll be doing the full DIY tomorrow.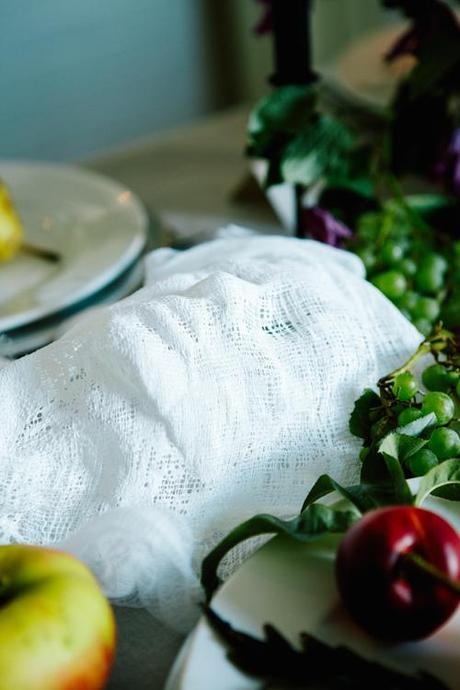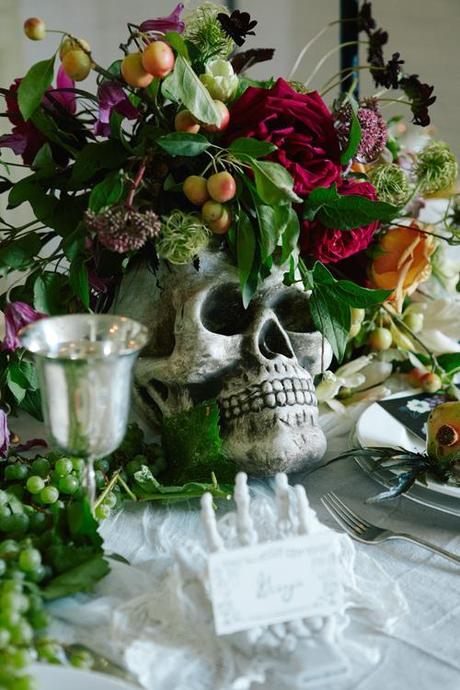 4.
But also make it gorgeous.
 Though it's a bit spooky, it should also be a bit gorgeous, right?! That's how we like to do it here. Sarah Winward did the gorgeous flowers and used the styrofoam skeleton heads as vases. I love how they turned out. Drip fruits and flowers across the table for that lavish, over-the-top feel.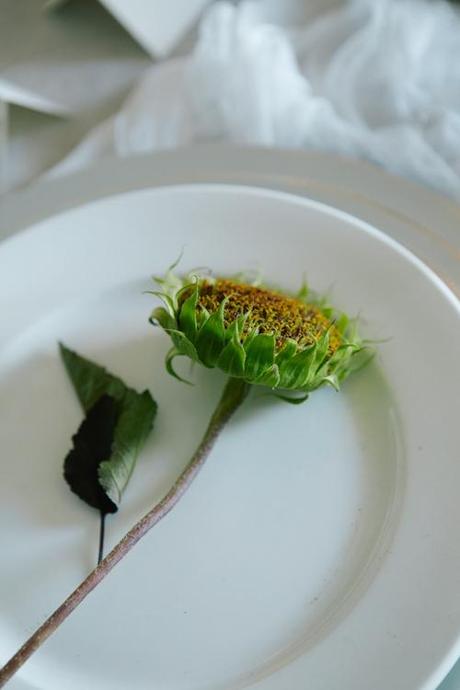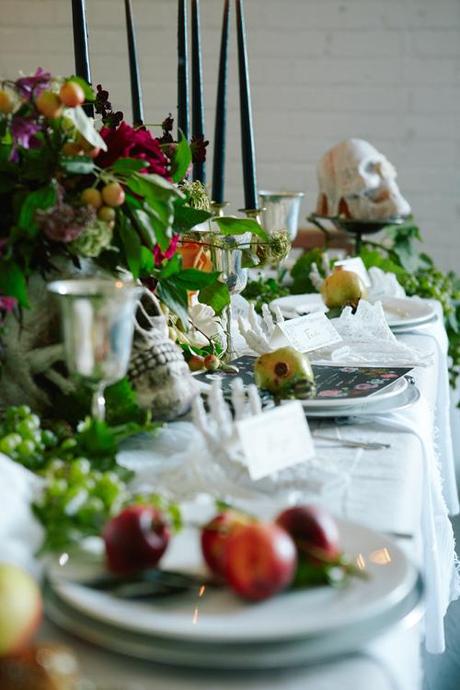 5. Black candles. Good, subtle lighting is a must. We lit our party with black candles, the only way to go. We got ours from Save-on-Crafts, who is the cheapest and has the best supply around.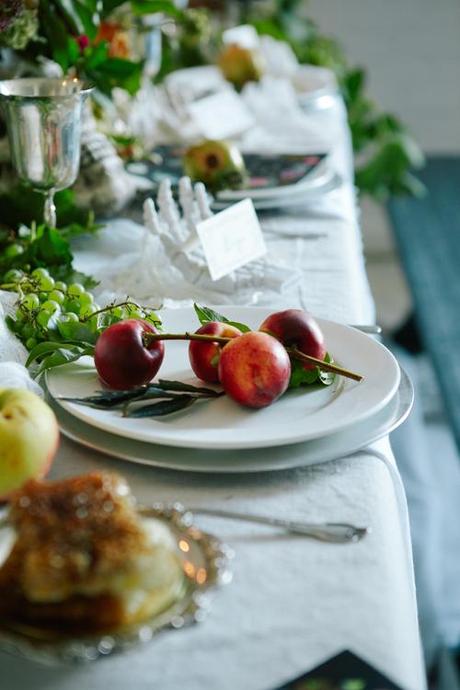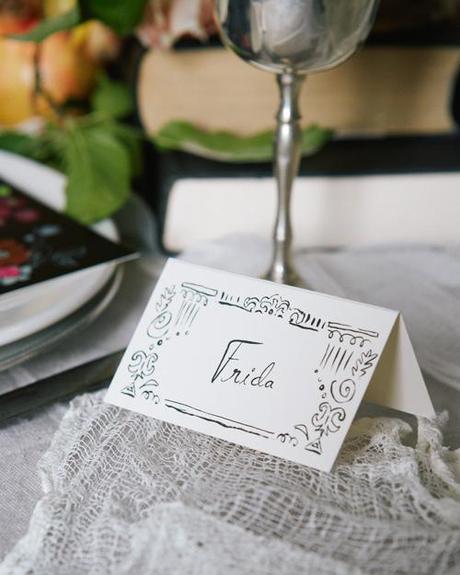 6.
Customize the event.
Danielle Kroll created these gorgeous name tags to go at each setting. I'll be providing the printable in the next couple of days. She also created these gorgeous invitations and menu cards, which you can get here and here.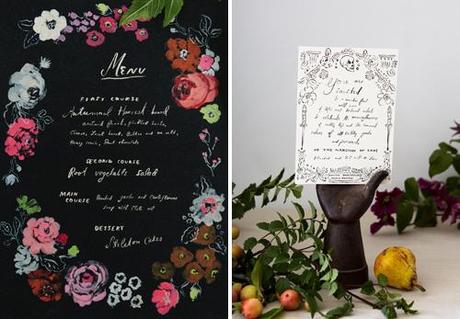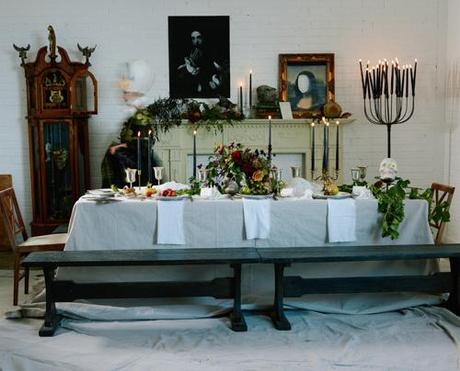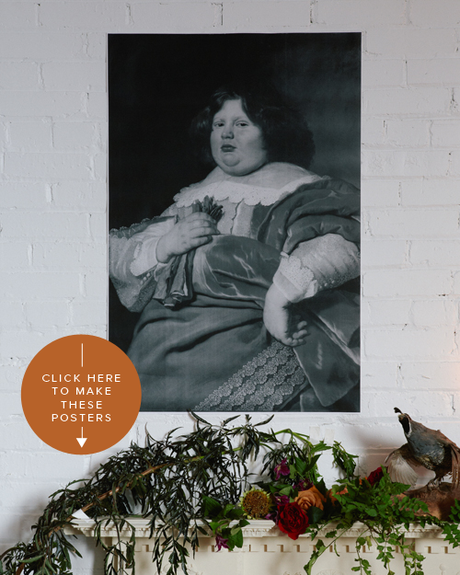 7.
Artwork
. To transform your space feel like a haunted house no matter where you are, we covered up the walls with these free printable portraits, which feel spooky and hysterical at the same time. Check out the tutorial here.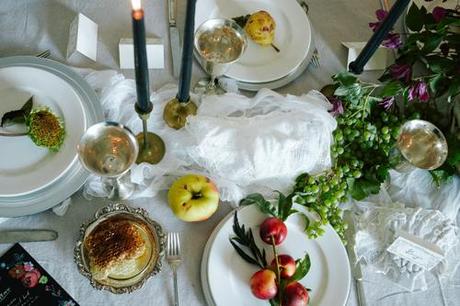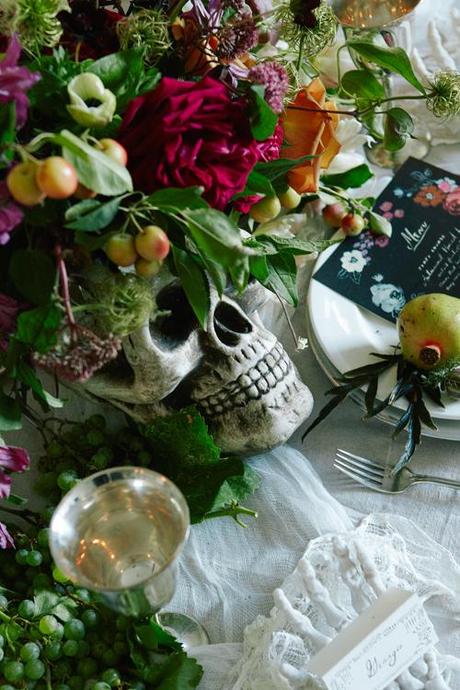 8.
Dessert that mimics the theme.
It's all in the details folks. I was so excited for this vanilla bean skull cake. I think it truly made the party. And it was delicious so there's that. Get the full tutorial here.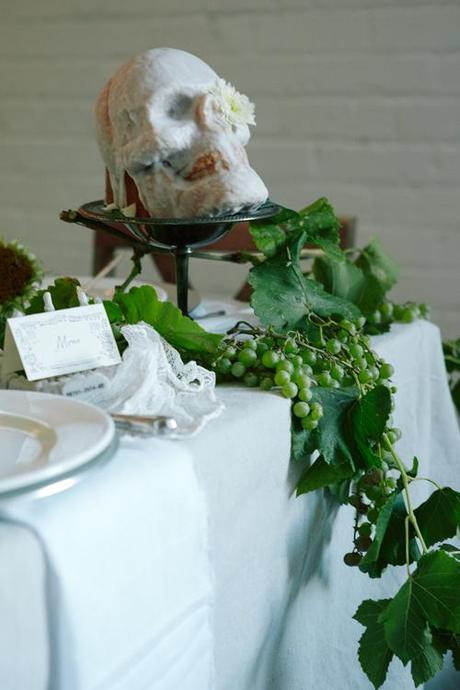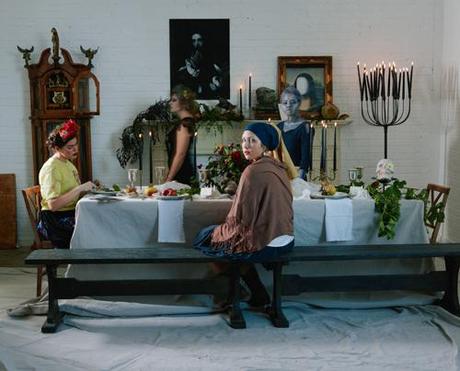 9.
A delicious autumnal menu
. Ramblin Rose Cafe created the most gorgeous and gorgeously delicious menu for the party including a roasted garlic and cauliflower soup, a perfect autumn cheese board, and roasted root vegetables and a pomegranate ginger elixir to wash it all down.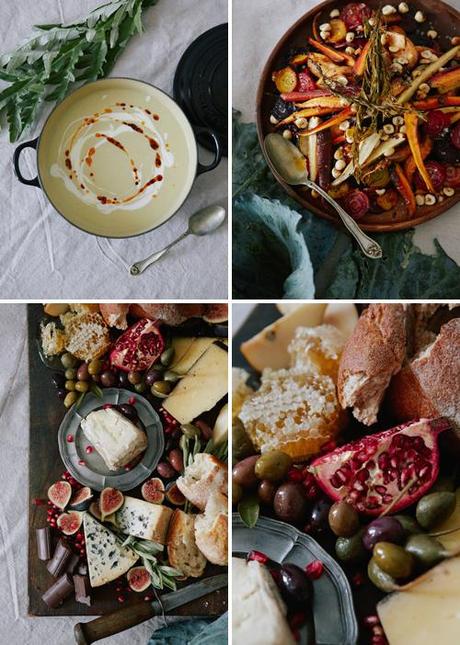 10.
Good friends with good costumes
. Here are the ones we did: Girl with the Pearl Earring, Vanitas, 2 Frida Kahlos, Birth of Venus, Marie Antoinette, Georgia O'Keefe, Old Guitarist, Van Gogh, Mona Lisa.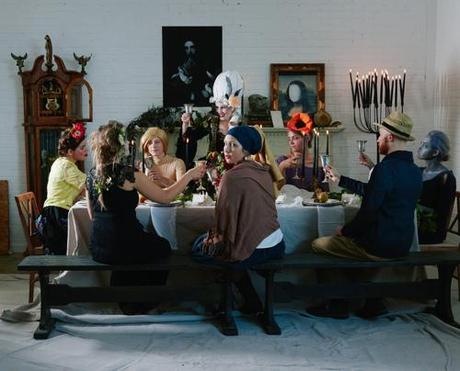 We had a ball putting this party on, but there's still a bit more. Two more tutorials and a behind the scenes look at the making of the party. Stay tuned!

Photography by Alpha SmootFlowers by Sarah WinwardProps by Mary LeeHair by Aubrey NelsonMake-up by Rubie HuberFood by Ramblin Rose CafeIllustrations by Danielle KrollStudio from Jessica PetersonAdditional props from Save-on-CraftsThis post is sponsored by Save-on-Crafts.