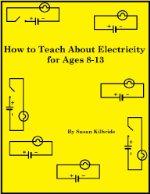 We loved Science Unit Studies for Homeschoolers and Teachers for its' straight forward, easy to follow directions and diagrams.  Author Susan Kilbride does it again with another easy to use and follow guide for teaching electricity.
How to Teach About Electricity for Ages 8-13
covers:
Static Electricity
Electrical Currents
Switches
Circuits
Electricity & Magnetism
All with corresponding experiments!
A clear listing of supplies is found right up front and Susan notes that this study:
"Written for homeschooling parents or teachers, not for students to do on their own.  All of the experiments using batteries should be done under adult supervision."
Before beginning, the student should have a good understanding of atoms and their structure.  If they do not, never fear!  The unit on Atoms from Science Unit Studies is available for free on the
Funtastic Unit Studies
website!  And, an instructional video is also included on the website to help with making of a generator project.
This unit study is perfect for at home or co-op setting.  AND could even be used as a fun over the summer project!
Disclaimer:
I received an ebook copy of How to Teach About Electricity free of charge in exchange for an honest review. This post written and property of Homeschool Circus and can be found at: www.upatdawnreadytowork.com.