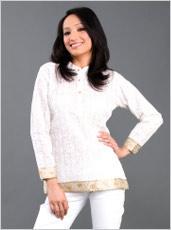 Tunics are versatile pieces of clothing that are great to wear year-round. Going further, they can be styled for work, casual, and night outfits, thus making them an immediate wardrobe staple for many women. Tunics are usually loose-fitting and longer than a typical shirt, which means they're easy to wear with leggings and even tights.
It's also worth mentioning that you'll find tunics in a variety of fabrics and colors, with different lengths and neck lines. Now that we've covered some general information on tunics, here are a few tips on styling tunic shirts and dresses.
How to Layer Tunic Tops
Put a loose-fitting tunic over top of a button-up blouse or turtle neck in the winter to add depth to your outfits. Be sure to coordinate the colors and/or patterns of each piece of clothing, and add a few necklaces that have different lengths to the ensemble. You can also use a variety of different fabrics to put more texture and creativity in your look. On colder days, it's even okay to wear a scarf to keep warm and make your tunic look more stylish.
Tunics with Leggings and Skinny Jeans
Loose tunics over skinny jeans or leggings look nice for a casual shopping day or night out; but the accessories will be just as important as the tunic itself. Loose-fitting tunics drape your body, which can hide a woman's natural curves and make a belt totally necessary for this ensemble. Also, necklaces and bright scarves will create dimension and bring the eye up away from your hips.
Tunics with pockets are great for days at the beach because they can easily be slipped on over a suit, and can hold keys, sunglasses and sun block, which allows for free hands. They're also nice to pair with knee-high boots in the wintertime over a pair of leggings or skinny jeans.
Wearing Tunics with Wide Legged Pants
Skinny jeans and leggings pair well with tunics; however, tunics paired with wide legged slacks are even more pleasing to some people. It's important not to get lost in the clothing though, so add a contrasting belt to keep your body formed. Try using different belt widths, and also placing the belts over tunics higher or lower than your natural waist line for a different look – as well as to counter-balance the baggy shirt.
Tunic Dresses
Tunics are sometimes long enough to be worn as a dress, which gives you yet another versatile look with this piece of clothing. Pair a tunic dress with tights and a pair of flats for a sweet summer outfit. Boho tunics work well with clogs and wedges, while silk tunics are cute when worn with ankle boots. Switch jewelry and handbags out on different occasions to create easy transitions from night-to-day or casual-to-work looks.
Tunics by themselves are flattering for every body type, but the pairings make all of the difference between looking frumpy and looking put-together. Note that most bodies look best with a dark pant and lighter top tunic; also, add a belt if the tunic hides natural curves. Finally, tunics tend to make one's body look boxy, so wear heals or wedges that are nude or flesh-toned, or shoes that are similar in color to the pant being worn. It might take some experimentation to find out what exactly goes well with your tunic, but with time, you should be able to put several great outfits together!
How to Style a Tunic is a post from: Health Care and Beauty Blog