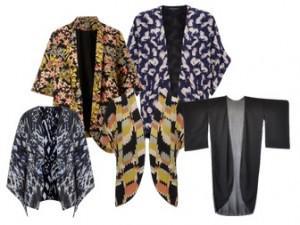 If you're looking to update your staple cardigan, the popular kimono jacket trend may be something to consider.  It's a bright, breezy and comfortable way to finish  a look this summer into early fall and can be worn a variety of different ways.
The kimono jacket is also figure forgiving if you wear it right.  While they can traditionally be loose and flowy, in order to not look too big and boxy, pair this jacket with slimmer wardrobe items like skinny jeans, shorts, slim khakis or as a finishing piece for a shift dress or pencil skirt.
Here are some looks and further advice I put together for you using this trend.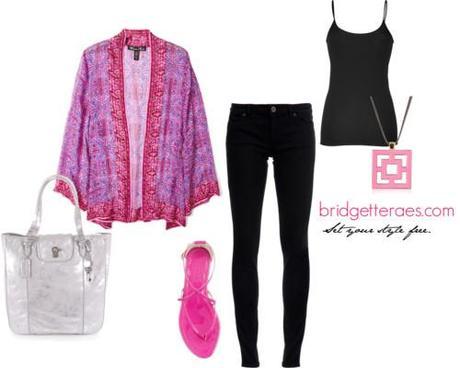 Kimono Style #5 by
bridgetteraes
featuring gold jewelry
One of the easiest ways to wear a kimono jacket is to wear it with a solid column of color underneath.  Not only does the kimono get to take center stage, but the slimming monochromatic look layered beneath it slenderizes.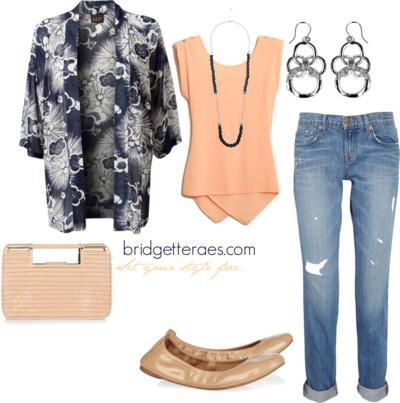 Kimono Style #4 by
bridgetteraes
featuring flat shoes
As a cardigan replacement, a printed kimono jacket does the same job while adding a little more interest to the look.  Here, the soft navy print complements the peach for a subtle, yet sophisticated casual look.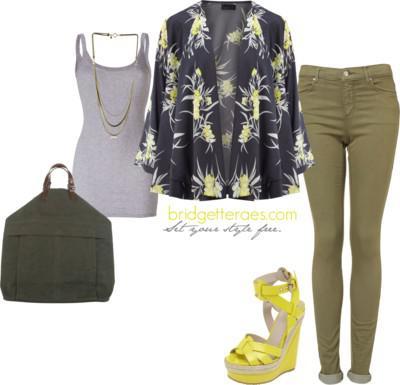 Kimono Style #2 by bridgetteraes featuring leather handbags
When worn with a khaki or an olive drab, you can totally change the look to more of a retro military look.  Think China Beach or M*A*S*H.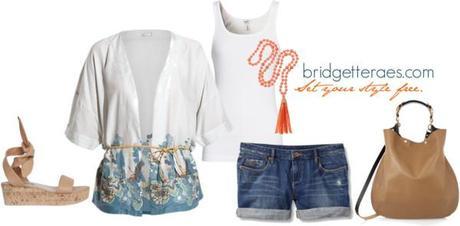 Kimono Style #1 by bridgetteraes featuring beaded necklaces
For more of a summer look, this kimono jacket adds light novelty layering on a hot day.  By working with the colors found in the print of your kimono, you can look for colors to use as a punch in your accessories.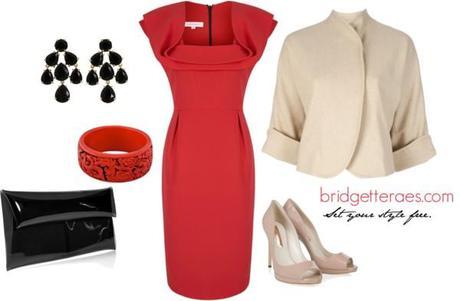 Kimono Style #3 by bridgetteraes featuring sparkly earrings
Kimonos don't have to be printed.  If prints aren't your thing, you can still address the kimono trend by looking for the clean shape and silhouette in a jacket.  The kimono style of this jacket offers a elegant finish to an evening look.
If you still love your knit cardigans, like I do, there are plenty of kimono style knit cardigans out there.  However, if you're looking to change things up a bit, this could be a great trend to explore.