In my previous post, I discussed when and how to sell items at a consignment store.  In that post, I mentioned that consignment stores often net you far less than the amount you could theoretically receive if you were to sell the item on ebay.  So many people think ebay is too complicated or too time consuming.  Neither misconception is true.  Besides, isn't it worth the extra few mites it takes to list the item on ebay, than to lose over half the value of the item by essentially "giving" it to a consignment store?  Think about it.  There are so many middlemen in markets that you often forget that with just a little hard work, you can double your reward.  That is worth it to me.
Selling an item with success on ebay takes some work.  Just like anything, you definitely get better with practice.  See my general guidelines before you start.
Here is how to sell an item on ebay. This post is as short and to the point as possible, while still showing you step by step instructions including screenshots.
First, follow the steps required to sign up for an ebay account.  Then sign in using your username and password.
On the ebay home screen, you will see the following.  In the upper right hand corner there is a link option called Sell.  Click Sell.

This will take you to a rather generic search form you can use to determine in which category to sell your item.  I suggest using more generic terms in this search form if possible.  You want as many people as possible to see your item.  Typing in "handbag" or "purse" as opposed to Tory Burch Louisa will get you a better category, which means it has the ability to attract as wide an audience as possible.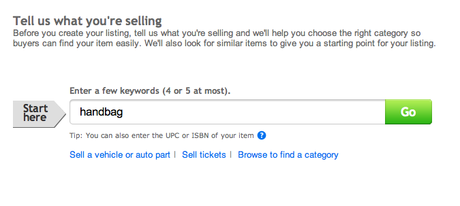 Your search results should bring up at least one category option.

Once you have found a category that makes sense to list your item in, click the green "create your listing" box.  If you have an expensive item you are very motivated to sell or something that really fits well within two different categories, you can elect to list them under both listing categories.  Listing an item within more than one category will amount to additional listing fees.  Consider if this is worth it to you before choosing multiple listing categories.  Usually one is sufficient.
Next, you will find a screen with several different fields .  This is where the bulk of your listing work will be accomplished.  Start by giving your item a title in the upper right hand corner.  I have decided to sell a black Tory Burch Louisa Cross Body Bag.  Once that is done, select the condition of your item.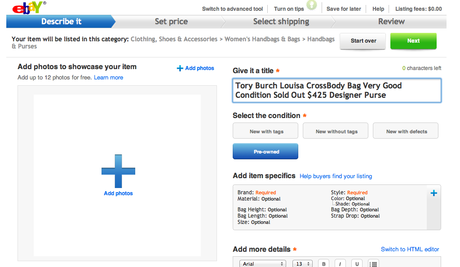 The left hand side of the screen allows you to add photos of your item.  Click on the small plus sign in the corner of the box, or you can click on the large plus sign as well in most cases.  I always make sure I have several photos of my item and an online stock photo of the item to assist potential buyers in making sure the product they are buying is likely authentic and allows them to see the item as it was professionally photographed by the company.  Make sure your photos are available for you to use on your computer. For purposes of this tutorial, I am only using one photo.  I suggest you use as many as possible in order to provide appropriate detail.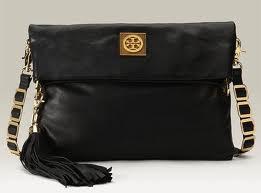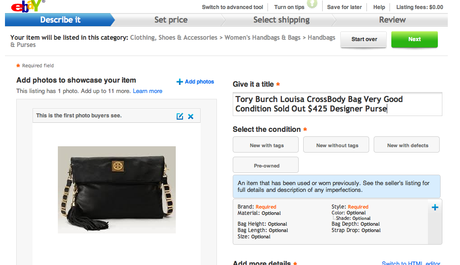 I am just able to drag my photos from my desktop into the photo add tool on ebay.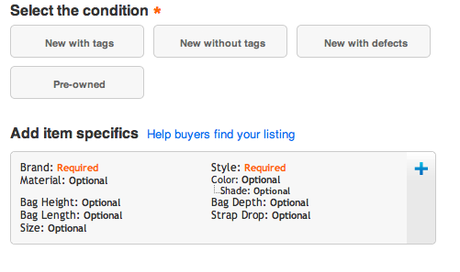 On the lower right hand side of your screen you should see a gray area titled: Add item specific.  Here you will want to make sure you make use of the drop down menus to help you further describe your item.  Make sure you attempt to provide an amount or answer for every field.  This all only help your potential buyers feel like they have as much information as possible.  Be truthful and try not to leave anything blank unless it is not applicable or you don't know.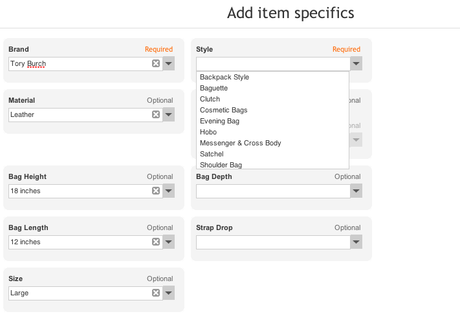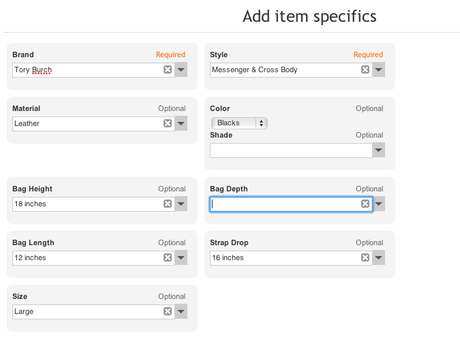 Below the item specific fields you are also required to enter additional details about your item.  This should be relatively succinct.  I also advise not messing with all types of fonts and font colors.  Keep it simple.  In the item details, follow a logical line of everything you would like to know about an item you are buying.  The more detail the better.  But, do not make the item seem different than it truly is, or worse, in a better condition than it really is.  If there is a hole or stain or defect, describe it truthfully.  In the case of a defect, I usually state if it can be seen generally, or if someone would really need to be scrutinizing the item.  Also note if the defect makes the item work differently, or not at all as a result.  I always try to include the description of the item from the original website if possible.  This is easy to do if something is still for sale online or on amazon.  If not, do your best to describe the item in your own words and be sure to have a ruler or fashion tape measure available in order to note the length, height, etc.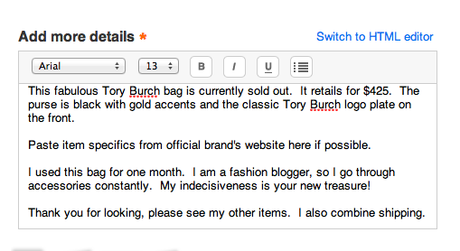 Click the green "Next" button for setting the price parameters of your item.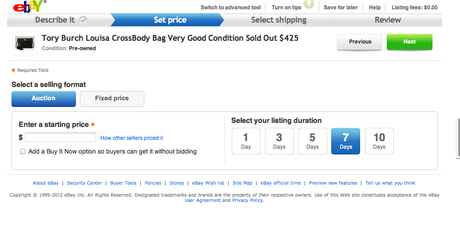 Near the top of the screen, there will be two boxes for you to choose from: Auction or Fixed price.  Auction means the item will be sold to the highest bidder.  No matter what the final price.  If you absolutely want $100 for an item and you are nearly positive someone will bid on it, I would put the starting bid somewhere in the neighborhood of your drop dead price.  Don't be too confident.  There are times I have listed something that I was sure would sell so I started it at a really low price, and someone won the item with one bid and I basically gave it away.
Fixed price is for people who do not want to deal with the auction process.  Sometimes a fixed price listing is easy for both the seller and the buyer; the buyer doesn't have to wait days wondering if they won the item and the seller can be confident knowing that their item will not sell unless someone agrees to pay the exact fixed price.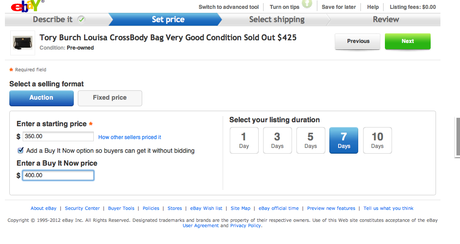 Underneath the field in which you have entered your price, you will find a small box that can be checked to add a Buy It Now option.  The Buy It Now auction allows buyers to immediately purchase the item at the specified price!  Right now, adding the Buy It Now option is free.  Other times, it may not be free, so keep that in mind.   Select next to choose your shipping options.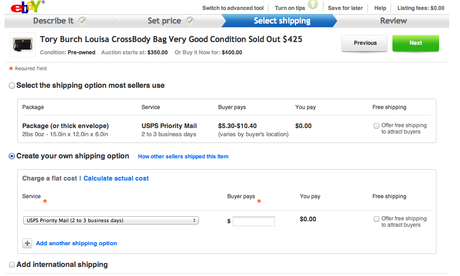 There are several options with respect to shipping.  The buyer always pays shipping, unless you as the seller specify that the item has free shipping.  Why would you do this? See here.  I like to control the shipping costs, so I always choose to specify my own shipping price.  You are not allowed to charge exorbitant shipping fees, however, please do your homework as far as shipping is concerned.  When I taught my Dad how to sell items on ebay, he constantly underestimated the shipping for items.  This is not good, because you reduce your profit on an item if you don't charge the appropriate amount of shipping.
Click "Next" t preview your listing and add the last few details.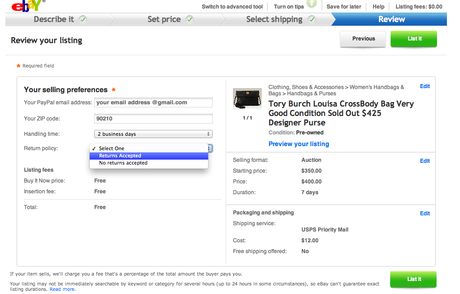 Enter your email.  In the handling field, be sure to put how long it will take you to package the item and get to the post office.  The shorter handling period, the better, but be realistic, especially if you aren't able to make it to the post office everyday.
Determine whether you would like to establish a return policy.  Most buyers are more comfortable with a seller that has a return policy, even if it is stringent.
Keep it simple, for example, I use the following return policy: I only accept returns if the item is not as described.  Returns are accepted within 14 days. Shipping is non-refundable.
Your fees for the item will be listed below your return policy.  Be sure that you are comfortable with the fee, and if you are not, go back and edit any areas that cost extra, such as:
listing your item in multiple categories
additional pictures
higher starting bid price
adding the Buy It Now option
Be sure everything else is correct and as you would like it.  Click the "List it" button!  This should bring you to a screen that confirms that you have listed your item!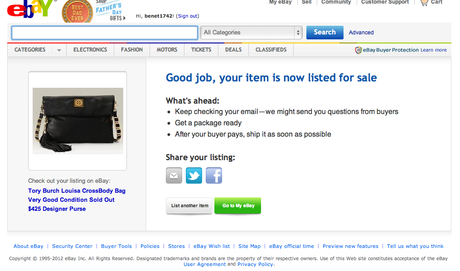 If you would like to follow the status of your listed item, click on your My ebay link on the top right-hand corner of your screen.  Each of you items will be listed and you can also revise your item or any other number of actions by clicking the drop down menu to the right of each item.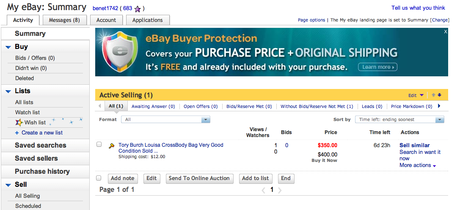 I hope this helped you, now you will be able to list items on ebay with ease.