One of the best financial decisions you can make as an RV owner is investing in the best RV surge protector. This helpful device offers you a less costly way to safeguard your expensive RV electrical system and appliances from damages.
If you go for a portable surge protector, however, you'll have to leave it together with your power cord outside your RV. And this makes the device highly susceptible to theft.
Below, we'll share with you some top tricks you can use to secure your portable surge protector to prevent it from getting ripped off.
Use a bicycle chain to secure your surge protector
One of the cheapest methods campers have been using to protect this high-theft item from undesired hands involves using an old bicycle chain and padlock combination to secure it to the post.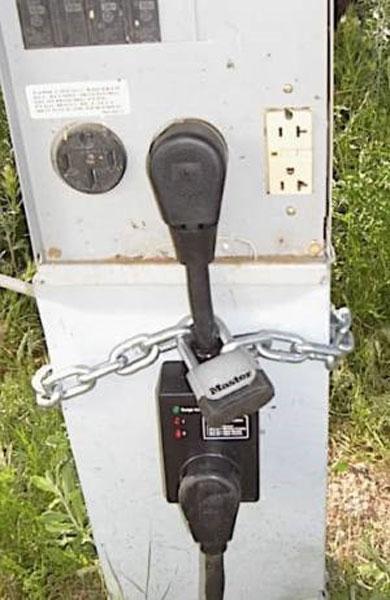 Bicycle chains aren't hard to find, whether you have one from your garage or you can get one from your friends or close relative. Or you can simply get a new one from your local bike shop.
To protect your surge protector, you simply wrap the chain around the cord tightly and then put the padlock in place.
Believe you me, no thief would be able to steal your device in such a state without having to ruin it…unless they'll be walking around with bolt cutters.
Get a lockbox to keep thieves off the surge protector
Another effective way to secure your RV surge protector from thieves is by using a lockbox specially designed for this job.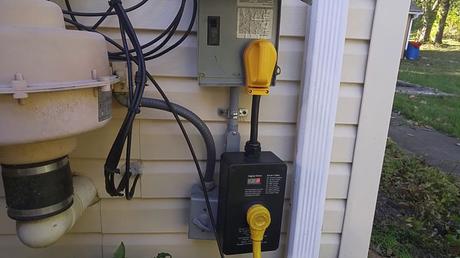 The surge protector manufacturers came up with the lockbox idea to help save your investment from getting stolen when you're inside your RV or when you're away from the campground.
This box simply locks your device to the electrical pedestal and it's spacious enough to lock both the protector and the power cable together.
However, we suggest that you take your time to look for a box that's made from heavy-duty metal, easy to install, and roomy enough to accommodate various sizes of power cords and plugs that go into your protector.
A locking cable can help too
This method is pretty much like the bicycle chain method as it involves wrapping the cable lock around your surge guard and securing it to the pedestal power post.
The only difference between these methods is that here you'll be using a locking cable—a type of lock designed to help you protect your outdoor equipment.
The cable is usually constructed from strong, durable, and flexible materials such as braided steel, so you can rest assured that it will keep your device safe. Each cable comes with its own keys which means only you can open it.
Some models even come with a cable so long that you can wound it against the device twice or thrice to give the thieves an ever harder time stealing it.
Get a hardwired surge protector
Probably the best way to have peace of mind and never worry about your surge protector getting stolen is to invest in a hard wired model.
Unlike a portable surge protector that you leave outside, the hardwired/permanent model needs to be wired into your RV, making it part of the camper.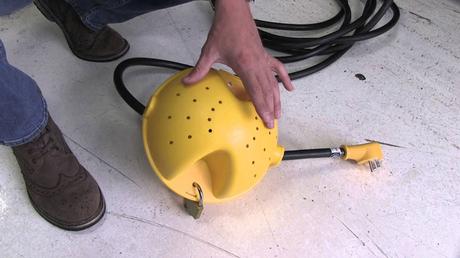 Though the installation part may take some time, once you get it in place you'll never have to worry about someone walking away with it.
An added benefit of going with the former is that you also don't have to worry about the rain or sun beating away at it, making it suitable for all-weather use
A hardwired and portable surge protector has zero difference performance-wise, so you'll loose nothing for investing in either model.
Lock it up!
A surge protector works tirelessly to ensure all your expensive RV appliances and electronics operate safely and effectively. Without it, you risk damaging all your expensive appliances and suffering huge losses.
If you're using a portable surge protector, you need to know that the fact that that you leave it outside your RV together with the cable makes it highly vulnerable to thieves. Using one of the methods we have outlined above can help secure it to give then unwanted hands a hard time trying to rip it off.