Saving a Bundle on Your Wedding Splendour
To save money on your wedding, go over your plans and find ways to cut back a little bit here and there. It is also a good idea to think about your ideal wedding and pick out what parts of your dream are most essential to your satisfaction. That way, you can narrow down what is most important to you and have the dream wedding you want without breaking the bank. So, what are some smart ways to start cutting costs?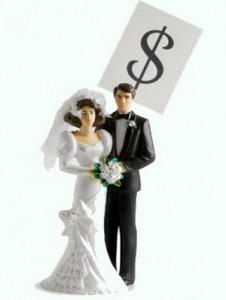 The Guest List
One of the best ways to save you money is to downsize the guest list. Think about who it is most important for you and your spouse to have witness your ceremony. Get rid of guests who you feel you have to invite as this will be your day and you get to have it exactly as you wish it. Inviting fewer people means a drastic decrease in catering and invitation costs.
The Date
Another thing to think about at the beginning of your wedding plans is what time of year to have the ceremony. Renting a space for the ceremony and reception will be cheaper during the off season. Having a weekday ceremony will most likely make your renting fees cheaper, too.
Decor
With a downsized guest list, you won't need to rent and decorate as many tables. Another way to save with seating is to rent bigger rather than smaller tables. This will save you money on centerpieces and tablecloths. It's these little considerations that will make a big difference to your budget.
Another way to make décor more affordable is to shop well before your wedding, keeping an eye out for elements that will bring your design to life. For example, colorful vases are always on sale after holidays like Valentine's Day. If you are planning over a year in advance, you'll have plenty of time to get all the best deals.
Flowers
Flowers can cost a bundle, but there are ways you can have fresh cut bouquets without the big price tag. Choose flowers that are in season during your ceremony – or plan your wedding around when your favorite flowers are in season! The type of flowers you choose will also drastically affect your budget.
The Cake
If your cake is costing more than you can afford, consider choosing a smaller cake and then having a sheet cake to feed the masses. You can even the keep the second, larger cake behind the scenes until it is needed so your wedding cake centerpiece gets all the attention.
Another way you can save on cake costs is by using fresh flowers rather than sugar ones. In fact, decorating your cake with fresh, in season flowers is an affordable and beautiful way to make a unique wedding cake.
The Invites
With the amount of technology the average person has access to today, making your own invites is a great way to save money. Look online for templates to make designing easy. Sending save the date cards via email will also save you a bundle and most people today can be reliably reached through email.
So, as you can see, with a little thought you can save money on almost every aspect of your wedding. What are you waiting for, see how much you can save on your big day now!
Stylish Weddings Melbourne make it easy to save money on wedding accessories for your big day. You'll see that you don't have to sacrifice style to save money, checkout Stylish Wedding's great range of affordable bridal accessories today.