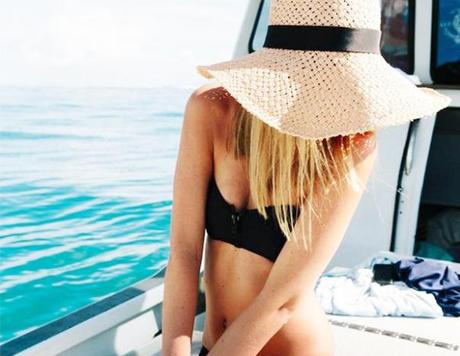 Hello Gorgeous! Summer is here and the sun is shining bright, and chances are we all have already incurred some amount of sun damage. And unfortunately, it starts to accrue very early, though you may not see the effects right away. Keep reading to find out how to address all types of damage.
EPIDERMAL DAMAGE
The damage that happens in the epidermis is cellular. Over time UV light damages cells, making them irregular. Your immune system remedies some of the damage, but eventually unfixable buildup starts to accumulate. These cellular irregularities result in skin roughness and dullness.
CELLULAR DAMAGE
You can treat the textural irregularities with peels, exfoliation and fractional non ablative lasers, like the Fraxel laser. These treatments addresses any visible dull, rough texture on the skin.
PIGMENTARY IRREGULARITY
Pigment irregularity, which often refers to those brown spots can be treated with topical creams. Adding other skin brightening ingredients, like sulfur and botanical extracts will help too.
DERMAL DAMAGE
In addition to the surface irregularities that happen on the epidermal level, there is also injury to the dermis to watch out for. UV light breaks down the collagen and elastin fibers deep in skin tissue, and over time, results in thinning skin, sagging, wrinkling and more.
SOLAR ELASTOSIS
Solar elastosis is a term used to describe a buildup of globular material, otherwise known as overly damaged globs of tissue. Once the elastin gets so damaged from the sun's rays that it no longer stretches, it just sits there in the dermis, in globs. The challenge is that it is almost impossible to remove it without depigmenting the skin.
TELANGIECTASIA
It's the actual reddening of the skin, due to enlarged veins. It most often occurs on the neck and chest. Telangiectasia is one of the hardest types of damage to treat but there are a few options. Lasers can go in to destroy the enlarged blood vessels from the inside out, or temporarily shrink them down with a topically applied cream.
DEEP DERMAL DAMAGE
Once the injury to the skin has reached this level, it becomes very hard to treat. Botox is recommended because it relaxes the muscles, as less movement means fewer wrinkles. Injectable fillers plump and tighten the skin, which has an overall lifting effect on the face. But these options only help to improve the appearance of skin, they're not actually treating it.
There  are treatment options, that will remove and repair sun damaged skin but there are risks involved. Your best bet is to stop daily damage before it gets serious. The most obvious and most effective way to ward off sun damage is with sunscreen. Wear it everyday and pay extra attention to the areas that are most susceptible to the sun's harmful rays. Additionally cover yourself with clothes, hats and shade whenever possible and up the damage fighting antioxidants in your skin care regimen.
Gorgeous, do you wear sunscreen everyday? Let me know in the comments.
Stay Gorgeous!
Source: Byrdie