External Hard drives are crucial in nature and have a huge storage capacity. It makes our life easier; we can use it to store unlimited data. Usually people use it to store important data. There are various cases have been seen where people lost theirdata from external drives. Initially we couldn't get our lost data once it was permanently deleted from the hard drive. But now, technology has changed. There are several data recovery tools available in the market that can easily recover permanently deleted data. Some are paid and some are available as freeware.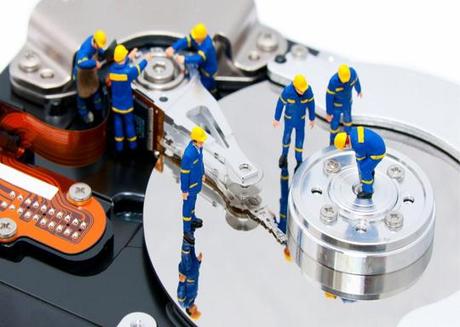 Causes for the data loss from the external hard drive vary from people to people. It could be anything like hard drive failure, virus attack, human mistakes, natural disasters and so and so. But when it happens, all ask similar questions like how to recover data from external drive? I have lost data, hard drive not working, how to recover data? There are numerous such types of question we heard on daily basis. In this article we are going to learn reasons behind hard drive inaccessibility and how to recover permanent lost data from external hard drive.
First let's discuss what makes hard drive inaccessible or damage
As we know, hard drive is the very crucial device which can be easily affected. Reason behind the inaccessibility could be anything, from accidental drop down of device to virus infection. Hard drive depends on various factors and if any of the factors misbehave then chances of drive inaccessibility becomes high. Once the drive become inaccessible then the data saved in that drive also become inaccessible.

Common Reasons of Hard Drive Inaccessibility
Hard drive File system or MBR got corrupted
Hard drive data inaccessibility could be happen because of bad sector
Drive accidently slipped from hands
Hard drive overheated 
Read Write head of drive corrupted
Drive affected by virus
How to Recover Permanent Deleted Data from Hard Drive
Once data have been permanently lost from drive then recovery of that deleted data seems very difficult task to execute. If you have been continuously using your hard drive after data loss then the space which got blanked after file deletion will be overwritten by new data and the recovery of lost data becomes impossible. To get your lost data back you should avoid theuse of that drive for further data restoration.
There are various manual recovery options available through which you can
recover lost data from formatted hard drive
but most of the time it doesn't work for users. At that time they only need a secure professional data recovery program.
Once you have lost your data because of whatever reason, it is always recommended to use professional data recovery software for safe and successful recovery. If you don't want to spend money on such type of data recovery software then there is good news for you. There are numerous free data recovery tool available which can recover any type of file from inaccessible or formatted hard drive and Stellar Phoenix Windows Data Recovery - Free edition is one of them. You can save up-to 1 GB recovered data without purchasing the software.
Launch Stellar Phoenix Windows Data Recovery Free Edition on your computer, remember install software on different drive and treat that formatted or damage hard drive as an external one.After installing software you will see a picture like this.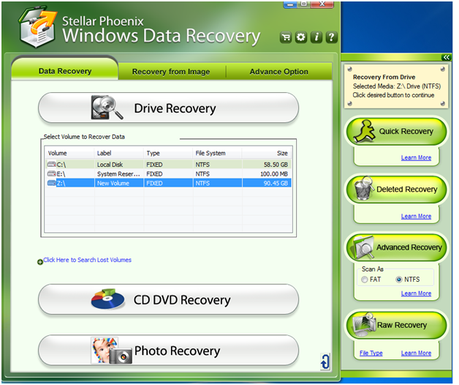 All drive will be listed under Drive Recovery tab, select the partition from which you want to recover data or select the whole local disk drive. After selecting drive for recovery, click on any recovery option: quick recovery, deleted recovery, advance recovery or raw recovery. Let software scan the damage hard drive. Once the scanning process completed, you will be able to see the preview of all your lost data. After getting all your files back you can recover and save that recovered data at your desire location.