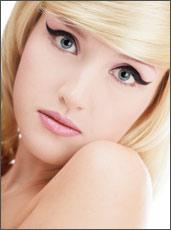 Several beauty experts and professionals claim that eyeliner can make even the tiniest eyes look and appear bigger. By applying eyeliner concisely you will be on your way to achieving better-looking and well-accented eyes. When applying eyeliner, you should not make it too dark, obvious and harsh as this will only show that you have overdone the procedure. Well if you are not a beauty expert but are conscious to your beauty particularly with your eyes, applying eyeliner properly on them is one of the best beauty tips that you need to learn.
 
Eyeliner as an Eye Enhancer
Eyeliners are essential beauty enhancers used by common and professional women all over the world. As a matter of fact, eyeliners are commonly used to accentuate the beauty of the eyes so there is no wonder if you see most of the women today wear eyeliner; it's indeed their way to project their eyes appealingly.
 
There are actually two different types of makeup eyeliners. One is the pencil eyeliner and the other is the liquid eyelinerPencil Eyeliner vs Liquid Eyeliner
 
Using a pencil eyeliner to accentuate your eyes should be used along with shadow as pencil eyeliner melts quickly. If you are still a beginner and is currently learning the right procedures of eyeliner application, the best way is to start at the middle of your lash line then moving outward. After which, you may now finish the line from the eye's inner corner to the center.
 
If you want to have a perfect weekend look, pop your eyes with a basic and light application of eyeliner. Light hand application is basically needed in this procedure to achieve the lightness you want to achieve. The aim of this is to make your eyes look as natural as possible. If you are someone with a light hair, a deep brown eyeliner will do the trick to your eyes. Now if you wish to make your eyes look bigger and wider, the technique is to trace the eye's inner rim with the use of a white pencil or simply highlight the eye's inner corner with a shimmer powder applied lightly.
  
Although pencil eyeliners are popular, applying liquid eyeliner to the eyes is more complicated for newbies. With liquid eyeliner, the looks of a person is greatly enhanced and you will truly become more appealing. So if you want to look great with the use of liquid eyeliner then you may proceed reading this to learn the steps in achieving the more beautiful you with the help of liquid eyeliners.
Many would claim that applying liquid eyeliner is more difficult that applying pencil eyeliner. Well, everything can be learned and as long as you are interested to learn it, doing it yourself will soon become an easy task. You will soon no longer need the help of a beautician or makeup artist to put on liquid eyeliner each time you need to go out and attend a party or special occasions, and you will be able to do it just by yourself.
How to Apply Liquid Eyeliner
1st Step: Choose the Right Applicator
 
Before you intend to apply a liquid eyeliner to your eyes, you need to consider choosing the right kind of applicator to use. Applicators come in felt tip and brush form, the former being referred by many as the most effective type of liquid eyeliner applicator. Felt tip applicators have the potential to deliver richer and darker pigment compared to a marker pen or brush applicators.
 
2nd Step: Taut Your Eyes
 
After you have chosen the right applicator, you should practice stretching your eyelids. You should do this to taut your eyes. Start drawing a line at the inner corners of your eyes making them sure that the lines stay close to the lashes as possible; doing this can also help you try and create few dashes.
 
3rd Step: Connect Them All
 
After you have applied all the procedures, you need to try connecting them all. With constant practice, applying liquid eyeliner to the eyes can be easily done by you in just a single and quick swipe.
 
The Winged-out Effect
 
If you want to have a unique effect, you may want to try the winged-effect eyeliner application. Simply flick up the line right at the end which is definitely the perfect choice for everyone and for you. The best technique to do the winged-effect is to apply it with a light hand. This will ensure you that you not end up looking awkward.
 
Practice applying the liquid eyeliner
If you are practicing to apply liquid eyeliner and have messed up with the procedure, do not be afraid. Wipe the mess off with a Q-tip and other types of makeup removers and repeat the procedure once again. There is no need for you to get tired in learning and practicing the right and proper ways of applying liquid eyeliner. If you messed up, keep on trying. You will soon be happy to know that after some tries and practices, you have mastered applying the liquid eyeliner with no more mess.
How to Put On Liquid Eyeliner Yourself is a post from: Health Care and Beauty Blog