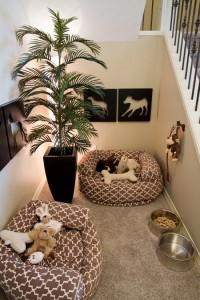 For many animal lovers, bringing home a new dog is akin to welcoming a new member into their family. They look forward to getting to know it, play with it, watch it perform playful antics, and generally enjoy its friendly company.
When we welcomed our new mutt Junior home, I realized that keeping it healthy and happy would require the same kind of adjustments to life and living space as would bringing up a child.
Just like you would baby-proof your home to keep your child out of harm's way, you have to prepare your home before the arrival of your dog, as doing so is important to keep both – your home and your dog – in one piece.
The following questions must be answered to ensure that your dog gets a pet-friendly home to live in:
Where will your dog eat his meals?
Who will be in charge of feeding him?
Where will he sleep – with you or in his own bed?
Who will be in charge of taking him to the papers and when?
Who will fix his appointments with the vet?
Who will take him out for walks/exercise?
Think about all of the above questions and have a plan in place to make sure that you as well as your family members are ready to take on certain responsibilities for the dog's well being.
Once you have sorted out the above concerns, it's time to take more concrete measures in making your home habitable for your dog.
You will have to take care of the following aspects of your home: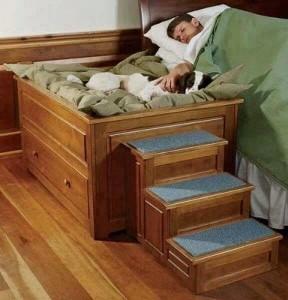 1. Furniture
You may want to think about providing your pet with his own bed. This especially holds true if you're working on establishing a relationship with him that designates you as the leader.
I have provided Junior with a comfortable bed in an appropriate size. His bed is covered with a washable rug and I try to teach him that this is the only place for him to sleep or rest in.
2. Floor
You will have to be extra careful if your home has wall-to-wall carpeting. You never know when your dog may accidently relieve himself on the carpet.
If the carpet absorbs the urine, it will be extremely difficult to clean. In such cases, you are advised to buy high-quality enzymatic cleaning products to take care of your carpet.
Avoid laying rugs and carpets on your tiled floor until your dog is well past his teething age i.e., approximately 8 months. He will instinctively treat them as chew toys.
If like me you have hardwood flooring, seal it with polyurethane to get rid of the urine stench.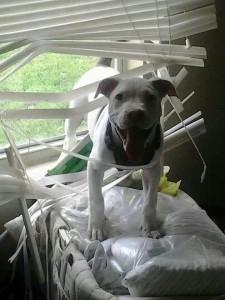 3. Windows
My dog can get very active and jumpy at times. For this reason I think it is best that I avoid vertical blinds, long curtains, over-elaborate nets and trimmings, and long curtain cords, which can prove to be hazardous.
If your dog gets tangled in any of the above, he could panic and bring the whole room crashing down.
You can opt for cloth shades, café curtains and draperies instead, which can render your home more dog-friendly.
4. Walls
It is best to have the lower part of your walls painted in washable paint which is easy to clean, just in case your pooch ends up drooling or urinating on them.
You also have the option of using washable vinyl-backed wallpaper instead of the regular wallpaper, as the former is much easier to clean.
5. Play Area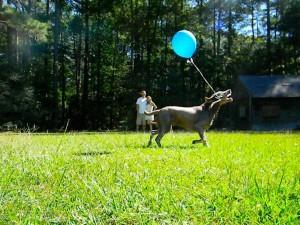 Dogs need to live an active life, which means you need to make provisions for him to be able to run around, and play. Designate a specific area for him to play and get him a few chew-toys.
I take Junior to the park for a walk once a day. Every now and then, I throw a ball, a Frisbee, or a stick and play fetch.  Know your town or city's leash laws when letting your dog off-leash.
If there are no parks in your vicinity, you will do well by installing an artificial lawn within the confines of your home. It is made by using synthetic grass, which looks and feels just like the real thing. Artificial lawns are low-maintenance and long-lasting, which make them perfect for a home with pets.
6. Stair Gates
The stairs, the balconies, and the water bodies in and around your home may potentially be hazardous to your dog, especially if he is very young or small in size. It is recommended that you install baby stair gates around these areas to keep your dog safe, even when you're not present to supervise him.
A stair gate can also help you protect your furniture and other belongings from becoming chew toys in your dog's mouth.
7. Plants
You may think they are harmless and only beautify your home, but not all plants are pet-friendly. You may be surprised to know this, but certain plants can be toxic to dogs. Some examples are mentioned below:
Azaleas and rhododendrons – These flowering plants contain toxins that can result in vomiting, diarrhea, coma, and sometimes even death.
Tulips and daffodils – The bulbs of these ravishing plants can lead to serious stomach ailments, seizures, and an increased heart rate in dogs.
Sago palms – The consumption of even a few seeds may be enough to cause vomiting, seizures, and liver failure in dogs.
Conclusion
Just like you take your own sweet time to adjust to new surroundings, your dog will also take time to adjust to your home. Make sure you allow him that. Overall, bringing home a new dog should be exciting. Taking care of a pet and watching him stay healthy and playful is, indeed, an enriching and a rewarding experience.
Tags: bringing home a new dog, dog advice, dog and home, dog tips, New Dog