I lived in Milan for five months and never got around to visiting the Cenacolo Vinciano, Leonardo da Vinci's The Last Supper.  Twice, I just showed up at the doors of the beautiful Santa Maria Delle Grazie Convent where it is housed, hoping to get in without a reservation – but it didn't happen!
Rest assured you CANNOT enter into see the L'Ultima Cena (The Last Supper) without booking a reservation online or by telephone WAY IN ADVANCE!  I'm proud to say that on our visit to Milan in December I got my act together and booked tickets and entry times for the three of us, and I wanted to share some info for anyone else who would love to see this masterpiece before it all but fades away or during a visit to Milan for the EXPO2015!

Why You Need Tickets in Advance
Unlike many of the other cultural institutions in Italy, a reservation for The Last Supper is NOT OPTIONAL!  Whereas if you are visiting Rome, you can either buy your ticket to the Vatican's Museums in advance (recommended) OR wait in the line, the Cenacolo Vinciano ONLY has the reservation option.
Visit entry times, length of visit and number of guests are all fixed, meaning you must choose the exact time you will enter, the visit will only last for 15 minutes, and a maximum of 30 people can enter at a time.    At first this was a little bit annoying to think about, because it means that you cannot be flexible with your visit at all, HOWEVER, after visiting the Vatican Museum, where hundreds of visitors were crammed into the gallery rooms, waiting hours on end in claustrophobic situations, I now appreciate The Last Supper's system!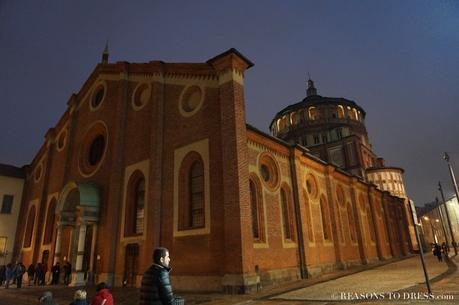 The Cenacolo Vinciano is in an incredibly delicate state and although it has under gone many restorations the nature of the painting, humidity and fact that it has survived major World War bombings means that now, more than ever, we risk further deterioration.  Because of this, the environment is under major surveillance and is humidity and temperature controlled..  When entering, all 30 people must enter at the same time through a temperature controlled entry way….all very high tech!
Please arrive at least 10 – 15 minutes BEFORE your entry time!!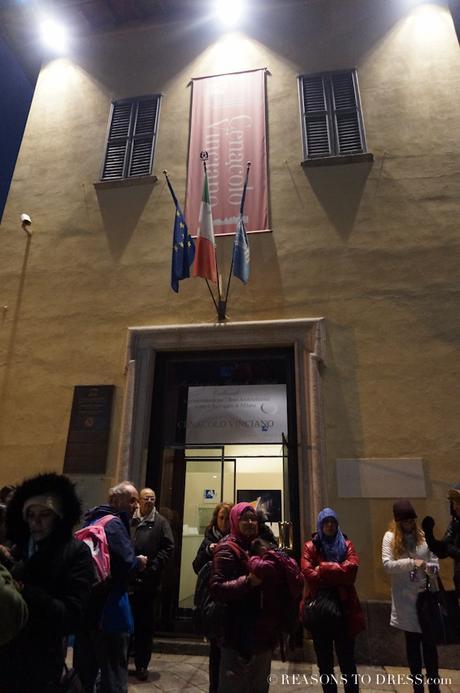 Here we all are waiting outside for our set entry time. Please note that in cold temperatures, there is only a very small hallway where you can wait. HOWEVER, there is a cute Cafe across the street (with gluten free options!)
Where and How to Buy Your Ticket in Advance
Tickets for The Last Supper are available online at the official website here.  I can only seem to find this website in Italian, however, there are also English websites that also sell tickets as part of tourist packages.  These are considerably more expensive so I just bought my tickets directly.  Even though the website is in Italian it is all pretty simple to understand.
PLEASE NOTE:  The 9:30 am and the 3:30 pm (15:30 as listed on the website) entry times have tours in ENGLISH.  You need to snatch up these spots FAST if you want a real guide in English!  Otherwise, audio guides are available.
On the website you will notice that there is the ADVANCED BOOKING SCHEDULE "apertura prevendite".  They sell tickets a maximum of three months in advance.  So if you are visiting for EXPO2015 you'll want to think about booking your tickets to visit the Last Supper as soon as you can!
APERTURA PREVENDITE:
26 febbraio: in vendita le date di MAGGIO 2015
11 marzo: in vendita le date di GIUGNO 2015
9 aprile: in vendita le date di LUGLIO 2015
My tickets were emailed to me and I printed them off and brought them directly with me.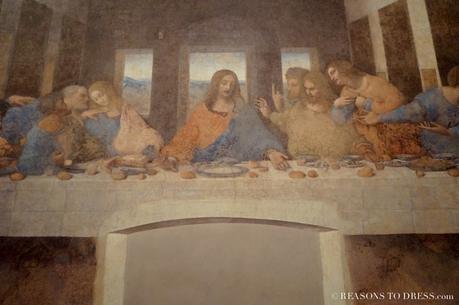 Free Entry Day and Ticket Prices
You will notice on the official website this text:
L'INGRESSO AL CENACOLO VINCIANO E' GRATUITO PER TUTTI LA PRIMA DOMENICA DI OGNI MESE.
ANCHE PER LE DOMENICHE GRATUITE LA PRENOTAZIONE E' OBBLIGATORIA: I BIGLIETTI PER QUESTE GIORNATE POSSONO ESSERE PRENOTATI SOLO TRAMITE CALL CENTER
It means that the first Sunday of every month entry to The Last Supper is FREE, however, you still must pre-book your entry date and time online!  In fact in all of Italy as part of the #DOMENICALMUSEO (Domenica al Museo – Sunday at the Museum) cultural campagin, all museums every Sunday are free!  Read all about this here  in Italian, and you can even follow along with this hashtag #domenialmuseo.  Here is a list of the Museums that participate!
Regular admission is 8 euro per adult and 1,50 Euro for children under 18 (they pay a booking fee, please see below).  Audio guides and other services are extra and all info can be found on their official site.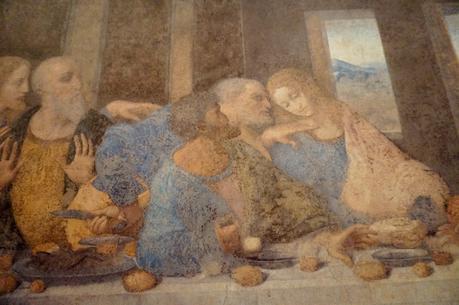 Location and How to Get There
The Santa Maria Delle Grazie Convent where the Cenacolo Vinciano is housed is in the heart of Milan.  But still, if you are pressed for time, or worried about getting lost and missing your entry time I highly recommend either taking a cab or even the tram.
We arrived with the Tram LINEA 16 which goes right from Palazzo Reale to Santa Maria Delle Grazie:
Tram details: LINEA 16. Wait for the TRAM at the Fermata Duomo
 TAKE THE 16 TRAM in the P. Le. SEGESTA direction
EXIT at stop 21 "Santa Maria delle Grazie"
Estimated arrival time 15 minutes with the tram!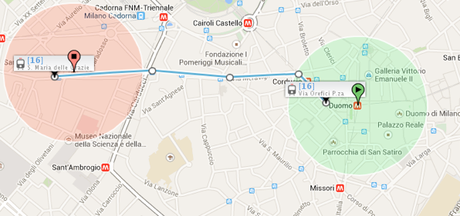 The Santa Maria Delle Grazie can also be reached by TRAM 18 STOP:  Corso Magenta – Santa Maria delle Grazie or by the Metro at stop Conciliazione  or  Cadorna.
View Larger Map
Visiting with Young Kids
My husband and I visited with our son, who was at the time just over two and a half years old.  When we entered he was asleep in his stroller, and we were able to go in with our stroller. Kids under 18 do not pay admission BUT THEY DO pay a 1,50 Euro booking fee and NEED A TICKET!
Due to the fact that the actual visit inside is only 15 minutes, I think this is a very accessible and easy museum that you can visit with kids.  Obviously, it is easier to visit if they are naping, however I truly believe in exposing kids to arts and culture at a young age.  Our little guy awoke (and in a good mood!) during the visit, and he was totally calm and in awe of the massive painting and the whole ambiance.
Is It *Worth* the Visit?
One of the problems with all major art works and almost every masterpiece I have studied in University, is that because of digital and printed reproductions you actually feel as though you've "been there seen that" when you finally see the original.  I value audio guides and tour guides and always try to go into these situations WELL INFORMED of the cultural, historical and artistic relevance of the piece.
It is important to understand that you are seeing the real thing and how/why this is of cultural significance to get the most out of your visit.  Leonardo da Vinci invented the technique that was used to create The Last Supper (incredible although not durable), and the history behind it, urban legends, perspective and emotions all make it an absolutely breathtaking experience.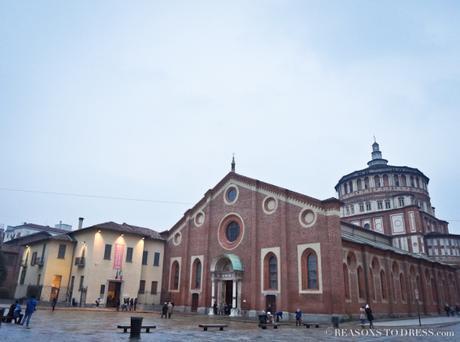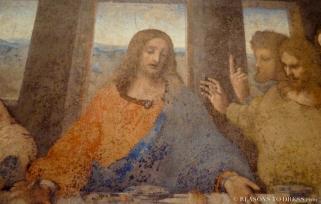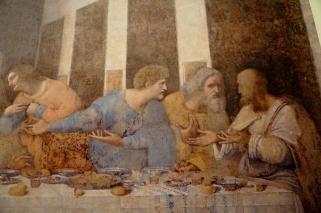 Visiting Milan for the Milan EXPO2015 starting this May, 2015 until October 31st
I hope somewhere out there I've helped someone avoid the disappointment of arriving at The Last Supper only to find that they don't have a ticket!  If you are planning a visit to the Milan Expo in 2015 and are also spending some time exploring Milan, feel free to check out these other posts I've done on the city!
5 Free Things to See in Milan – Major Sites including what to do with KIDS for FREE!
Milan's Vintage Tram Line – The 1 Line which goes to the Castello Sforzesco (which is VERY close to The Last Supper!!)
Le Colonne Di San Lorenzo – The Hipster Area of Milan with Aperitivos, vintage shopping and urbanites!
For all the Gluten Free travelers headed to Milan I've reviewed the BEST gluten free restaurant in Milan, plus a great hotel option and fast dinner and lunch options here.
And if you're interested about why I originally moved to Milan and how my life changed at the Milan Central Terminal I've written this personal story here.
Feel free to follow Reasons to Dress on Bloglovin' so you never miss a post!
You'll get one email a day with all the new posts from all of the blogs you follow.