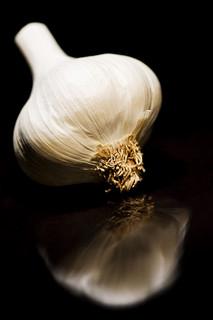 But garlic, as you may have noticed in your own cooking endeavors, can be tricky to peel. So, today I'm sharing with you two ways to peel it quickly and efficiently. Per the title of my blog, I should go domestic at least on occasion, shouldn't I?
Plus, I'll share with you my very favorite lunch recipe after the vlog, which I'm linking with Mama Kat's Vlogging Workshop. You should check it out after you've watched my vlog and left me a comment.
Well? Go ahead. Watch it now.
Problems? View it on YouTube.
Learn something new? Leave a comment and let me know!
Now for the recipe:
Caprese Sandwich
My take on the traditional, delicious Caprese Salad is to take that baby, remove the Balsamic Vinegar, add garlic and pop it on top of fresh Ciabatta bread. You can bake your own bread from scratch if you're feeling ambitious (it's really quite easy, but you have to plan ahead). For a quicker version, those fresh, half-baked breads from your grocery store are great. Even frozen, like La Brea, makes for a quick, delicious lunch.
So, your ideal ingredients are:
Ciabatta bread
Fresh Tomatoes (Vine Ripened or Cherry Tomatoes are best), sliced
Fresh Garlic, minced or sliced (your preference)
Extra Virgin Olive Oil
Fresh Buffalo Mozzarella, sliced (DO NOT use that dehydrated crap! This is not pizza, people!)
Sea Salt
Fresh Ground Pepper
Fresh Basil, torn or sliced (but slice only at the last minute)
I'm not big on precise recipes, so add as much or as little of each ingredient as you want. The goal here is to put a balanced amount of each on top of that bread in the order that I have listed them. If you prefer your sandwich hot, wait until you grill it for 5 to 10 minutes before adding the basil (or do half before and half after).
I love to have mine open-faced, but to each her (or his) own!
Bon appetite!