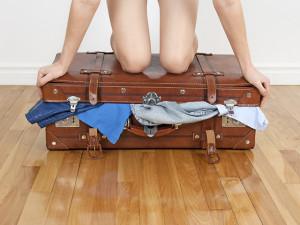 When you're going on a trip, either for business or pleasure, it's important you have everything you need with you. And if you're struggling to fit everything into your suitcase, you may need to take some things out or you may forget something important.
What's a traveler to do?
It's time to get strategic about the way you pack your suitcase.
First, lay out all of the clothes you think you will need during your trip and then put about half of them away. Pick out clothing within the same color family so that every top matches every bottom and pair of shoes. A general rule is to pack more tops than bottoms. For instance, ladies, if you're going on a five-day trip, pack five shirts, two pairs of pants and a skirt.
When you're deciding which clothes to pack, take the fabric into consideration. Knits, wools and cottons typically don't wrinkle and are more versatile than other fabrics. Think yoga pants to wear for a hike or as pajamas.
Now that you have all of your garments chosen, it's time to make it all fit in your suitcase – this is where strategy and creativity make all of the difference.
Start rolling up the softer clothes like t-shirts, cotton pants, knitwear or jeans – these types of garments don't wrinkle when they're rolled tightly. When it comes to stiffer fabrics, like blazers, dress pants, skirts and button up shirts, fold them.
Place all of the rolled clothes in the bottom of your suitcase for your first layer. Your middle layer is for your folded garments. Place the longest folded items in first and try alternating waists and hems as you pile the other folded clothes on top. Doing this saves space since waistbands tend to be thicker.
What clothes go on your top layer is totally up to you. But consider piling the clothes you will need first on top, like a swimsuit or pajamas.
If you're packing belts, wrap them around the perimeter of the bag around your three layers of clothes.
When it comes to choosing shoes, pick one casual pair, sneakers and a dressy, evening shoe to cover all of your bases. Out of these three, wear the heaviest one during your travels and pack the other two. In the case of saving space, try storing sunglasses, chargers, and other smaller items inside of the shoes you are packing. Place these shoes along the sides of your suitcase.
If you're packing beauty products and toiletries, try using products that can be used for several purposes, such as a tinted moisturizer that also serves as foundation or a soap and shampoo all in one. However, if you're not checking your bag and carrying it on, you need to check regulations for liquids at tsa.gov.
If you're packing liquids, place them in bags or containers that will prevent them from leaking onto your clothes. Hair brushes can snag and catch on fabrics – pack them in a bag inside of a sock to prevent this from happening.
Then place the bags and pouches containing these items in the side corners of your suitcase or in a zippered pocket on the outside of your luggage.
And when it comes to jewelry, pack the inexpensive pieces in pill bottles or sealed lunch bags. Wear valuable jewelry while you're traveling to avoid losing them or having them stolen.
And voila! Your suitcase will be so perfectly packed you'll want to start your vacation memories with a photo of it.
Photo from Shopflexi.com.