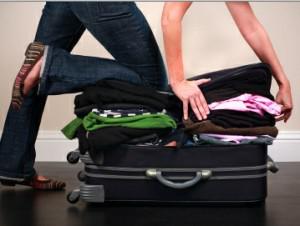 School's out for summer, the thermometer has begun to spike and many of us are wishing for some time away to relax, soak up the sun and be by the water.  Before you head out for your long weekend or to jet-plane to somewhere tropical you have to pack first; a chore that most people hate.
Having packed more than my share of clients for both personal and business travel, I am going to share my packing tips with you here.
#1- Get a Plan
While it seems painfully obvious to plan what you will pack for a trip, it isn't uncommon for most people to just haphazardly throw some stuff in a suitcase with little rhyme or reason.  Not only does this often lead to overpacking (and a heavier suitcase) but it isn't necessarily effective to do it this way.  More does not mean more and just because you pack a lot of stuff doesn't mean that you'll necessarily have something to wear.  Instead, what it often means is that you'll be just lugging a bunch of odds and ends on your trip.
The first thing I want you to do is sit down and figure out your trip; not just how many days you will be away but what your itinerary will include.  The more specific about this that you can be the better.  When I pack a client, we get a piece of paper, figure out as specifically they will be doing on a trip and then, day by day, put appropriate looks together.
#2- Coordinate
Having a good idea of what your itinerary will include isn't enough to make you an effective packer.  You should also consider just how streamlined you can make your suitcase.  The best way to do this is to look at your travel wardrobe in a mix-and-match manner.
A way to do this is to start with one key piece that you know you definitely want to bring on a trip.  Perhaps it is a versatile printed summer dress (versatile being the key, we'll get to why that's important  in a minute.)  Your key piece is your "story setter" and gives you the foundation on which to build the rest of your travel wardrobe.

#3- Build
Starting with a key item is crucial because it helps set the tone for the rest of what you pack.  For example, if we take the dress from above it tells a lot about the rest of what to pack.  If a client showed me a piece like this, my thinking is that I would suggest that the colors in the rest of her travel wardrobe work off of the colors found in this dress.  Not only does this enable someone to pack lighter but it also creates more effectiveness.
The color story created in this dress is turquoise, pink and orange.  While I wouldn't commit to only these colors, these colors would be the foundation of what I would pack.  Here are some likely pieces I'd grab next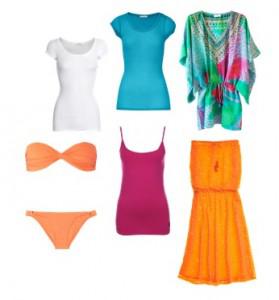 #4- Accessories are Key
Accessories are important to bring on a trip because they are small, don't take up a lot of space and can be used to create more versatility in the clothing items you pack.  For example, a simple dress that you can wear for daytime can be easily changed up and made to look more elegant with different accessories, which is a heck of a lot easier than packing a whole new outfit.  You can do more with less when you pack a lot of accessories which is why it is important to keep the color palette of the clothes you pack tight as well.  The more your travel wardrobe color coordinates, the easier it will be to utilize the accessories you pack.
Here are some examples of accessories that I would pack with the color story that is getting created here.  Note the gold accessories.  When in doubt, having some gold or silver accessories on hand is important because they match everything.  Also, green accessories are very versatile for a pop because there isn't a color out there that doesn't work with green.  A quick note: Don't pack very expensive accessories unless you have access to a safe in your hotel.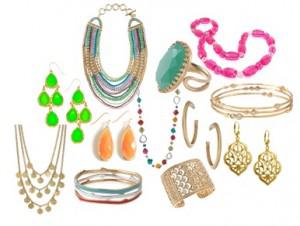 #5- Handbags
Handbags take up a lot of room.  One bit of advice I often give to my clients is to choose a beach bag that is stylish enough to also be a daytime bag for casual use.  You can also consider this beach bag to be your carry-on bag for airline travel as well.  In addition to this bag, pack a small clutch-like bag that works back with everything else you own for evening and you'll be able to pack with just two bags vs. several.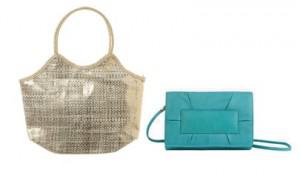 #6- Shoes
Your itinerary will inform what types of shoes you need to pack, so be sure to consult your vacation plans before you throw your shoes in your suitcase.  Rule of thumb: If you're taking a beach vacation that will also include some sightseeing and some evenings out for dinner, pack one beach shoe, one comfortable walking shoe, a versatile shoe that can be worn at dinner and then one elegant sandal that may not be good for long walks but can dress up a more casual look as well as dress down an evening look.   Shoes take up a lot of unnecessary room in a suitcase so be sure to pack them wisely.

#7-  Beachwear
Again, if you want to pack light, I suggest only packing two bathing suits, maybe three.  I usually pack one skimpier suit (for sunning or when I'm not being all that active) and another suit for when I plan on being more active.  If you care for your suits while you are away (rinsing them every night and hanging to dry) and then alternating between the two suits then you really don't need more than two.  While bathing suits don't take up a lot of space in a suitcase, I still prefer to be more streamlined.
Additional clothing should include a hat.  I love Coolibar's packable floppy hat that can be crushed yet still maintain its shape, a man tailored shirt that I can pop on yet keep open if my shoulders beging to burn and a pareo that can either be tied around my waist or wrapped in other ways to look like a dress.  Choose a pareo that color coordinates to all the suits you pack so that you only need to bring one.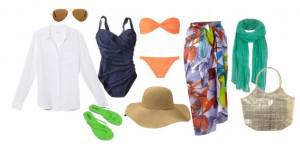 Now, the most important thing when it comes to packing light is the ability to mix -and-match what you pack.  Here is an example of what I'd throw in a suitcase.   The additional components should work with your base and should be versatile enough to create a variety of looks.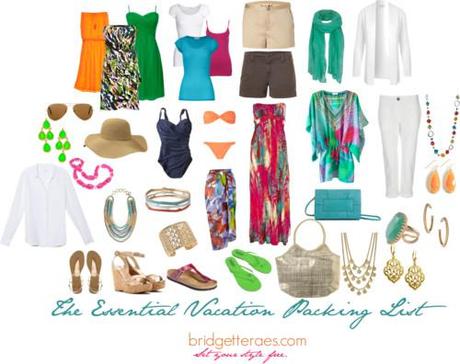 All You Need to Take On Vacation by
bridgetteraes
featuring cargo shorts
While it might not be exactly what you would pack or the gospel on what should be put in your suitcase, I am going to use only these items to put together some looks to show you just how much you can get from less when you pack wisely.  Here are just a few looks below that I created using these pieces.  I couldn't show all the looks in this blog (or else it'd be even longer than it already it is), so check out the Pinterest board that I created with all 30 (yes, you heard me right, 30) looks I put together.    If I can create 30 looks from these pieces alone, then certainly you'll be able to put together enough looks for a week away using my tips.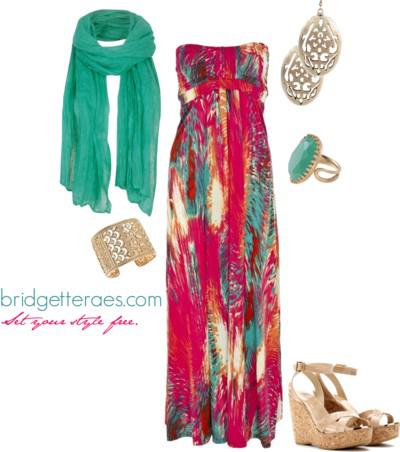 Vacation Look #1 by
bridgetteraes
featuring mosaic jewelry
Look #1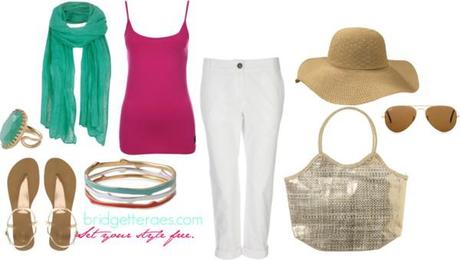 Vacation Look #30 by bridgetteraes featuring stella & dot jewelry
Look #2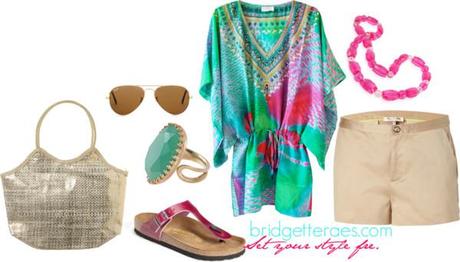 Vacation Look #19 by bridgetteraes featuring birkenstock shoes
Look #3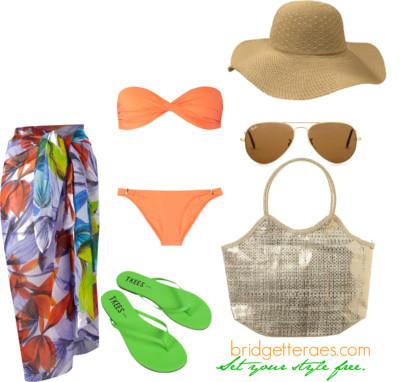 Vacation Look #4 by bridgetteraes featuring aviator sunglasses
Look #4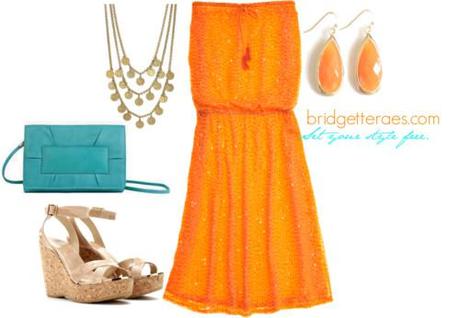 Vacation Look #16 by bridgetteraes featuring triangle jewelry
Look #5
See all 30 looks created by clicking here.
Also, check out my advice for effectively packing your travel on bag here and listen to tips on how to get your body swimsuit ready and how to look great in a bathing suit.  Land's End  and World Renowned Fitness Expert, Jay Kerwin shared their tips on a recent radio show I did with them:

Listen to
internet radio
with
BridgetteRaes
on Blog Talk Radio