If your job involves travel you might find today's post in this series particularly helpful.  I will be giving my tips on how to pack for a business trip.  In addition to myself, I have packed many clients for work trips.  In fact, just recently, I  let myself into this client's apartment and prepared her suitcase while she was at work.  She came home to all items pulled along with copious notes so she would know what to wear, when and how.  There are a few tricks and tips to packing for a business trip that I am happy to share with you to help you not only travel with style but with less baggage.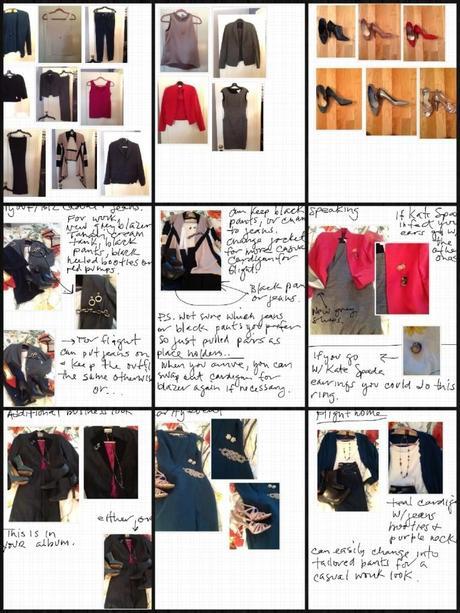 These were the notes and photos I left for my client so she could pack her bags with ease.
Know your itinerary
If you don't have an itinerary or at least a very good idea of what you will be doing during your trip you are sort of packing blind.  Therefore, the first thing you want to do is write down your trip's agenda and think about what would be appropriate to wear for each day of travel.  As you can see from the image above of how I packed my client a lot of thought went into exactly what she would be doing each day.
Pull and then weed out
Next, pull out all items that you would like to take with you.  Not all of these pulls will be going into the suitcase.  See this as a starting point.  When I was preparing a client for overseas work travel I had her do this.  When I arrived at her home to help her pack she showed me all the contenders.  From there we weeded out and added more to create a cohesive business travel wardrobe that would get her the most versatility in wear.  Taking time to create the outfits not only ensured she would get a lot of use from everything she packed but the process also helped us pinpoint exactly what she needed to purchase to make her capsule more complete.
Mix-and-Match
Above are just a few of the outfits that were created for my client's overseas trip.  The whole goal is to be able to do more with less and, with some slight tweaks get totally different looks.  Additionally, you want some of your items to get dressed up and down with just a few accessory tweaks.
Here is a guide to creating your own travel wardrobe.
How to pack for a business trip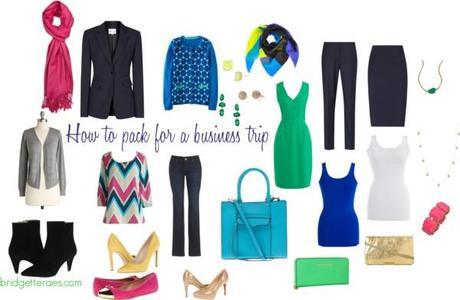 One suit- If necessary, pack one suit.  To get maximum use, have the suit be neutral in shade and if the suit has multiple pieces, like a skirt, pants and jacket, or jacket dress and pants, pack them all.  This way you can wear the suit more than one way while also breaking the suit apart.  In the grouping above I chose a navy suit from Reiss that includes a skirt, jacket and pair of pants.  If you don't need a suit, swap out the jacket for a cardigan or more separate looking blazer.
A novelty blazer or cardigan- Next, depending your work environment pack a novelty jacket or cardigan.  This piece should work with the suit pieces you pack.  Here I chose a polka dot cardigan from Boden.  Because the suit pieces are navy, the cardigan tonally works with the tailored bottoms.
One dress- If your suit doesn't have a dress that goes with it you can pack one if your trip calls for such a piece.  Here I chose a green dress from J. Crew.  Green is not only a very versatile color, it also works well with navy.  Packing a simple dress is helpful as a piece that can be dressed up and down and taken from day to night with some easy accessory changes.
Printed top- A printed top is another great piece to pack.  On days where the dress is casual you can wear it alone with a pair of pants or skirt and it can also be worn during more casual travel times.  I chose this top from Modcloth because it works with the the tailored pieces and also introduces another color to the mix, pink.  When choosing a print don't choose one with colors that come out of left field.  Make sure it plops right into your capsule color and style-wise.
A simple cardigan- For a softer appearance, and for easy packing, I chose this grey cardigan from Modcloth.  I chose gray because it is neutral and light enough to work with whatever you choose to wear.  You just can't go wrong with at least one simple cardigan in your suitcase.
Simple tanks- Packing one or two simple tanks, one that is white or ivory and one in a color that works with everything else you are packing is a great idea because they are easy to pack, don't really wrinkle and can be thrown under a suit jacket or cardigan.  I chose a cobalt tank and white one, both from Lord & Taylor.
A pair of jeans- I think it is important to pack one pair of jeans on a business trip.  People often forget that there is downtime and could be casual evening plans while away.  A pair of jeans can easily be swapped in when you want to dress a work look down and can also be accessorized in a dressy manner for a night out.  Here I chose a pair of dark denim jeans by Mercer St. because your business jeans should be darker in wash, professional looking and not too skinny or tight.
A Pashmina scarf- The large Pashmina-style scarf is a must-pack, especially if you are flying.  When I would travel a lot I would always bring a scarf like this on my flight.  Not only can it act like a blanket or pillow, but once you arrive it can be a staple for accessorizing, as a wrap for more formal nights out, warmth and more.  I also like the bright punch of color that a scarf like this can add.  In this case I chose pink.  It works with just about everything I am pulling together in this capsule.
One tote bag that works with everything- When packing for a business trip you want one handbag or tote that can be used with everything you wear.  Choosing this color is quite simple.  Look at the colors in the capsule you are creating and figure out which bag will complement every piece you are packing.  In this case I chose a turquoise tote from Piperlime.  You will see in a second how it works with every outfit.
A small zipper clutch- You don't want to pack a ton of handbags.  It's unnecessary.  However, you may have evening plans where you don't want to lug a huge tote bag.  Or, you may have situations during the day where you want to carry a smaller bag.  What I would do is carry a small zipper clutch-style wallet in your larger tote that you can pull out of your larger bag.  Here I chose this bright green one by MICHAEL Michael Kors.  On one trip I hated that I had to lug my big travel/work tote everywhere.  I learned the value of having a small zipper sized clutch that contained all my essentials and I could pull out of my tote bag and carry with me.
An evening bag- This only applies if you have more formal events in the evening or want to easily take a day look into the evening.  A small metallic clutch can add some glitz to jeans  or for a night out or can be carried for a cocktail party with your basic dress.  A metallic clutch, like this one by Marc by Marc Jacobs,  takes up a lot less room than an entire dress in your suitcase and can serve multiple purposes.
Shoes and jewelry-  The only way to create mix-and-match looks when you travel is to pack multiple jewelry options and a few pairs of shoes.  Shoes take up a lot of room in the suitcase so pack mindfully.  I think a few pairs are imperative which I included here.
Nude pumps- First, a pair of nude pumps, like these by Cole Haan.  Nude pumps will go with everything from dresses and skirts, to pants and suits.  If you pack just one pair of shoes consider nude.
Pop colored shoes- Next, consider a pop pair of colored shoes.  I chose a pair of Nine West shoes in yellow for this capsule.  Colored shoes are like colorful jewelry, they can just change up a basic look with little effort.
A pair of booties- Also consider a pair of booties if you are traveling somewhere cold.  It's not necessary but if you want an alternative to a pair of pumps a pair of booties, like these from Rockport, will definitely get worn. Booties certainly take up a lot less room than a tall pair of boots.
Flats- Lastly a pair of flats.  Again, not totally necessary but here is why I like having them on hand.  First, for airport travel.  Let's face it, getting through security sucks.  Having a pair of comfortable shoes that you can slip off quickly is helpful.  Additionally, depending on how much time you spend on your feet while traveling for work you may need them.  Plus, for casual nights out while traveling you may be happy you have a pair of flats, like these by Dinane VonFurstenburg , on hand.
The last thing to consider packing if you have a very dressy event is a pair of formal shoes, like a strappy metallic pair, in lieu of or in addition to one of the pairs suggested.
Now let's talk about jewelry.  Jewelry takes up next to no room in the suitcase and is imperative in creating mix-and-match looks.  Jewelry should be packed less when you know what the color story and items are that you are packing.  Keep in mind, the jewelry you pack should never be very expensive.  Pack some fun, inexpensive pieces.  Jewelry is really personal but there is some rhyme and reason behind why I chose the items that I did.  Here are some thoughts on what to pack.
One basic gold necklace- A basic gold necklace, like this one by Stella & Dot can be thrown on with anything you are wearing to add finish to an outfit with ease.
A basic pair of gold studs- These studs from Stella & Dot are good to have on hand when you are wearing a bolder necklace or just want to create a simpler look.
Pop earrings- There are two ways to go about this.  First, you can add a pop of versatile color that complements the capsule, like this yellow pair by Kate Spade.  You can also choose earrings that tonally work with the colors in the capsule, like this green pair by Blu Bijoux.
Statement necklace-  Looking at a capsule like this, I would suggest packing a necklace in at least one of the colors found in the group.  In this case I chose a green necklace by Janna Conner.  I could have just as easily chosen a blue necklace or pink one.  Alternatively you can pack a bracelet in one of the colors.  Here I chose this pink one by Blu Bijoux.  Bracelets can be great to consider unless you spend a lot of time on your computer when on the road.  Few women can tolerate a bracelet on their wrist while typing.
A Scarf- In place of a necklace, you can pack a scarf.  Only do this if you like wearing scarves.  In this case, this scarf from Fab.com takes the place of a blue and green necklace but you can totally swap out the scarf for necklace colors found in the print.
14 business travel looks
The average business trip is a few days to a week.  If I can create 14 different looks using just the pieces above you should be able to get more than you need for a few days away with less, especially considering that I could probably create another 14 looks using just these pieces.  Here are some outfits I created to help you put your own looks together.
Looks #1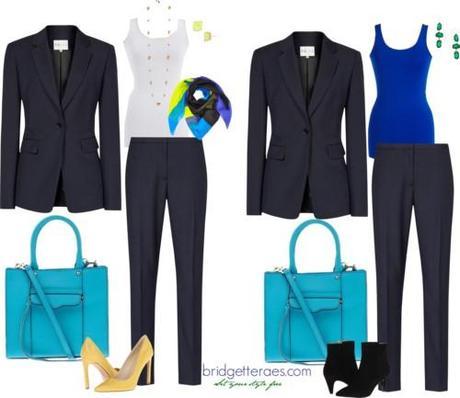 Here are two totally different suited looks using one suit.  Variety is created with the change up of accessories and layering pieces.  The simpler your suit is the more you can do with it.
Looks #2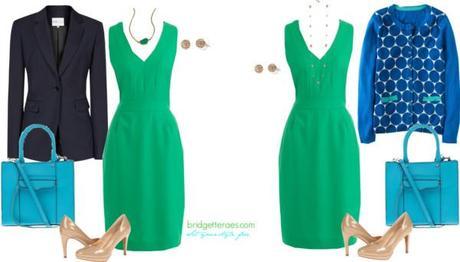 With a jacket, this dress looks more suited and polished and with a cardigan the dress is a bit more casual.  Two totally different looks from one dress.
Looks #3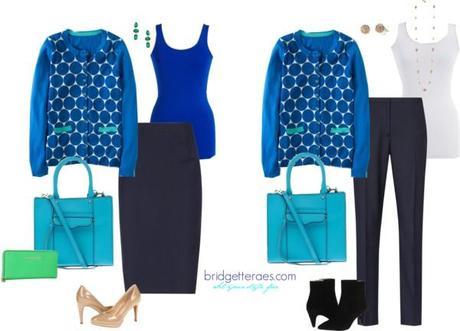 Using the two different bottoms from the suit the cardigan can be used to create a business casual look.  Note the small clutch that can be stored in the tote.  A great idea when you don't want to lug you large tote with you.
Looks #4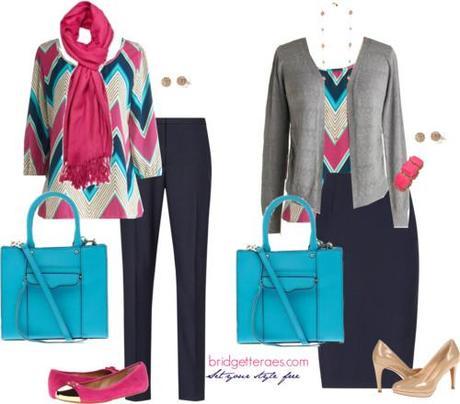 Using the printed top two new looks are created using the same bottoms from the previous outfits.  To avoid too much of the same thing, packing two different colors that complement each other without being too tonal helps create some variety.  As you can see here, there is turquoise in the print but there is also pink.  The turquoise creates consistency while the pink adds a fresh pop.
Looks #5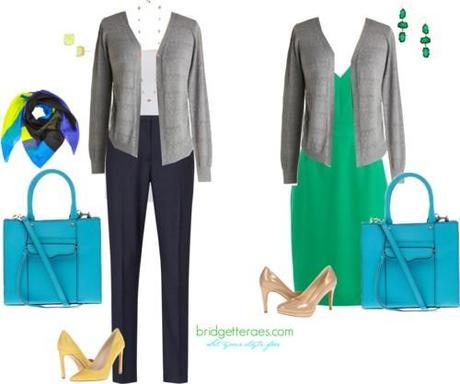 Here are two of many ways to get some mileage out of the basic cardigan you can pack.  It acts like a basic blazer replacement for a softer business casual look.
Looks #6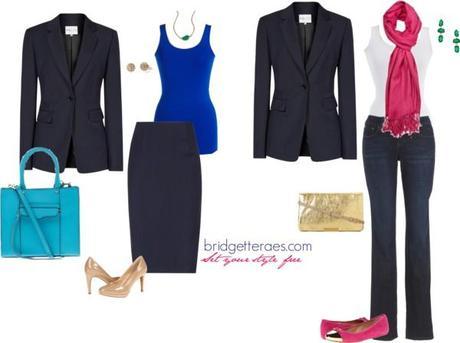 Here are two additional ways to get mileage from your suit jacket that you pack.  First with a skirted look and second with a pair of jeans.  With the jeans, the jacket act like a separate navy blazer for a casual dressy dinner when accessorized with the metallic bag.  You can also switch out the metallic bag for the turquoise tote for a casual business-casual outfit.  With the tote, this could also be a great travel look.
Looks #7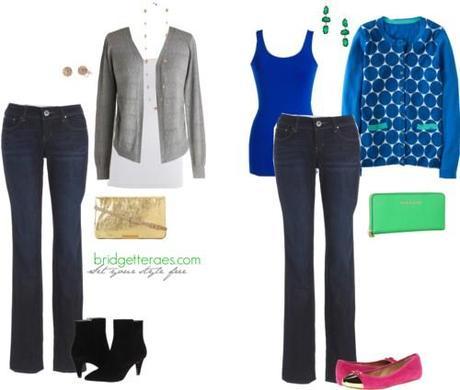 Here are two looks using a pair of jeans.  On the left, this outfit could be used for a fun night out with co-workers and colleagues when the dress code isn't dressy and you want a sharp after-five look.  On the right is a look that can be great for travel or for a dress-casual day look.  You can also use a look like this to fly.
Even if your job doesn't send you away for business trips these tips can still be helpful for keeping your wardrobe small, tight and mix-and-matchable.  The goal is to always have the pieces in your closet relate to one another.  To avoid sameness accessories and a variety of color on a backdrop of good core neutral items will get you as much mileage as all those frequent flier points.

Repost This Article