Affiliates, Advertisers, and Publishers wish to work together? Well, Push.House and Partners.House has an effective way to help you out! In this article, we discuss more these networks and their relation to Push Notification Ads.
So what exactly are Push Notification Ads?
You must be having a desktop computer or even a mobile device at the moment. You might be getting a minimum of 46 Push Notifications Ads each day. In short, Push Notification Ads are nothing but those tiny pop-up Ads which appear on the right corner of your desktop or mobile view. However, these must not be confused with a Push Notification.
They are commercial messages which require the user to sign up to receive them and are instigated by websites.
On the contrary, Push Notifications have a lot of useful data and the source of origination is the Apps. These applications push the information to the forefront automatically as long as the user has a particular App in their device.
For example, weather updates, the latest news, scores of games, etc. are Push Notifications. However, a Black Friday Offer of 50% off received on your phone is an example of a Push Ad.
How does a Push Ad work?
The functioning of Push Ads is very simple. These ads are just sent over to the mobile device or desktop computer of the user directly.
At first, the user must choose to get the Push Ads from any specific website. After this, Push Ads are sent directly to the desktop on the mobile device whether the user browses or not. In case the user is interested, they click the Ad and they get redirected to the main offer page.
In order to give you a better understanding of these platforms and their functioning, we will be explaining each one individually.
What exactly is Push.House? How Does it function?
Push.House is a Push Notifications Advertising Network that is based in Ukraine and was founded in 2018.
It is the fastest-growing network in Push Ads and has about 94.5 million active subscribers, about 1.6 billion impressions, and around 4.1 million clicks in a month.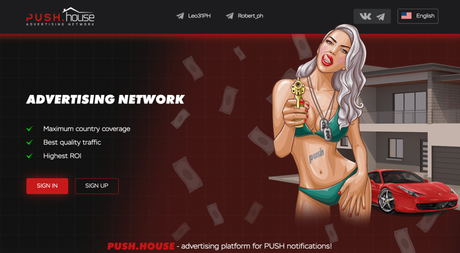 One aspect of Push.House which is quite exciting is the "Click Traffic" concept. The entire traffic of Push.House is click traffic. So what exactly is meant by click traffic? A visitor who clicks anything or any ad on your website is known as click traffic. It is nothing but visitors who indicate a lot of interest in your website.
In the digital marketing world, there are 2 categories of people - the Publisher and Advertiser. It is quite crucial to understand the impact of Push.House on both groups.
Push.House offers a platform wherein owners of sites i.e., bloggers or publishers can possibly earn some passive income through the push traffic. In short, you capitalize on the CPA of Users' and monetize your website.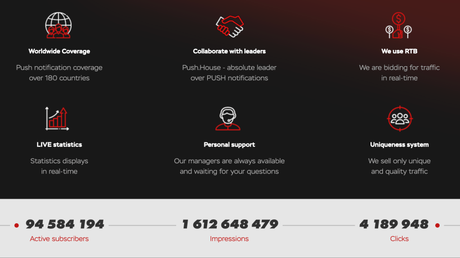 On the contrary, advertisers get access to a group of target customers. So an advertiser can either purchase the traffic and send it across to your websites, or you can design as well as publish the Ads on the network.
Push.House has a reach of about 180 countries all over the world.
How to Get Started?
To begin with, it is free for both Advertisers as well as Publishers. The only thing needed is the creation of an account.
Advertisers and publishers must make use of the links specified for each of them and fill up their personal details.
Step 1
Post this, click the "Send" button and go ahead and affirm your email address. Once this is done, you can sign into the account as a member.
Once the registration process is complete, you can create the first Push Ad Campaign.
Step 2
Start with a Title of 30 characters. Next, the main image should be uploaded (492×328) along with the icon (192×192). Finally, you can put in the Ad Text (45 characters).
Ensure you fill up your website link and also the Daily Budget Limit.
Network Volume
Step 3
This is the step where the audience is selected. For instance, if you want the Push Ad to appear to people in Turkey, the country Turkey has to be selected from the country list. Even the device preferred can be selected. You must bear in mind that Push.House has both adults as well as non-adult Ads.
Once this is done, you can finish the process by clicking "Create Ad". After this, you will get a notification on the approval of the Ad.
Every single Ad created will be pre-approved by the account manager of Push.House before it goes Live. Post this, you can monitor the impressions and clicks.
Push.House enables the user to get real-time data on the dashboard (Clicks, CTR, Impressions, and Expenditure).
Benefits of Push.House
What exactly is Partners.House?
It is a new platform which gives you a Fresh Database and also a high rate of conversion
It has a good global reach -180 countries and the costs are less than 1% per push
Expanding database
Low CPC in the high converting GEOs
Lot of payment options inclusive of Bitcoin, ePayment, PayPal, Web Money, Visa/Mastercard, Perfect Money, QIWI, Payeer, as well as AdvCash.
The interface is Simple
It has a Flexible Tracking System which can be synced with Tracking Systems that use S2S.
It makes use of Real-Time Bidding (RTB)
It supports Skype and Telegram
The ads can be Adult or non Adult Ads
The sign-up is free
Partners.House is connected to the Push.House inherently. As per their website, it is an Affiliate program for Push.House.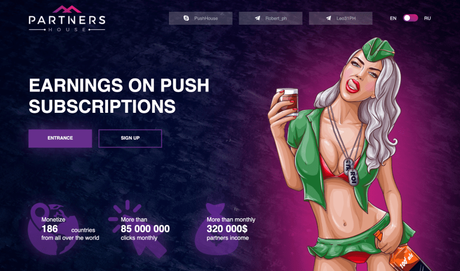 It was founded in the year 2019. It is a platform that allows the customers of Push.House to earn income from push notification ads. Partners.House site already has its reach in 186 countries all over the world which gives them about 85 million clicks in a month. As of now, the statistics on the website of Partners.House indicates that the site partners are paid about $320k each month in terms of push Ads revenue.
How to get started?
Partners.House is mainly for Webmasters or Media Players. In this scenario, Webmasters refer to Site Partners or even Publishers whereas the Affiliates are the Media Players.
They have particular methods of working based on the category you fall into. The first step definitely remains the creation of an account with Partners.House.
Partners.House for the Webmasters
If you are a webmaster, you might be owning a site already which has lots of click traffic. This click traffic is what you intend to leverage for the purpose of income. Partners.House has 4 main steps listed below:
Partners.House for the Media Players
If you are a Media Player, then you might not own a website. Partners.House has 4 main steps to help you out:
Add the website URL in the system
Get the script and code installed in the Root Site
Check the statistics income
Withdraw the funds earned
Perhaps, Partners.House is the only platform that provides 2 different ways to earn some income from Push Ads. The user can select either Instant payments (CPA) or even RevShare. CPA means the payment is received once the activity is completed. It is a short term stream of revenue. RevShare is a long term stream of revenue and is a revenue-sharing system between the partners. In such a case, you get a percentage out of the revenue generated.
Develop a website in the system
Select a couple of landing pages
Get the links so as to attract the traffic
Get the funds earned immediately or via RevShare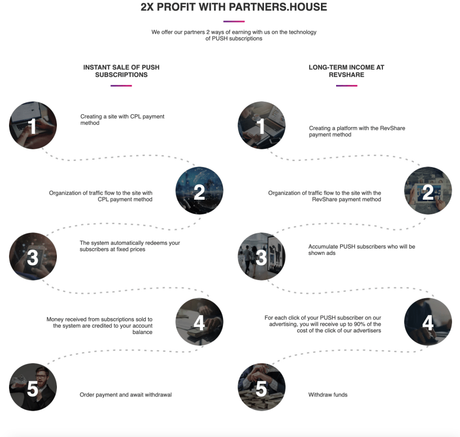 Partners.House and its Benefits
Quick Links:
Final thoughts
Push.House and Partners.House is quite a new platform that has entered the market. Despite being new, these two platforms have seen exponential growth in such a short span. Push.House as well as Partners.House make sure that they offer extensive services to their clients. However, a part of the text is in the Ukranian language, and you might require a translator.
Enables to monetize on Push Ads in about 186 GEO locations
All the Push Ads that are delivered are monetized and are payable
It has Real-Time Stats
It offers a Scalable CPC as well as CPM
The user can split-test many landing pages in many websites that use many languages
The system of Tax Deducted at Source (TDS) can redirect the users to TB post either subscription or failure
Each partner has an account manager
The minimum payout is about $50
It Lists the number of requests from 1-100 on Landing Pages
It has a Referral program that offers 3%
In case you haven't tried these platforms yet, get going and get a share of earnings from Push Ads from the fresh database. Also, they offer free sign-up!
Feel free to share your experiences and opinions with us.