Getting ready to replace your wall oven? Before you begin searching for a new single, double, or combination wall oven, the first thing you'll want to do is get accurate measurements to ensure a hassle-free wall oven installation.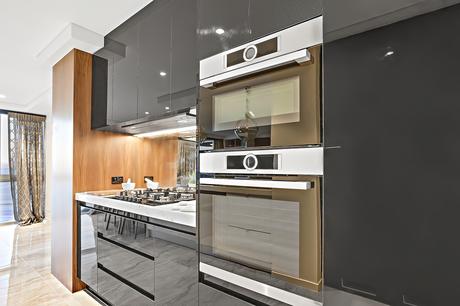 Although most wall ovens come in four widths (24", 27", 30", and 36"), their dimensions can vary. In this post, we'll help you measure your existing wall oven and cabinetry in five simple steps to make replacing your space-saving wall oven a quick and painless endeavor.
What You'll Need:
Phillips head screwdriver
Tape measure
Notepad and pen
A friend to help assist you (optional)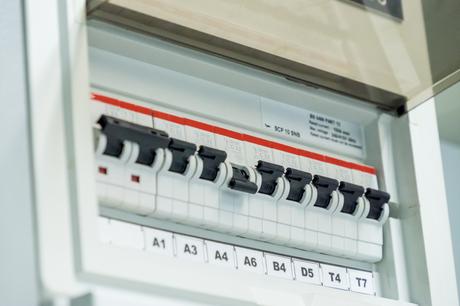 Step #1: Shut Off the Power to Your Wall Oven
Before you start measuring your wall oven, be sure to turn off the power to your wall oven first. Locate the circuit breaker and flip the breaker that controls your oven to the "off" position.
If you don't know which breaker controls your kitchen circuits, simply turn off the master breaker to disconnect power to your entire building. To avoid measuring your wall oven in the dark, plan to measure during the daytime when you won't need a flashlight.
Make note of the amperage on the circuit breaker panel. Your new wall oven can't exceed this amperage; otherwise, the electrical circuit will overload and trip the breaker.
Note: If you have a gas wall oven, remember to turn off the gas valve after you turn off the circuit breaker. To ensure proper shut-off, make sure that the lever is perpendicular to the gas line.
Step #2: Measure Your Wall Oven
Once the power to your wall oven is shut off, you can start measuring the height and width of your wall oven. Use your tape measurer to get accurate measurements and write them down on your notepad for later reference.
Tip: Some appliance manufacturers will have the dimensions of older wall ovens readily available on their websites. Consider checking their website to save yourself a step.
Step #3: Remove Screws from the Wall Oven Frame
Next, open your wall oven and look for the screws on the frame that fasten your wall oven to the cabinet. Use your Phillips screwdriver to unscrew each one and place them in a safe location.
Carefully grasp the sides of the oven and pull it forward by just a few inches. Pulling the oven too far can put it at risk of falling out.
Many wall ovens weigh close to 200 pounds, which can cause serious damage and injury if they topple onto you. For safety purposes, consider enlisting someone to help steady the wall oven while you measure.
Step #4: Measure the Cabinet Cutouts
Once the wall oven has been pulled a few inches away from the cabinets, you're ready to get the cabinet cutout measurements. To do this, measure the width of the top and bottom cutout, starting from the left to the right edges. Jot down the measurements on your notepad.
Next, get the cutout height by measuring straight up and down from the top and bottom edge of the cabinet cutout. Again, write down the measurements for future reference.
While you probably won't be able to get the depth of the cabinet cutout, it's helpful to write down this number as well. Don't attempt to pull out the wall oven farther just to get this measurement.
Step #5: Put Everything Back in Place
Once you have the measurements, you can restore everything to their original places and settings. Gently push the wall oven back inside the cabinet before picking up your screws and fastening the wall oven back into the cabinetry.
Don't forget to turn the kitchen circuit breaker back on (and the gas supply, if applicable). Now, you're finally ready to start shopping for a space-saving streamlined wall oven that will modernize your kitchen.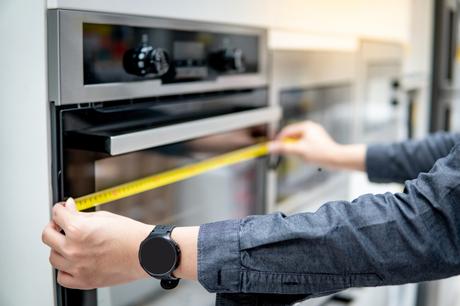 The Best Wall Oven for Your Home
Once you have accurate measurements for your new wall oven, the hardest part is next: finding a wall oven that suits your style, budget, and needs. Where do you even begin?
Whether you're searching for a single, double-wall, or combination oven, Goedeker's has a wide selection of quality wall ovens that will suit your family's cooking needs. Don't forget to check for appliance rebates to help you achieve a high-end look for less.