It's quite obvious. The world is in the midst of a matte madness.
Matte lipstick has taken over the red carpets and fashion runways worldwide. No longer are we reaching for those shimmery glosses. Instead deep berry mattes are now apart of our daily go-to looks. Now…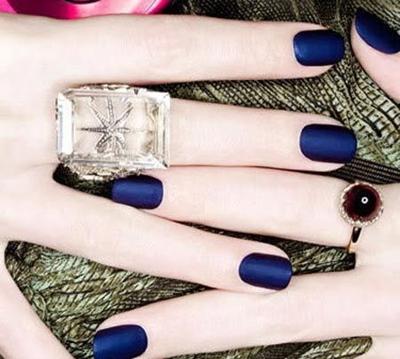 photo credit: http://www.nailstart.com.vn
Matte Nails Get A Chance To Shine (Or to Matte)
You can spend a ton of money buying matte nail polish. Or you can simply re-purpose the nail polish you already have on hand. I highly recommend using a top coat that mattifies.
The easiest way to matte nail polish is to use a product like special OPI Matte Top Coat that will actually do all the work for you. You don't have to waste money on new nail polish. Now, all your nail polishes can sport the trending matte finish. Here's a video tutorial on doing the black, matte french manicure or reverse french manicure.
Matte French Nails – Tutorial and Tips
Tip 1: Use a dark shade like OPI Black Onyx. Darker shades and matte finishes go hand-in-hand.
Tip 2: Always apply a base coat first. Darker nail polishes tend to stain nails.
Tip 3: Allow nails to completely dry before applying OPI Matte Top Coat. This will prevent tugging.
Tip 4: Only 1 layer of OPI Matte Top Coat is needed.
Tip 5: Use tape if you can't free hand your smile lines.