Although I'm not a veterinarian to discuss you on topics like this, but I think I have the right to share what I have learned on my researches regarding this topic. Oreo--my dog,  got infested with fleas and I'm in the process of getting rid of it. So if your interested, read through. :)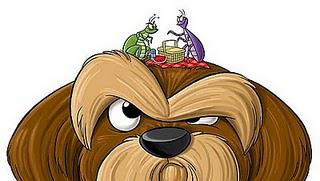 First and for most, you might be asking how the hell did your dog got this parasites. Well, basically they can have this infestation from stray dogs who happen to be lost in your yard. They can also acquire this from your neighbors infested dogs or in the woods where you went hiking with.  With my Oreo, he got it from dogs in our neighborhood. Basically, dogs can have fleas and ticks, but you can do something about this to prevent it from infesting your dog.
Fleas and Tick can transmit disease to our dogs. Fleas it cause our dog some allergy called flea allergy dermititis. It is manifested when your dog starts to bite, scratch and fall off their hairs. I've seen this with my Oreo. Fortunately, its still not that serious when I found out about this.
With ticks, a lot of disease can be transmitted to your dogs. Lyme disease, rocky mountain spotted fever, tularemia, ehrlichiosis are just a few of them. There are also others that can kill your dog.
Fleas and Tick Management:
Bath your dog regularly.
Buy a flea shampoo from the pet shop near you and use it in bathing your dog. Lather thoroughly and deeply through the fur into the skin. Take extra care on areas like behind the ears, neck, ankles and joints. That is most of the time fleas stayed. You can use a flea comb during or after bathing. It will kill the fleas by trapping them in the comb's fine teeth and dipping it in a soapy water.
Use a dog repellent. 
There are several dog repellant available at the petshop. Frontline, Mace Brand Mazzule and more.
Clean your house
. You should also clean your house regularly to prevent fleas and tick from living there. Vacuum your carpets and floors. Wash those beddings and pillow cases. 
Clean your yard.
 You clean your yard by trimming your grass short. Leave it just bare ground. You can also use some repellent in your yard just to minimize if not eliminate the parasites. You can also build or repair your fence to avoid stray dogs inside your yard.
Povide your dog with nutritious food
. These parasites love to live in a weak and malnourished dogs. Now you don't want that to happen right? So provide your dog with food less in food coloring and food preservatives. Healthy dog is much more better than a malnourished one. :)
Now, if anything else fails. Bring your dog to your Veterinarian for further procedures. They surely know what to do with your dog. :)