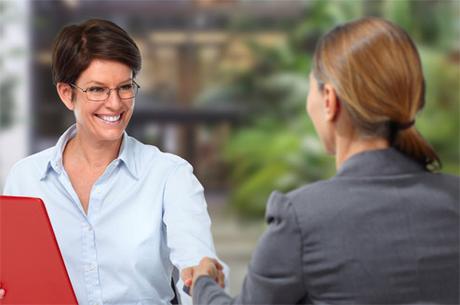 Even though your fleet is essential to the success of your business, you probably feel that managing it is more like a second job that takes you away from what you do best. You may even notice that it often takes you away from your customers - and your staff who are trying to provide your customers with the best service.
It's possible too that you've seen your fleet as a drain on profitability, and as an obstacle to growth for your company. It doesn't have to be that way.
You can turn the challenges of running your fleet into initiatives that fast forward your profitability and growth. All you need to do is rethink the way you manage it.
An important question is ask yourself in the process is whether you are saving time and money in managing your vehicles. Make sure that you can see where you are benefitting from doing this. If you aren't achieving these goals, you are likely denying yourself and your business well-deserved time and money.
With proper fleet management, your vehicles can become:
Efficient and predictable in performance and cost
Customer service-driven brand messengers
A competitive advantage
There are a number of ways to achieve these business-builders, but all of them require you to change how you feel about doing everything your fleet needs by yourself. To know whether you're ready to rethink how your fleet is managed, ask yourself if you are ready to do one or all of these things:
Save money by leasing rather than owning
The right lease program is one way to get out of the transportation business so you can focus on your core business. By leasing with the right partner, you can free up your capital for the investments that are most important to you. And you don't have to worry about unpredictable costs because the best leases include all maintenance, emergency roadside service and rapid vehicle replacement. You can even lease vehicles and drivers, which is a particularly effective solution for addressing your peak season requirements and the driver shortage.
One way this is possible is through a Ryder ChoiceLease. Customers who have chosen this new, flexible lease product have experienced:
1) Cost savings up to 20% when compared to owning vehicles
2) Best in class up-time of 95%+
3) Access to Ryder's expansive shop network and value added services, including preferred rental rates, and competitive fueling prices.
Think leasing is more expensive than owning? What you don't know may cost you: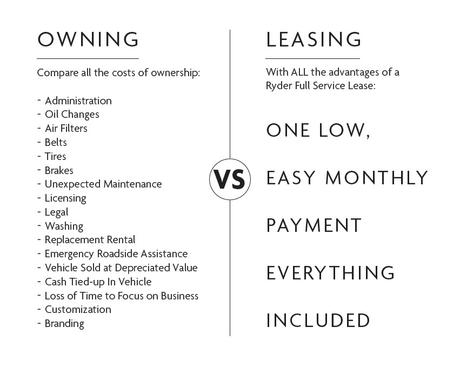 If owning is still right for you, consider contracting out maintenance
With the right company, you'll get better rates and services, plus more uptime from your vehicles. You'll have a choice of programs that include all services, only preventive maintenance, or on-demand service for just when and where you need it.
You should also be able to get these services where and when you need them from certified technicians using the most efficient equipment. The best companies offer this service either at your company, at a shop, from a mobile unit - or even a combination of these options.
Work with a top quality company that gives you options for special services
Because your transportation needs vary from time to time, keep in mind that you can get the support you need for important services like:
Fuel - At preferred rates
Vehicle Rental - Priced well and perfectly dependable
Used Vehicle Sales - Exceptional value and pricing
Insurance - Get precisely the protection you need
Safety - Performed so you lose risk and stay compliant with regulations
Alternate Fuel Vehicles - Access to the best when you need them
Seeing example of how savings and efficiencies are being delivered for small businesses can help you determine the value of help managing your fleet
Before you consider working with a partner to help manage your fleet, make sure any company you are talking with can prove how they have saved time and money for small business fleets. They should be able to show how specific strategies helped real companies. The best ones will have examples in which their customers tell you how these services delivered for them.
To see some examples of how small businesses have turned their fleets into their competitive advantage, visit ryder.com.