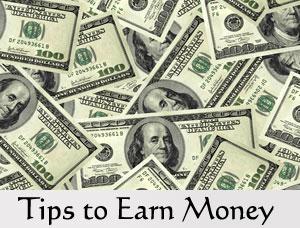 This is the second post of this topic, we already have discussed in our last post about making money as a kid. There are some more ideas which will be covered in this post and hope you would like it and utilize these ideas in your daily life to earn money as a kid.
Sell used stuff online:
You can make good money by selling the used/old stuff in your garage. Used furniture, machines, electronic devices, toys etc. can be sold online easily. Millionaire Cameron Johnson earned $50 k at the age of 12 by selling his sister's Beanie baby collection with her permission. (Source: Miley)
You can use Craigslist, eBay, Amazon to sell your stuff online to earn extra good money. Share the nice picture of your stuff with some catchy description to attract the buyer. You can browse different websites to know the market price of your stuff and how people are describing. Don't meet the buyer in absence of your parents.
Start a Blog to earn money online:
In today's era more than 90% people uses internet on regular basis. These users search different information over internet. You can start a blog with the valuable information, which can become good source of your income. Use free blogging software like WordPress and BlogSpot to start your blog. You can share your photos, writings, music, etc. As you get good traffic on your blog use Google AdSense to make money through your blog.
Sell vintage things online:
Etsy.com is the coolest place to sell different handmade crafts, jewelry, cloths & different vintage things online. Millions of buyers visit this website to buy things online. Thousands of people are making good money by selling products through this website. An adult of 18 years old can have an account at Etsy.com, but don't worry you can ask your parents to create an account for you. Etsy.com charges 3.5% of each sale with 20 cents to list an item on it.
Earn through freelance gigs:
There are many websites like Fiverr and Gigbucks where you can sell your simple and small services or your special skills if any, as little as $5. People are making their living through these websites. If you have any unique or excellent talent, don't waste it, let start selling it and make extra money. People are designing, editing, writing and selling different skillsm, Even selling the home décor ideas. Even you can sell the comical dance moves.