Do you remember DCG's post of March 2, 2013, "Student suspended for 'gun-shaped' pastry"?
7-year-old Josh Welch, a second-grader at Park Elementary School in Baltimore, Maryland, was suspended from school for two days because he bit his Pop-Tart breakfast pastry into a shape that his teacher thought looked like a gun.
Welch said he was trying to nibble his strawberry snack into a mountain. But when his teacher saw what he had done, the boy says she got 'pretty mad' and he knew he was 'in big trouble.' Josh's dad was called by the school and  informed that his son had been suspended for two days.
The school even sent home a letter with every student informing parents that "A student used food to make an inappropriate gesture" and has offered counseling to the students, just in case they were traumatized by the pastry gun.
And now here's the rest of the story!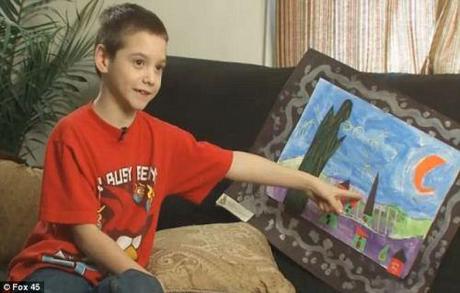 Pistol pastry perp
James Lunt reports for Reuters, May 30, 2013, that the boy's lawyer said that Josh has been given a $550 Junior Life Membership in the National Rifle Association by a state legislator who heard about Josh Welch's suspension.
"I was embarrassed that my county (Anne Arundel County) would do that to him," said Nicholaus Kipke, leader of the Republican minority in the lower house of the Maryland legislature. He presented the gift to the second-grader Wednesday night.
The boy's lawyer, Robin Ficker, said he is appealing the two-day school suspension that started on March 1. In the appeal, Ficker included pictures of the U.S. states of Idaho and Florida because "they look more like guns than Josh's Pop-Tart."
The Anne Arundel County Public Schools spokesman, Bob Mosier, declined to comment on the status of the appeal.
Ficker said the NRA membership gift was a great idea for the boy, who "is a good kid, a little rambunctious," because it would teach him proper handling of firearms.
Here's contact info for the school:

Sandy Blondell
Park Elementary
201 E. 11th Avenue
Baltimore, Maryland 21225
Ph: (410)222-6593
Fax: (410)222-6596
Principal: Mrs. Sandy Blondell (pic left)
~Eowyn