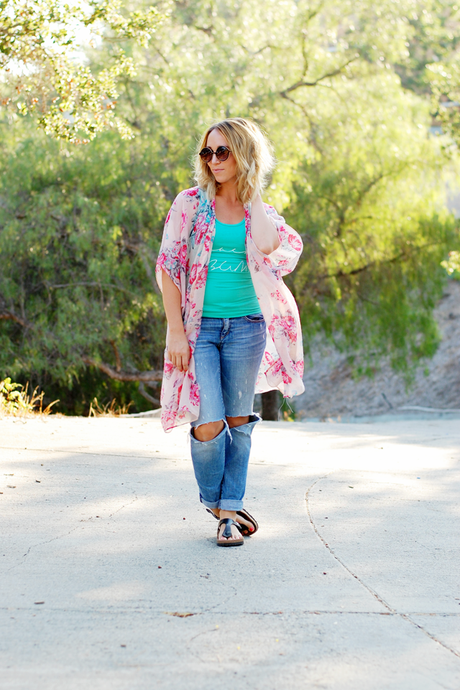 DIY Kimono (see tutorial below)
Beach Bum Tank c/o Style Lately
LOFT Boyfriend Jeans
Birkenstock 'Gizeh' Birko-Flor Thong
Forever 21 Classic Round Sunglasses
There have been loads of DIY kimono tutorials on the internets for the past few months, and I was wanting to make my own, but far too lazy to drag my butt to the fabric store. It may be the fact that Luke and Wes have a knee-jerk reaction to start screaming the minute they see those forest green shopping carts. Can't say I blame them — it's probably genetic since I did the same thing with my mom... up until I was, like, 15. And now look at me! Sewing and all that nonsense. It's the circle of life.
I digress.
The other week as I was digging through my excessively large bin of scarves in my closet, a lightbulb went off. I could make kimonos from all these bulky wads of fabric I hardly wear! No surging, no hemming raw edges. It was as if the gods of the kimonos were doing me a solid by providing the easiest solution to making my own DIY kimono from a scarf.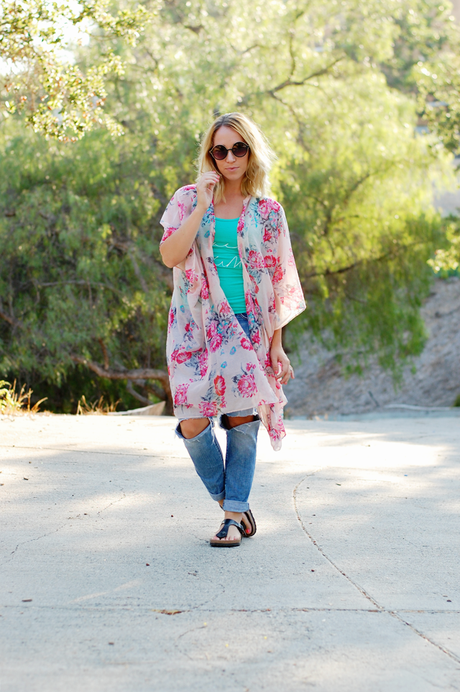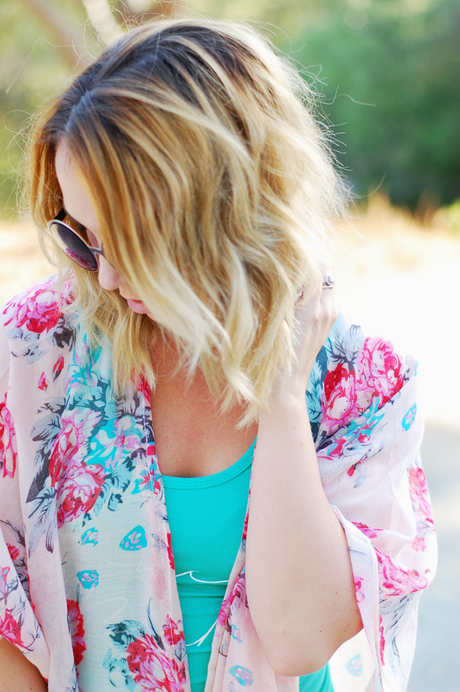 Can I tell you a quick story? K, so when I went to scout out this location to take these photos right by our house, there was this huge, white metal gate blocking the entrance to the path. Of course I had the boys in our double stroller that is essentially the same size as a Smart car, so I had to open said gate in order to squeeze through. Well, this gate is one of those that has a pull lever and the hinges in the ground. I am pretty sure it hadn't been opened in, oh, I don't know, a year? There I am pounding away, trying to get the lever to slide to the left. In the meantime, my right hand was sitting directly next to the bracket that the hinge was to connect with once it opened. And slam open it did! Smack dab into the fat pad on my thumb, where my skin was pinched between the two. 
I let out one of those delayed screams of terror/pain — you know, like Marv does in Home Alone when Kevin sits the spider on his face.
My hand immediately started swelling up and the blood blister was a frightening shade of red since the skin didn't tear. I was out of commission for the rest of the day with an ice pack tightly wrapped around my entire right hand. Thankfully the swelling went down within a day — I would like to give my leftover ibuprofen from my c-section a shoutout for coming through! — and I was able to use it again to type this post out. The things I do for this blog! Now you are obligated to read it FOR-EV-ER.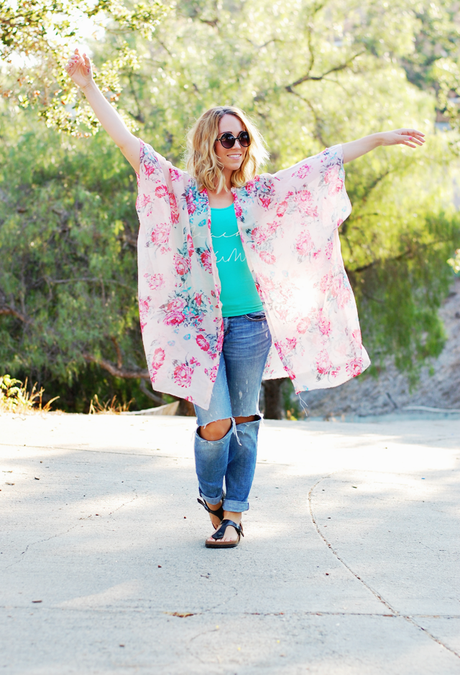 (If you look really closely at my right hand —your left — you can see the gash and the bruise. Just trying to keep it graceful and refined over here with blogging battle wounds, guys. Also, this is my victory dance.)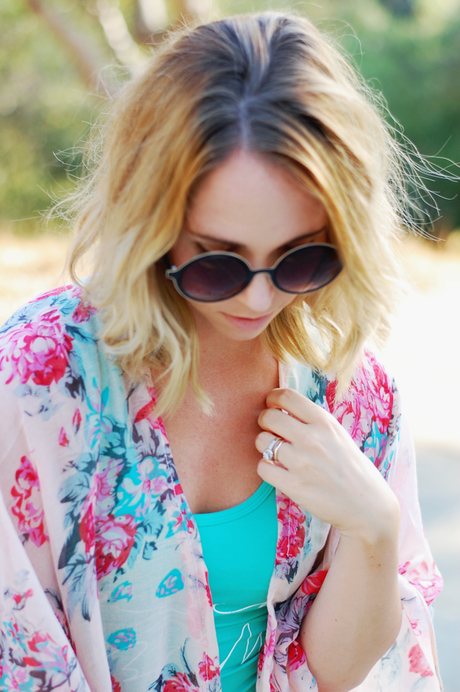 Now back to the DIY kimono! The nice thing about this one is it can be sewn by hand (unless you jacked yours up like I did) or with a sewing machine. There are three simple steps, and it is for the novice sewer. Here is what you need...
Materials:
-Long, rectangle scarf that is wide enough to fit across your body
-Matching thread (and a needle if doing it by hand)
-Fabric scissors
-Pins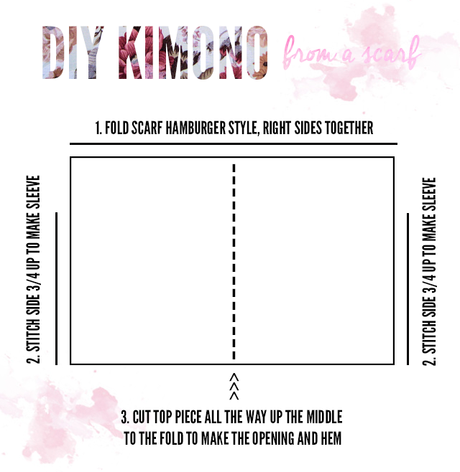 Directions:
1. Fold the scarf hamburger style with the right sides together. (That means fold it together so the wrong sides of the fabric are face up.)
2. Pin it together on both the left and right sides, then stitch it either by hand or with a sewing machine 3/4 of the way up. This will make your arm holes.
3. Cut the top piece all the way up the middle to the fold. This will be your front opening. (DO NOT cut the bottom piece or you will have something that will start resembling a poncho, and that's not what we're aiming for here.) Fold over those edges twice so they raw edge doesn't show, and hem it down. Flip it right side out and bada bing, bada boom! You now have yourself a fantastically trendy kimono.
4. Repeat steps 1-3 with all 542 old scarves you have sitting in your closet, your sister's closet, and your mom's closet.
Isn't that such a simple and fantastic DIY? I think so, too. Oh, and by the way...
CAUTION: Kimono may give you magical flying powers.